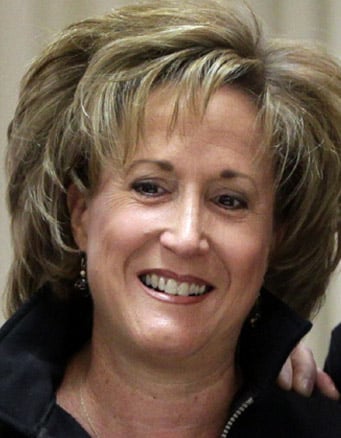 ST. LOUIS • For nearly as long as congressional hopeful Ann Wagner has played an influential role in Republican politics, she has been a fixture at Enterprise Rent-A-Car corporate events.
Wagner's husband is the company's lead political liaison. She knows many of the firm's top bosses, and she describes herself as part of the company "family."
Now, Enterprise executives have become more than just corporate kin — they have become her top campaign contributors, too.
Employees and others associated with the rental car giant have donated more than $250,000 to Wagner's campaign for the newly redrawn U.S. House district that includes Enterprise's corporate headquarters in Clayton.
Wagner's ties to Enterprise — a private company with 70,000 employees and $14 billion in annual revenue — have helped her build a fundraising operation that far surpasses her rival for the GOP nomination in the 2nd Congressional District.
Since kicking off her bid for office in the spring, Wagner has received donations from Enterprise employees in St. Louis and around the U.S. She's been feted at fundraisers hosted by the company's top officers and enjoyed support up and down Enterprise's corporate ladder, from regional managers to the company's billionaire founder.
Nearly one out of every four dollars Wagner has reported raising so far has come from someone connected to Enterprise. Lobbyists and lawyers employed by firms that have done work for Enterprise have chipped in thousands more.
Though businesses are prohibited from giving directly from their company coffers to federal candidates, Enterprise's largesse highlights the extent that corporations can still help pick winners in congressional elections.
As it stands now, Wagner's haul from Enterprise has helped her eclipse her party rival, St. Louis Republican Ed Martin, in the cash race. Wagner reports about $858,000 cash on hand, more than triple Martin's sum. With no Democratic opponent yet in the race, the August 2012 Republican primary could decide the area's newest member of Congress.
If elected, Wagner says, she would remain independent from Enterprise, whose agenda in Washington includes automobile, energy and tax issues. Still, Wagner said it's no surprise company executives have been so generous.
"That's how candidates raise money," she said. "You go to friends and associates."
Wagner's husband, Ray — who has been director of the state Revenue Department in both Illinois and Missouri — joined Enterprise in 1995, four years before Ann became chairwoman of the Missouri Republican Party.
They emerged as a GOP power couple, with Ray representing Enterprise in Jefferson City and Washington, and Ann active enough in the party that George W. Bush named her ambassador to Luxembourg. After returning from Europe, she chaired Roy Blunt's 2010 U.S. Senate campaign, which saw him win by a wide margin.
Ray Wagner deregistered as a federal lobbyist after his wife launched her congressional campaign, but he remains the vice president of government and public affairs for the holding company that owns Enterprise and two former rivals it acquired in 2007, National and Alamo.
"We have a going on two-decades relationship with Enterprise," Ann Wagner said. "It's a family."
Wagner has been a regular at Enterprise events, speaking about her "various political and public service experiences," said company spokeswoman Laura Bryant, who, in a statement, described Wagner's campaign for Congress as "pro-business."
"Many executives and their spouses have come to know Ann Wagner quite well over the years at various company functions or officer conferences — she is our friend," said Bryant, herself a candidate for mayor in Creve Coeur.
Wagner's campaign finance reports list more than 100 donors connected to Enterprise, including spouses of employees, former employees and officers at related companies. Company founder Jack Taylor and his family members contributed $20,000 to Wagner. Enterprise managers in Las Vegas, Southern California and North Carolina sent checks. So, too, did the wives of Enterprise executives in Europe.
Enterprise executives also donated to Wagner's unsuccessful campaign in January 2011 to head the Republican National Committee.
"I happen to know a good number of those people from around the world — from England to St. Louis to Florida to New Jersey," Wagner said.
Of the $977,000 Wagner collected from individuals through September, more than a quarter — $255,000 — came from donors associated with Enterprise.
The share of donations from the rental car company could grow even larger thanks to a fundraiser at the Bogey Club in Ladue hosted by Andy Taylor, Enterprise chairman and chief executive. The November event was not reflected in the most recent campaign finance reports, submitted in October.
About $30,000 for Wagner's campaign came from employees of companies that have a business relationship with Enterprise: the law firm Thompson Coburn, public relations firm Fleishman-Hillard and two lobbying firms, Ogilvy Government Relations and the Podesta Group, who work for Enterprise in Washington.
In some ways, the support of Wagner's campaign from Enterprise employees reflects a corporate culture that values loyalty. Enterprise, one of the largest private corporations in the U.S., remains a family company that promotes from within. Many of the company's top executives started their careers behind the rental counter as management trainees.
Several Enterprise executives who donated to Wagner's campaign did not respond to requests for comment. But some fellow Enterprise spouses said they have known Wagner for years and support her campaign, even if they don't live in St. Louis.
"We need more women like Ann in Congress, so I wrote her a check and will probably write another one down the road," said Diane H. Nettles, a Pennsylvania college professor whose husband is an Enterprise general manager in Pittsburgh.
Although the Supreme Court has loosened rules regarding corporate political activity, companies are still prohibited from providing money or resources directly to a federal campaign. Even using company stationery on a fundraising plea could be a potential violation.
Bradley A. Smith, an Ohio law professor and a former chairman of the Federal Election Commission, said Wagner could be entering a "murky area," depending on how she solicited the donations from Enterprise employees.
"If the corporation actually gave her a list of names, that would be a corporate contribution to the campaign," said Smith, a professor at Capital University Law School. "And that would be a problem."
Enterprise says "no company resources have been used or will be used on behalf" of Wagner's campaign.
Wagner says she did not get a roster of potential donors from Enterprise, at least not directly. In September, Enterprise Holdings President Pamela Nicholson hosted a fundraiser for Wagner at her home in Clayton.
Nicholson sent the invitation to many of her employees, attaching a handwritten note.
"I was not sure you were aware that Ann Wagner (Ray's wife) is running for Congress," Nicholson wrote. "I enthusiastically agreed to have a fundraiser for her. If you would also like to support Ann I thank you, but there is no obligation to do so."
The invitation list, the campaign says, was Nicholson's personal list, not from the company. Still, it was passed on, through a fundraising consultant, to Wagner, who used it to solicit Enterprise executives and others for donations, according to her campaign.
"I'm sure whatever lists that are used are private, from the individual," Wagner said. "All FEC requirements have been followed."
Enterprise has more than a dozen lobbyists registered to work for the company in Washington, with an agenda that ranges from electric car legislation to estate tax issues.
Much of that lobbying has been coordinated by Ray Wagner, who, citing company policy, forwarded a question about his dual roles with his wife's congressional bid and Enterprise to the company's corporate communications team.
Ray Wagner has played an active role in Ann's campaign, soliciting supporters for a donation on her birthday and once serving as a proxy for her at a campaign event.
Ann Wagner has said that if she does make it to Congress, her husband would not lobby the House of Representatives.
As it has grown to become the largest rental car company in the world, Enterprise has stepped up its presence in Washington. Enterprise's political action committee — funded by employee contributions — spends about $1 million a year, contributing to candidates on both sides of the aisle.
The Enterprise PAC donated $5,000 in 2011 to U.S. Rep. Sam Graves, a northwest Missouri Republican who was responsible for an important amendment regarding rental car liability, and U.S. Rep. Steve Cohen, a Tennessee Democrat who is sponsor of the "End Discriminatory State Taxes for Automobile Renters Act."
The PAC, however, gave nothing in 2011 to the company's home congressman, U.S. Rep Russ Carnahan, D-St. Louis, whom Enterprise has supported in the past.
Carnahan's district, for the moment, includes Enterprises's corporate headquarters, but, because of redistricting, his seat in the 3rd District will be eliminated.
He wants to stay in Congress and is mulling running in the new 2nd District, which would potentially put him against Wagner in November.