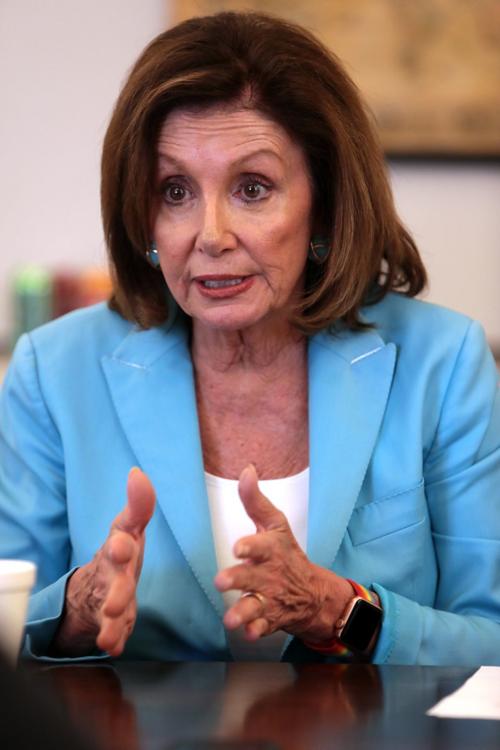 ST. LOUIS — The nation's top Democrat called on Congress Wednesday to immediately pass a federal bill requiring universal background checks for gun sales, saying such a law could stem the tide of violence in cities like St. Louis.
House Speaker Nancy Pelosi, visiting St. Louis after campaigning in Illinois, referenced the 10th fatal shooting of a child here this year and demanded Senate Majority Leader Mitch McConnell reconvene the Senate.
"Every day that goes by, people die," Pelosi said in an interview Wednesday with the St. Louis Post-Dispatch editorial board.
Hours earlier, the California Democrat had delivered the keynote speech at the Illinois Democratic County Chairs' Association brunch in Springfield, Illinois, and had campaigned for Illinois Sen. Dick Durbin, D-Springfield.
Several days before Pelosi's visit, a Missouri man was charged with making a terrorist threat after walking into a Walmart in Springfield, Missouri, wearing body armor and carrying a loaded rifle and handgun. He said he was testing whether the store would honor his constitutional right to bear arms.
The incident caused panic at the store, following the Aug. 3 killing of 22 people in an El Paso, Texas, Walmart. A white supremacist who targeted Hispanic people has been arrested in the massacre.
Pelosi called for Democrats to build broad-based public support that could force McConnell and the Republican-controlled Senate to take up the background check bill, along with legislative reforms addressing electoral integrity approved by the Democrat-controlled House.
"Public sentiment is going to be our hope," she said.
On a recent conference call Pelosi held with several groups advocating stricter gun laws, organizations such as Moms Demand Action and Mia Familia Vota agreed that their goal was to pressure McConnell to have the Senate take up the background checks bill, she said.
"It isn't as high profile as an issue as assault weapons, but it saves more lives," Pelosi said. It's really where you save lives. And the Senate just won't take it up."
Asked about a federal bill proposed by Rep. William Lacy Clay, D-University City, a staunch supporter of Pelosi, that would allow cities to enact stricter gun laws without state approval, Pelosi said Congressional Democrats should focus on the background check legislation, which would be enforced nationwide.
"It would be better if we had federal laws that applied to everybody," she said.
She said Missouri Democrats should seek "a mainstream, progressive message" that would build on the Affordable Care Act and bring labor groups and farmers into discussions about how to address climate change.
"We have to have a mainstream message that will win," she said.
Pelosi's Illinois visit was part of an effort to support Democrats as they seek to build on electoral gains made in 2018. Targets next year include the suburban St. Louis district of Rep. Ann Wagner, R-Ballwin.
"We're optimistic about changes that could happen in some states," Pelosi said.
She brushed aside internal Democratic divisions between established Democrats and left-wing challengers on policy proposals like Medicare for All or the Green New Deal, saying the measures were unlikely to gain popular support in states like Missouri.
"I share the urgency that they have, but this is something that is massive and has to be collaborative," Pelosi said. "Their aspiration in the bill is something I admire. But would we be able to sell 'no fossil fuels' in 10 or 12 years?"
Clayhas differed with her in his support of the Green New Deal, pushed by Rep. Alexandria Ocasio-Cortez, D-N.Y., and in joining a growing number of House Democrats publicly seeking impeachment of Trump.
But he faces a repeat primary challenge from activist Cori Bush, whom Ocasio-Cortez endorsed in Bush's first bid against the longtime representative. Clay has Pelosi's "full backing," she said.
"The Democratic Party has always had these intramural kind of contests," Pelosi said.
Ultimately, the internal division between the Democratic camps is "minor" compared to the division between Democrats and Republicans, she said, with major issues including concern about Russian interference in U.S. elections.
"Right now, we think that there is so much at stake that is fundamental to our democracy," she said.
Pelosi repeatedly called for the Senate to take up legislation like Securing America's Federal Elections Act, which would provide funding to states to protect their electoral systems, and HR1, a Democratic voting rights and ethics package that would make it easier for people to register and vote, tighten election security against cyberattacks and require presidential candidates to disclose their tax returns.
The bill would also make Election Day a holiday for federal workers, set up a partial public financing system for U.S. House campaigns and require disclosure of so-called "dark money" contributions.
"Big money suffocates the airways," Pelosi said.
McConnell's refusal take up legislation aimed at electoral reforms is part of Republican "voter suppression at large" and an effort to block action to stop Russian interference in elections, Pelosi said.
"We just have to give people confidence that the elections will be legitimate and that their vote will be counted as cast."
Earlier Wednesday, at the convention of Illinois Democrats, Pelosi called McConnell "Moscow Mitch" for not taking up electoral reforms or acting on information from federal law enforcement officials about Russian interference in the 2016 elections.
McConnell, Pelosi told the Post-Dispatch, has "abdicated the first responsibility of government" — to protect the integrity of the electoral process.
"He's gone way beyond where he should in protecting the Russians," Pelosi said.