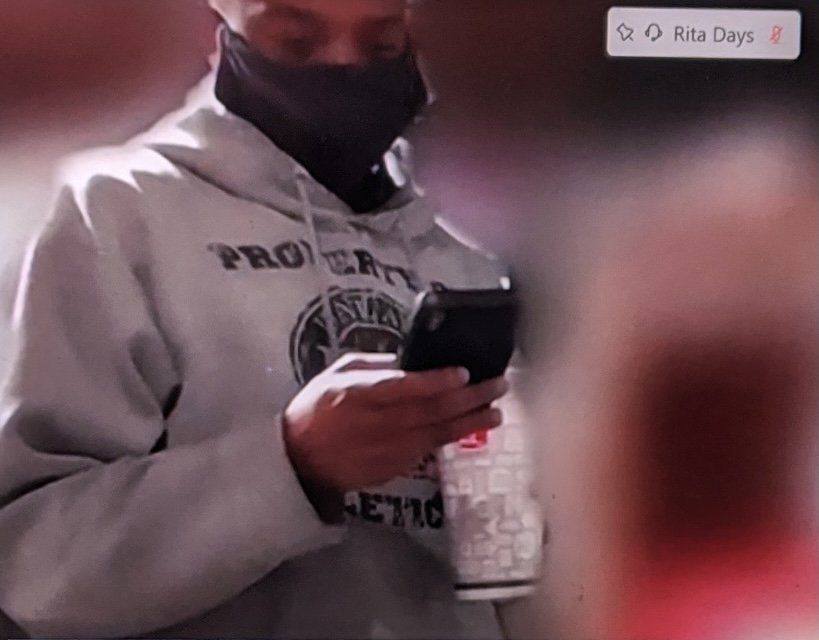 CLAYTON — An aide to St. Louis County Councilwoman Rita Heard Days who is facing prison after pleading guilty on Nov. 6 to federal wire fraud charges showed up Tuesday night in a place perhaps few expected to see him: Live on the internet, from Days' home in Bel-Nor, continuing to advise the councilwoman during Tuesday night's council meeting.
While Days obscured the background on her camera, former aide Courtney Curtis could be seen for a fleeting moment, checking his phone.
Days, D-1st District, acknowledged on Wednesday that Curtis continues to help in the transition to her new aide, outgoing state Rep. Maria Chappelle-Nadal. Weeks earlier, Days said Curtis' last day would be Oct. 31, but she said on Wednesday that date had been extended into early November. The councilwoman said Chappelle-Nadal was also present in her home on Tuesday.
She said Curtis is helping her on his own time, now. As part of Curtis' guilty plea agreement, U.S. District Judge Stephen R. Clark allowed him to help Days transition to a new assistant.
Curtis said his crimes had nothing to do with his job with the county. He said his expertise in government budgets was critical to Days' constituents being represented in the process. He insisted he had no access to data or information but served as a resource for Chappelle-Nadal.
Days said she was surprised anyone would have a problem with him continuing to help her.
"He's done what he's done and he's accepted responsibility for it," Days said. "I don't find it odd that he would want to assist me in transition to another person. I don't find that difficult to understand at all."
But some of her colleagues said they were shocked Curtis was still working for the county and had access to sensitive information and data.
"We're navigating an unprecedented nationwide and community public health crisis," Chairwoman Lisa Clancy, D-5th District, said. "We're working to finalize an $800-plus-million budget. We continue to navigate other big policy challenges in light of a recent history of corruption under our previous county executive. All while trying earnestly to build back the trust of the community. Why is Mr. Curtis still around?"
Kelli Dunaway, D-2nd District, said it "does make me uncomfortable that she continues to put not only her trust, but the reputation of the St. Louis County Council, and the representation of her constituents in someone who has admitted to criminal behavior."
The allegations were not new. The state ethics commission fined him $114,050 in 2017 for maintaining at least 11 bank accounts for his reelection fund, potentially allowing him to use some of the donation for personal use. He also accepted cash donations in excess of state limits, deposited campaign contributions into a personal bank account and used campaign funds to pay for items that were already covered by the state.
'Why was he hired?'
Days hired Curtis as her assistant in mid-September 2019. Within days, the ethics commission fined Curtis $77,500 for a variety of alleged transgressions, including spending money from his account on gas and hotels while also receiving daily expense reimbursements from the state during his time as a member of the House. The ethics commission said there was probable cause to believe Curtis failed to report 722 expenditures that included visits to spas, casinos, bars and restaurants in Columbia and Jefferson City. Days told a reporter then that Curtis denied the allegations and that she believed him.
Curtis' access to county business after a guilty plea "speaks volumes," Councilman Ernie Trakas, R-6th District, said on Wednesday. "Why he was hired to begin with? She knew about it when she hired him he was under investigation. For him to remain in the employment of the county while he's been indicted and pending a guilty plea, and even after he pleaded guilty he insisted upon … continuing to have access to county data through the auspices of Days, none of that is acceptable."
Trakas said it was "all well and good" for a judge to allow Curtis to continue to work for Days. "But what is the county doing allowing a convicted felon to continue to have access to its data?"
Get Government & Politics updates in your inbox!
Stay up-to-date on the latest in local and national government and political topics with our newsletter.