JEFFERSON CITY — Former Missouri Gov. Eric Greitens announced Monday he will run for the U.S. Senate next year, nearly three years after he resigned in disgrace after he was accused of sexual misconduct and campaign finance violations.
Greitens' entry into the race to fill the seat held by retiring U.S. Sen. Roy Blunt, R-Missouri, promises to generate discord within the state GOP, with Republicans who moved to oust Greitens in 2018 now forced to either back the ex-governor or line up behind an alternative.
Greitens, 46, made his announcement Monday evening on Fox News.
Former Gov. Eric Greitens floats a political comeback.
"I have been so encouraged by the people of Missouri that I'm happy to announce tonight that I am running for the United States Senate to continue serving the people of Missouri," Greitens said, according to a video posted to his Twitter feed.
Greitens described himself as a "fighter" for Missourians who would defend President Donald Trump's policies and protect Missourians "from Joe Biden, Nancy Pelosi and Chuck Schumer's radical leftist agenda."
Greitens also faced felony charges of computer tampering in St. Louis for allegedly stealing a donor list from the charity he founded, the Mission Continues.
Greitens tweeted that he'd been endorsed by Rudy Giuliani, the former mayor of New York City and a personal attorney for Trump.
As of Monday evening, no campaign paperwork from Greitens was in evidence on the Federal Election Commission's website.
Candidates aren't allowed to use state campaign accounts for federal races such as Senate and U.S. House.
He was propelled by the February 2020 resolution of an ethics complaint originally filed in 2018. The Missouri Ethics Commission found reasonable grounds his campaign violated state law, and Greitens' campaign was hit with a $178,000 fine.
The ethics commission didn't find that Greitens had personal knowledge of the violations but said candidates are ultimately responsible for the actions of their campaigns.
On Feb. 15, 2020, his campaign purchased a Facebook ad saying, in part, "we've been fully exonerated."
The ad doesn't make clear what the "exoneration" applied to — the sexual misconduct? The stolen charity list? — but implies falsely that the ethics commission cleared him of all alleged breaches of which he had been accused.
Greitens and former Missouri first lady Sheena Greitens announced last year they were getting a divorce.
The field of other potential GOP candidates remained fluid on Monday.
John Hancock, former Missouri Republican Party chairman who worked on Gov. Mike Parson's 2020 election campaign, was not on Team Greitens.
"I think he has demonstrated the moral, ethical and political malfeasance that voters should find disqualifying," Hancock said Monday.
Kehoe won't run
One potential candidate took himself out of the running for 2022 on Monday.
Lt. Gov. Mike Kehoe said he won't be a candidate for the Republican nomination for U.S. Senate, announcing he would instead run for governor in 2024.
Kehoe, 59, said in a statement "my true calling remains to work on behalf of Missourians in Missouri as lieutenant governor and as a candidate for governor in 2024."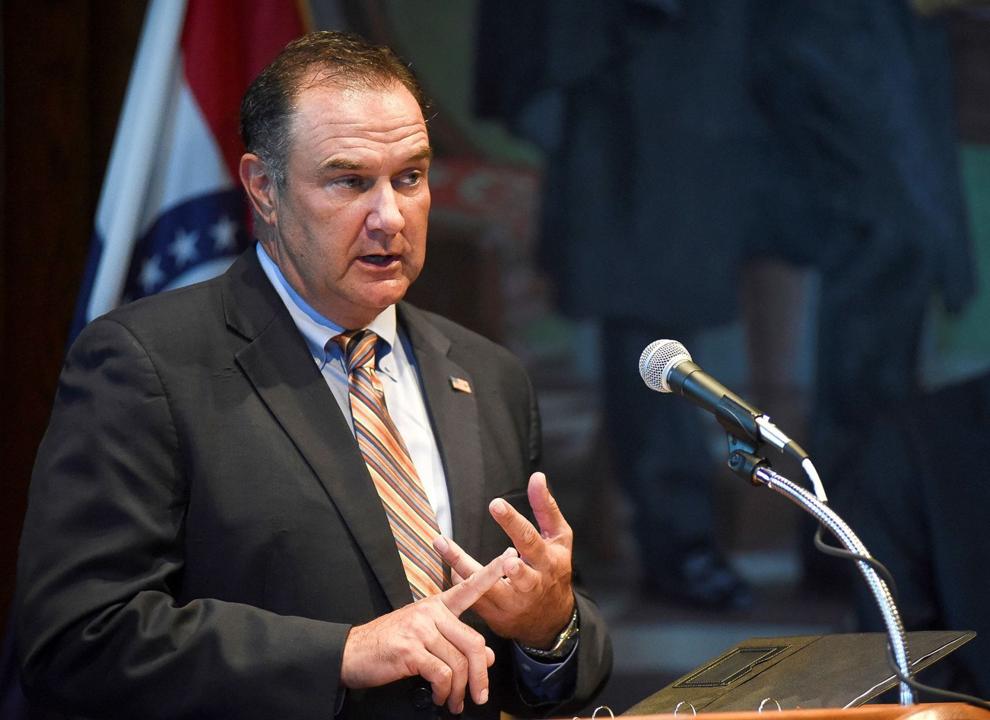 The state's No. 2 official expressed interest in the race after Blunt announced he wouldn't seek a third term — prompting a long list of Republicans and Democrats to say they were weighing the possibility of entering the 2022 Senate contest.
Secretary of State Jay Ashcroft, who like Kehoe publicly said he was considering a Senate bid, has also passed on the race.
Ashcroft could opt to run for governor in 2024, but unlike Kehoe, he didn't make that announcement when he issued a statement forgoing a Senate run.
Other GOP elected officials to express interest in Blunt's Senate seat include Attorney General Eric Schmitt, and U.S. Reps. Ann Wagner, Jason Smith and Billy Long.
Three Democrats have announced their candidacies: former state Sen. Scott Sifton, D-south St. Louis County; Lucas Kunce, a Jefferson City native who has branded himself a "progressive populist"; and Timothy Shepard, a political activist from Kansas City.
State Sen. Brian Williams of University City, Kansas City Mayor Quinton Lucas and St. Louis attorney Elad Gross are among Democrats expressing interest.