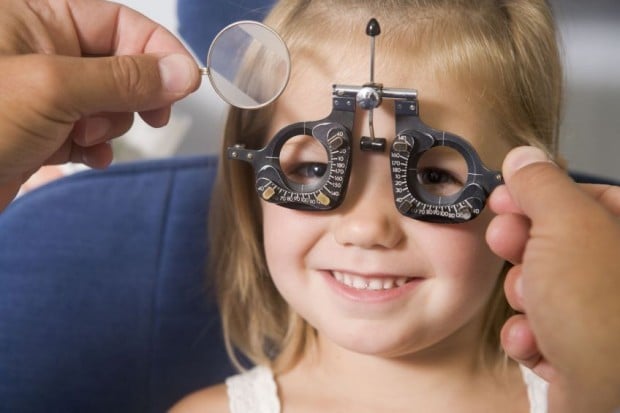 JEFFERSON CITY • All children entering kindergarten in Missouri public schools are required by a 2007 law to get a comprehensive eye examination by an optometrist or physician.
But families can opt out, and most do. Others simply ignore the requirement. A recent study found that roughly one in three children got the exam.
Calling the law ineffective and a financial burden on families, a state commission recommended that legislators drop the exam and instead beef up vision screenings by school nurses. The state's eye physicians and surgeons embraced that approach.
Optometrists, however, are mounting a big push to get the Legislature to renew the exam requirement, which is slated to expire this June. The Missouri Optometric Association has hired 11 lobbyists. More important, they have a key ally: House Speaker Steve Tilley, an optometrist.
Tilley, R-Perryville, put the optometrists' bill on a fast track — it is headed to the House floor after a packed committee hearing last week — while he bottled up the alternative, the school nurse bill, by not referring it to a committee.
Caught in the political crossfire are families who may have to shell out $100 for a child's eye exam, because private medical insurance generally won't cover it.
Oscar Cruz, director of pediatric ophthalmology at Cardinal Glennon Children's Medical Center and chairman of the ophthalmology department at St. Louis University, chaired the Children's Vision Commission that recommended abandoning the required exams.
Cruz said screenings by school nurses catch about 95 to 97 percent of eye problems that can damage vision on a long-term basis. Forcing 65,000 kindergartners a year to get comprehensive eye exams, he said, is "an incredible waste of resources."
The battle reflects long-simmering tension between the two professional eye care groups.
Optometrists, who are called doctors of optometry, are the main providers of eye care. They perform examinations, manage eye diseases, and prescribe eyeglasses and contact lenses.
Ophthalmologists have medical degrees specializing in eye care. They can provide the full spectrum of care, including eye surgery.
In many states, optometrists have sought to broaden their practice to include performing certain types of surgery. Ophthalmologists generally oppose such moves, saying such procedures are beyond the clinical training of optometrists.
Everyone agrees, however, that early detection of serious eye problems is important. Children can suffer permanent vision loss if not treated at a young age for amblyopia, known as lazy eye, and strabismus, misalignment of the eyes.
Missouri is among three states that require eye exams for entering kindergartners. The others are Kentucky and Illinois.
Former House Speaker Rod Jetton, who pushed the eye exam requirement through the Missouri Legislature five years ago, said his son might have avoided expensive surgery for a lazy eye had the problem been detected earlier.
The question is how best to catch those problems.
As part of a compromise, the 2007 law that required eye exams for kindergartners also strengthened school vision screenings. Schools now must screen all children in first grade and again in third grade. Nurses get training and vision tests have been standardized.
"I've been in school nursing for 22 years, and we catch kids all the time," said Linda Neumann, a school nurse in Webster Groves who represented the St. Louis Suburban School Nurses Association at last week's hearing.
The nurses oppose mandatory exams but support the vision commission bill that has not had a hearing. It would expand school-based screenings to include not only first- and third-graders but kindergartners as well.
Also, there would be no opt-out of exams for children who failed the school-based screenings. Currently, only about 60 percent of those children get the needed follow-up exam, the commission's study found.
Optometrists, however, say nurse screenings miss too many children with vision problems, leading to difficulties in learning.
Jefferson City optometrist Tom Greene said a 2005 national study found that schools catch only about half of the children with 'significant vision difficulty," which was defined to include not only serious eye problems but refractive errors such as nearsightedness, farsightedness and astigmatism.
Joining the optometrists in urging mandated exams was Liz Kostas, a school social worker in Warrensburg. She said her daughter was among those who passed a school screening but was later found to need eyeglasses.
After she got the glasses, her daughter exclaimed: "'Mama, I didn't know trees had so many leaves,'" Kostas said.
Eye exams are the "gold standard" for detection of vision problems, the vision commission acknowledged. But a blanket requirement isn't a practical use of scarce resources, the report said.
Most families have to dig into their own pockets because medical insurance is unlikely to pay. The exams cost an average of just under $100, the commission's study found.
"Mandatory, unnecessary eye exams are causing hardships for families already experiencing financial difficulties," said Tammy Teeling, president of the Missouri Association of School Nurses.
Meanwhile, materials for school nurse screenings for each school district cost about $100 and can be used for thousands of screenings, the commission noted.
The fiscal note on the optometrists' bill suggests the state could use a $99,000 appropriation earmarked for blindness screening and treatment to pay for exams for about 6,637 uninsured kindergartners and first-graders in districts without kindergarten.
But that would average out to only $15 an exam. Mickey Wilson, director of the Legislature's Oversight Division, said the analysis assumes that some optometrists would do the tests for free, or at a reduced cost.
The fiscal note doesn't include the cost for children on Medicaid, since the state and federal government already cover those bills.
Cruz, the Cardinal Glennon ophthalmologist, said he finds it odd that kindergartners aren't required to have physicals but they're required to have eye exams.
"It's a political process, unfortunately," Cruz said.
Tilley said in an interview that the bill isn't his top priority but, "I think it's important."
He still sees eye patients on Fridays in his optometry office.
"We've got kids all the time who slip through the process and we catch them at (age) 10 or 11 with a lazy eye."
While only one-third of families are abiding by the law's requirement, "that means you protected a third of the kids," Tilley said.
How can Republicans back an eye exam mandate when they frequently complain about the individual health insurance mandate on the federal level?
Tilley said because of the opt-out provision, the law isn't a mandate.
The speaker denied that he had buried the alternate bill favored by the vision commission.
"I refer everything — within a reasonable time," Tilley said.
Last year, the optometrists' bill passed the House on a vote of 146-2, with Tilley abstaining from voting. The bill then languished in the Senate, even though the House attempted to revive it by attaching it to three Senate bills. All three died.
This time, the bill's supporters are pulling out all the stops.
The Missouri Optometric Association reported handing out $76,950 in political contributions last year, mostly to legislators, though Gov. Jay Nixon was the recipient of a recent $2,500 gift. The optometrists gave Tilley $10,000 and the House Republican Campaign Committee, $5,000.
By contrast, reports filed last year by the Mo. Eye PAC, which represents ophthalmologists, showed the group made just five donations, and four of those checks actually were distributed in December 2010. The total: $2,100.
The Missouri Society of Eye Physicians and Surgeons employs three lobbyists. That compares to 11 for optometrists, who last month picked up St. Louis County's lobbyist, John Bardgett, and four of his associates.
So far, the vision exam bill is moving at an unusually fast clip.
The House Health Insurance Committee's chairman, Rep. Chris Molendorp, R-Belton, said that he never calls for a vote immediately after the hearing, but he did on the optometrists' bill. He said he wanted to quell the intense lobbying for and against it.
"I'm not going to deal with this for one more week," Molendorp said. "I'm the decider-in-chief. I'm angry."
The bill came out of committee on a vote of 8-1, with only Rep. Mary Still, D-Columbia, dissenting.
"It's not about doing someone's agenda for them," said the sponsor, Rep. Don Wells, R-Cabool. "It's about children."