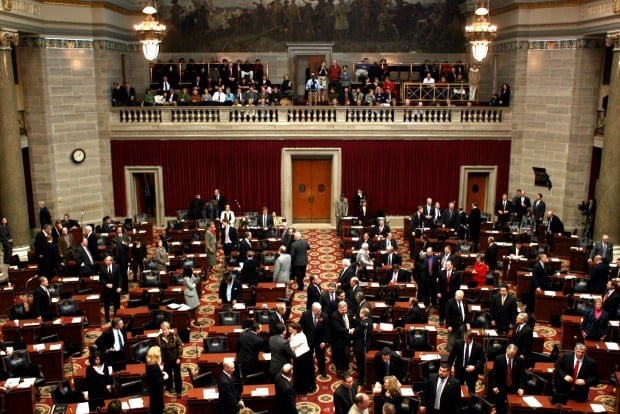 JEFFERSON CITY • The state budget is in trouble. Republican legislative leaders don't get along. The Democratic governor is up for re-election. And redistricting has pitted many incumbents against each other.
This is shaping up as a contentious and trying 2012 session of the Missouri Legislature.
As the session's Wednesday opening nears, House and Senate leaders have yet to resolve their bitter differences over economic development legislation, which blew up last fall.
Instead, with unemployment still topping 8 percent, GOP leaders say their jobs package will focus on several bills aimed at reducing employers' costs for claims by injured or fired workers.
While those measures may gain quick approval in the GOP-dominated chambers, expect lengthy debates over revamping the state's public school funding formula. A lot is at stake: Without a change, a quirk in the formula's phase-in will shift millions of dollars next year, primarily from poorer schools to richer ones.
School choice advocates will try to use the issue as leverage to pass broader changes, such as vouchers for children to attend private schools and the expansion of charter schools.
Then there's the state budget, which faces a potential shortfall of about $500 million when federal stimulus money runs out. Worries abound that cuts will hit higher education and the state's safety net for the poor.
"Because we haven't addressed it over the last few years, that Armageddon is here," said Sen. Jim Lembke, R-Lemay. "We're going to have to take a serious look at right-sizing government."
The tone for the 4 1/2-month session will be set shortly after noon Wednesday, when House Speaker Steve Tilley, R-Perryville, and Senate President Pro Tem Rob Mayer, R-Dexter, deliver their opening speeches.
Republicans outnumber Democrats 26-8 in the state Senate. In the House, Republicans will hold a 106-57 majority after four new members elected in special elections — including Democrat-turned-independent Tracy McCreery of Olivette and Republican Chrissy Sommer of St. Charles — are sworn in Jan. 10.
But those commanding margins don't mean a slam-dunk for a GOP agenda.
Last fall's special session showed that. It collapsed when House and Senate Republicans couldn't agree on a bill that would have reduced some development incentives and established new ones, such as a subsidy for a China freight hub at Lambert-St. Louis International Airport.
House-Senate relations were so raw that at one point, Tilley called Mayer a liar; when Mayer phoned Tilley to seek negotiations, Tilley — who was holding a political fundraiser — refused to take the call.
But not long after the session ended, Tilley suddenly dropped his plans to seek the GOP nomination for lieutenant governor. He said he was going through a divorce and wanted to spend more time with his daughters.
Now, the two legislative leaders are trying to patch things up. They had dinner together recently in Cape Girardeau.
"It's his last year, my last year," Mayer said. "We want to have a record we can be proud of."
Said Tilley: "Clearly, there were some hard feelings. We tried to say, 'Let's put the past behind us.'"
Because they still don't agree on a tax credit overhaul, the legislative leaders are setting less ambitious goals for this year, promising early action on a package of bills pushed by the Missouri Chamber of Commerce & Industry.
In 2005, when lawmakers overhauled the workers' compensation system, they inadvertently allowed employees who are hurt on the job to sue fellow employees. Another oversight moved the payment of claims for occupational diseases out of the workers' compensation system and into circuit court, making the claims more expensive and unpredictable for businesses.
This year's bill would reverse those changes to keep such disputes in the workers' compensation system. The plan also would overhaul a state fund that covers certain workplace injuries that aggravate pre-existing disabilities.
While making it harder to sue one's employer doesn't exactly qualify as a jobs package, Mayer said: "It is helpful to existing businesses and also for prospective employers who are looking to come to Missouri because it brings more certainty to the law, and business likes that."
House Minority Leader Mike Talboy, D-Kansas City, questioned the impact of those changes.
"I've taken a look at the ideas out there, and I can't find one that actually creates jobs," he said. "That's what needs to be our No. 1 priority."
Where Democrats will draw the line, he said, is on any bill that says "being business-friendly also has to be antiworker."
For example, the Chamber of Commerce is renewing its pitch for a bill that would make it more difficult for workers to prove discrimination cases against employers. Legislators passed that bill last year, but Gov. Jay Nixon, a Democrat, vetoed it, saying it would have rolled back decades of progress in civil rights.
Dan Mehan, president of the chamber, said the bill would have made Missouri's employment law mirror the federal Civil Rights Act.
"I sense the Legislature is ready to pass it again," Mehan said. "Now we just have to figure out what Gov. Nixon would be willing to accept."
Nixon, who is seeking re-election this year, will map out his budget and legislative priorities during a State of the State speech in late January. The new budget takes effect July 1.
It's unclear how he'll cover a shortfall that is expected to total about $500 million. One idea he floated — borrowing from several state universities' reserves — drew boos all around.
For the last three years, Missouri used federal stimulus money to stay afloat. Such one-time revenue accounted for about $650 million of the $7.3 billion general revenue budget this year.
Now, the federal money is drying up. While state revenue is expected to grow 3.9 percent, increased Medicaid costs will eat up some of that new money.
Nixon also plans to recommend a 2 percent pay raise for state employees. That would cost $26 million.
Legislators say tax increases are off the table. They say they'll look for programs the state can reduce or do without.
"You have to go department by department and identify which ones are your priorities and which ones we can afford to cut," Tilley said.
Officials have tried to protect the state's 525 school districts from cuts. But that could prove more difficult in the next budget, especially if legislators don't rewrite the K-12 school aid formula.
The formula, adopted in 2005, set a per-pupil spending target to narrow the gap in resources between affluent and poor school districts. Under the old formula, school spending was tied more to property values. The changes called for additional state money to be phased in over seven years to ensure "adequate" funding for all by 2012.
But the promised increases were scrapped when state revenue dipped. All districts took proportional cuts.
That scheme would change next year when, on paper, the phase-in is complete. The law says if the formula is underfunded, the per-pupil target should be lowered. That would hurt districts with poor property tax bases, many of them rural.
Those "districts are going to take big hits if we don't get it fixed," Tilley warned.
Even so, the House speaker said no education legislation will pass unless concessions are made that satisfy school choice advocates, who want options such as tuition tax credits and expanded charter schools, as well as suburban districts, which want controls on transfers of students from failing urban schools.
The latter issue stems from a 2010 Missouri Supreme Court decision that held that students in unaccredited districts such as St. Louis and Riverview Gardens can transfer to districts in the same county or adjacent counties, at the home district's expense. The ruling's implementation is still tied up in court.
While budget woes and GOP acrimony could make consensus elusive, some lobbyists say the approaching election could prod legislators into action.
All 163 House seats and half of the 34 Senate seats will be on the ballot in November. Under a redistricting map drawn by state judges, more than 50 legislators were thrown into districts with other incumbents and are either facing off or scrambling to get acquainted with new turf.
Legislators "are going to want to get things done," said lobbyist Ray McCarty, of Associated Industries of Missouri, "to prove they're the ones who should be up here."
Jason Hancock of the Post-Dispatch contributed to this report.