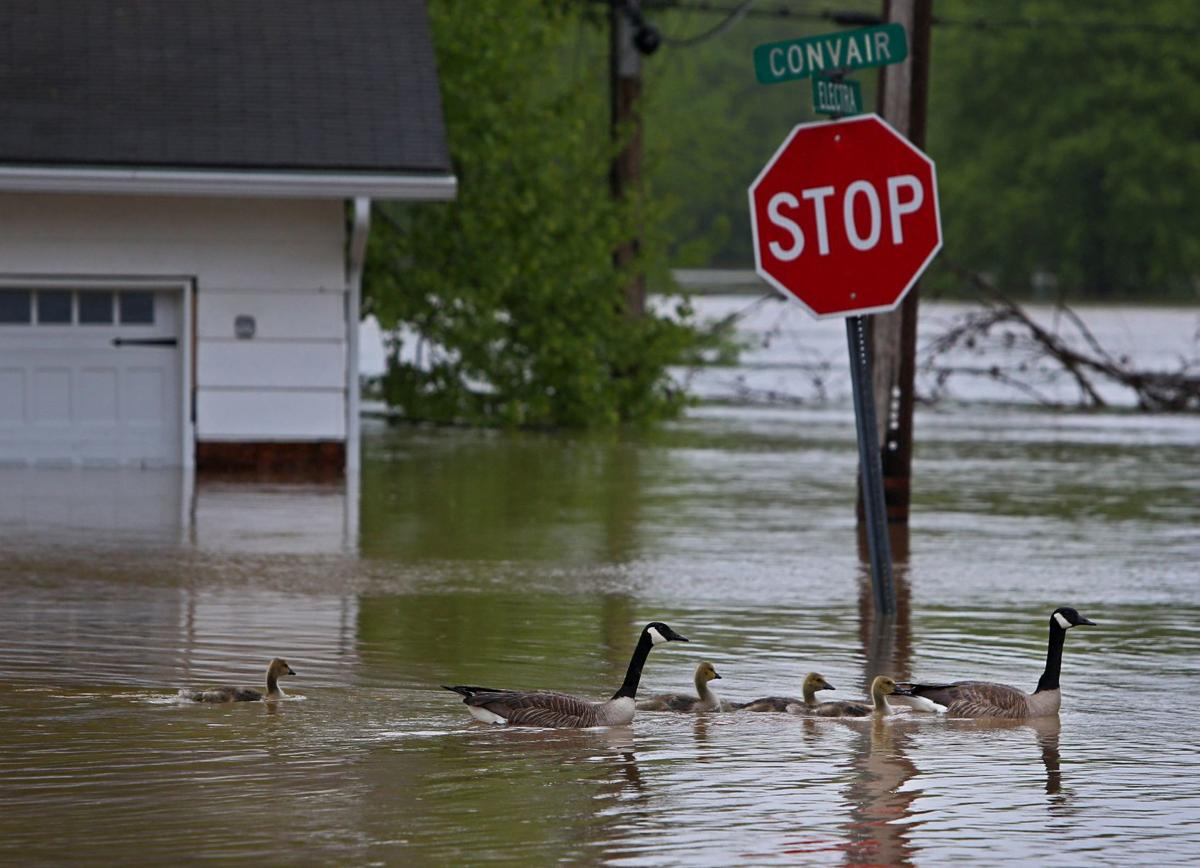 WASHINGTON • With a heavy spring flooding season at hand, Congress is again struggling to renew and modernize a national flood insurance program that is $20 billion in debt and just had $16 billion in debt forgiven.
Rep. Blaine Luetkemeyer, R-St. Elizabeth, Mo., has introduced several bills to reform the program, which covers more than 5 million policyholders.
Reps. William Lacy Clay, D-University City, and Ann Wagner, R-Ballwin, are also heavily involved in crafting a five-year reauthorization of the National Flood Insurance Program, which has been increasingly underwater, both financially and administratively, as mega-storms and spring flooding have caused hundreds of billions of dollars in damage since Hurricane Katrina.
All three St. Louis-area representatives are senior members of the House Financial Services Committee, which is spearheading efforts to modernize and reauthorize the program after years of passing short-term extensions of the current, failing program.
"It's a long-term problem that we need to solve, instead of coming up with these short-term fixes," Clay said. "We all represent different regions but in our region, our flooding is seasonal, It happens like clockwork. ... We need to approach this in a pragmatic way that resolves the issue."
"The issue" is this: As flooding has increased, due in part to what some say is climate change, the 51-year-old NFIP has been unable to keep up. The insurance program, which is overseen by the Federal Emergency Management Agency, has had to increasingly borrow money to cover claims, while some homeowners have not been able to meet premium costs, and private and re-insurance markets have been unable to cover the gaps.
Hence, while the government is shelling out billions in disaster relief, its primary flood-insurance program is not keeping up. Given these problems, and others — including a paucity of accurate flood maps essential to calculating risk — Congress has passed 10 short-term extensions of the program since 2017.
The latest one runs out May 31, and Congress, led by Financial Services Committee Chairman Maxine Waters, D-Calif., is trying to come up with a longer-term replacement.
It's not easy for a program that, according to Rep. Sean Duffy, R-Wis., pays out 24 percent of its claims to just 2 percent of its insured.
Witnesses from both the private sector and advocacy organizations on Wednesday urged committee members to take a more comprehensive approach beyond insurance.
The country has adequate flood-plain maps for only about a third of the country, witnesses said. Others said it's lagged in financing mitigation projects to limit flood damage. Some called for fuller flood-vulnerability knowledge for homeowners and fuller disclosure of flood risks for homebuyers and prospective business owners.
Clay said he sensed a growing, bipartisan consensus that Congress can't wait any longer for a more robust plan.
"This committee knows the implications of us doing nothing," he said.
Bracing for spring flooding
And the hearing was two weeks after dire warnings by the National Weather Service that heavy snowpack in the Rocky Mountains, Plains and Midwest could lead to widespread flooding this spring.
Luetkemeyer has introduced several bills to boost the NFIP, including making it easier for policyholders to move back and forth between government and private coverage. He reminded committee members that flooding was not just a coastal issue, telling Waters that there are more miles of shoreline around the Lake of the Ozarks than along the California coast.
He urged stronger pushes toward private-insurance competition and reinsurance, and Wagner focused on technological solutions to better understand flood risks.
"Reauthorizing this program with taxpayers still on the hook is bad policy," Luetkemeyer said.
Clay, too, said he is not happy with taxpayers apparently having to bail out the final $16 billion of the flood-insurance program, which is one provision in a draft reauthorization being drawn up by Waters.
Maria Cox Lamm, an official with the South Carolina Department of Natural Resources, said that the nation is far behind in accurate flood-plain maps, and that with damaging floods proliferating and fewer people having adequate coverage, "unfortunately the trends are worsening."
That's a problem for potential homebuyers, said Realtor Mabel Guzman, who spoke on behalf of the National Association of Realtors.
Buyers can get more information on a car for sale that's been flooded than they can on a home that has been in multiple floods, she said.
Collin O'Mara, president and CEO of the National Wildlife Federation, told the committee that studies showed that every dollar spent on mitigation measures, including enhancing natural water-sopping features like dunes and wetlands, returns $6 in damage prevention.
"Flooding is natural," he said. "Disasters are man-made."
For most of three hours, the hearing avoided a cloud in the room: climate change.
Clay, mindful that Democrats may need Republican votes to pass comprehensive flood-insurance reform, said the committee has struggled with flood-insurance reform "long before the Green New Deal came about."
But Rep. Alexandria Ocasio-Cortez, D-N.Y., an author of that controversial Green New Deal and a new member on the committee, said that recent flooding "is what climate looks like now, in the present day."