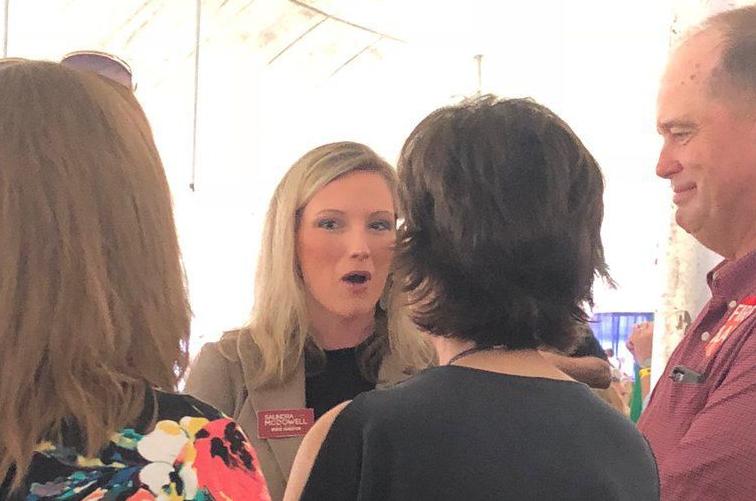 JEFFERSON CITY — Saundra McDowell, who lost a statewide bid to become state auditor in 2018, filed Tuesday to run against Gov. Mike Parson in Missouri's August primary election.
McDowell, who lists her address in Springfield, had been a political unknown until she beat three other Republicans in the August 2018 primary for auditor.
McDowell, who previously resided in Jefferson City, is an Air Force veteran, a lawyer and was last working as a political consultant. As of Friday, she did not have a campaign account as she headed into a battle against a well-financed Parson.
She did not respond to requests for comment. Tuesday was the final day for candidates to file.
McDowell's Missouri residency also was an issue in the campaign.
The Missouri Constitution requires a state auditor to have resided in Missouri for 10 years. The Post-Dispatch reported in September that McDowell, 38 and a mother of five, had been living in Kansas in 2013. Galloway, who is running for governor on the Democratic side, said those problems made McDowell unfit to oversee an office that serves as a watchdog over taxpayer dollars.
Also running for governor on the Republican side are Raleigh Ritter of Seneca and Rep. Jim Neely, a doctor from Cameron.
Among Democrats, Galloway is in a five-way battle for the nomination. Others include St. Louis residents Jimmie Matthews, Antoin Johnson and Robin John Daniel van Quathem and Kansas City resident Eric Morrison.
Galloway was appointed auditor in 2015 and won a full term in 2018.
Third party candidates filing for the governor's race include Libertarian Rik Combs of Lohman and Green Party candidate Jerome Howard Bauer of St. Louis.
In the race for lieutenant governor, Republican incumbent Mike Kehoe faces a primary challenge from Arnie Dienoff of O'Fallon and Aaron Wisdom of Williamsburg.
On the Democratic side of the lieutenant governor race, Alissia Canady of Kansas City will run against Gregory Upchurch of St. Charles.
Canady is a former Kansas City councilwoman. She also made an unsuccessful bid for mayor.
Missouri Secretary of State Jay Ashcroft, a Republican, is seeking a second term. Democrat Yinka Faleti of St. Louis is seeking to unseat him. Faleti is a former prosecutor and executive at a not-for-profit.
Former state Rep. Vicki England, a Democrat from south St. Louis County, filed to run against Republican state Treasurer Scott Fitzpatrick.
Englund represented House District 85 from 2009 to 2011 and District 94 from 2013 to 2015. She lost to the late Rep. Cloria Brown in 2016 by less than 400 votes.
Two St. Louis Democrats filed to challenge Republican Attorney General Eric Schmitt — Elad Gross, a former assistant Missouri attorney general, and Rich Finneran, a former federal prosecutor.
St. Louis County
In St. Louis County, a fourth Democrat entered the county executive primary race on Tuesday.
Jamie Tolliver, 36, of University City said there was a simple reason why she was running for county executive: She's encouraged by the people who have encouraged her to do it.
Now there are three white men in the race — and one black woman.
"At the end of the day, it's about being the voice for a group of people," she said. "I know when I watch politicians or listen to debates, or read the paper, I don't see myself in there. I don't see a lot of the things that I stand for represented. I see a lot of promises made but none of them are directly speaking to me or to the people I know or interact with."
Tolliver said she is a Ph.D. student at University of Phoenix who works as an outreach coordinator for the University City Public Library. She is a divorced mother of a girl, 10, and boy, 8, who attend Flynn Park Elementary School.
She said she understands she's running against three well-known and well-funded candidates: County Executive Sam Page, County Assessor Jake Zimmerman and retired businessman Mark Mantovani.
"I know there are people who are less willing to take a chance on things but I feel very strongly that people will want to hear something slightly different."
The Republicans will have a primary race, too.
Paul Berry III, who lost to Steve Stenger by 20 points in the general election in 2018, filed as a Republican. He will face Kirkwood resident Ed Golterman, known for his long quest to revive the Kiel Opera House.
Theo "Ted" Brown Sr. of Riverview also filed to run on the Libertarian Party ticket, and Elizabeth "Betsey" Mitchell on the Green Party ticket.
Three County Council seats are up for grabs, and incumbents Kelli Dunaway, D-2nd District, Rochelle Walton Gray, D-4th District, and Ernie Trakas, R-6th District, each filed for reelection.
Creve Coeur Mayor Barry Glantz filed as a Democrat to challenge Dunaway, who won a special election last year to fill Page's council seat after the council selected him to serve as county executive. The race is pivotal because Glantz would not necessarily vote with the four-member council bloc that has supported Page's initiatives.
Glantz, 60, an architect, tried to run last year as an independent but failed to get enough signatures to get on the ballot.
"I've been serving this community in some capacity for 28 years and I've never had to declare a political party before and to be perfectly honest, I've voted for Democrats, Republicans and independents," he said. "If I look at the district I'm hoping to represent, the demographics show that it's a Democratic leaning district. If I want to make a difference in the community and St. Louis County, I can call myself a Democrat. I'm comfortable with that."
He said he was not dissatisfied with Dunaway but felt he had more experience.
Dunaway, 45, said she was disappointed to have to face a primary challenge during the COVID-19 pandemic that has placed demands on her time for family, the county and her position as director of learning and development at the Bryan Cave law firm. But she said she knows "it's worth it to help make this a better world for my children, and that matters to me."
"I filed again because I came here to serve my district and there is more to do in terms of helping the district recover from this crisis and support working families," she said. "I want to stand strong for the environment, families and economic growth in North County."
Jerry Bowen of Hazelwood filed as the lone Republican, and Arnold Trembley of unincorporated St. Louis County filed as a Libertarian.
Walton Gray will face challenger Mark Behlmann of Florissant in the Democratic primary. Eric S. Harris of Florissant filed as a Libertarian.
Two Democrats filed in the 6th District: Alex Lange, a union representative for United Food and Commercial Workers Union Local 655 from south St. Louis County, and state Rep. Bob Burns, of Affton, who's facing a term limit in his fourth term representing the 93rd District.
St. Louis
In St. Louis, David Mosley on Tuesday became the second Democratic primary opponent for Sheriff Vernon Betts, joining Alfred Montgomery, who filed previously. Two Republicans also signed up earlier, John Castellano III and Lester "Corkey" Stewart.
Also Tuesday, Republican Robert Vroman signed up to run for city treasurer. Incumbent Tishaura Jones and Alderman Jeffrey Boyd filed earlier for the Democratic nomination and Don DeVivo will seek the office as a Green Party candidate.
Circuit Attorney Kimberly M. Gardner will be challenged in the Democratic primary by Mary Pat Carl; the winner will face Republican Daniel Zdrodowski in the November general election.
St. Charles County
In St. Charles County, former St. Charles Mayor Patti York filed earlier this month to challenge County Councilwoman Nancy Schneider, also of St. Charles, in the 6th District GOP primary. Schneider had been appointed to a vacancy last year by County Executive Steve Ehlmann.
Councilmen Joe Brazil, R-Defiance, and Dave Hammond, R-O'Fallon, drew no primary nor general election opposition.
Meanwhile, two associate circuit judges, Rebeca McKelvey and Matt Thornhill, will run in the GOP primary to succeed retiring Circuit Judge Ted House, a former Democratic state senator and state representative. No Democrats filed for House's judgeship.
Chris McDonough and Richard Gartner signed up to run in the GOP primary for the associate spot now held by McKelvey, while Michele Hammond will run unopposed for the Democratic nomination. Thornhill's associate judgeship isn't up for election this year.
Jeremy Kohler and Mark Schlinkmann of the Post-Dispatch contributed to this report.
This story has been updated to correct the spelling of Elizabeth "Betsey" Mitchell.
Get Government & Politics updates in your inbox!
Stay up-to-date on the latest in local and national government and political topics with our newsletter.