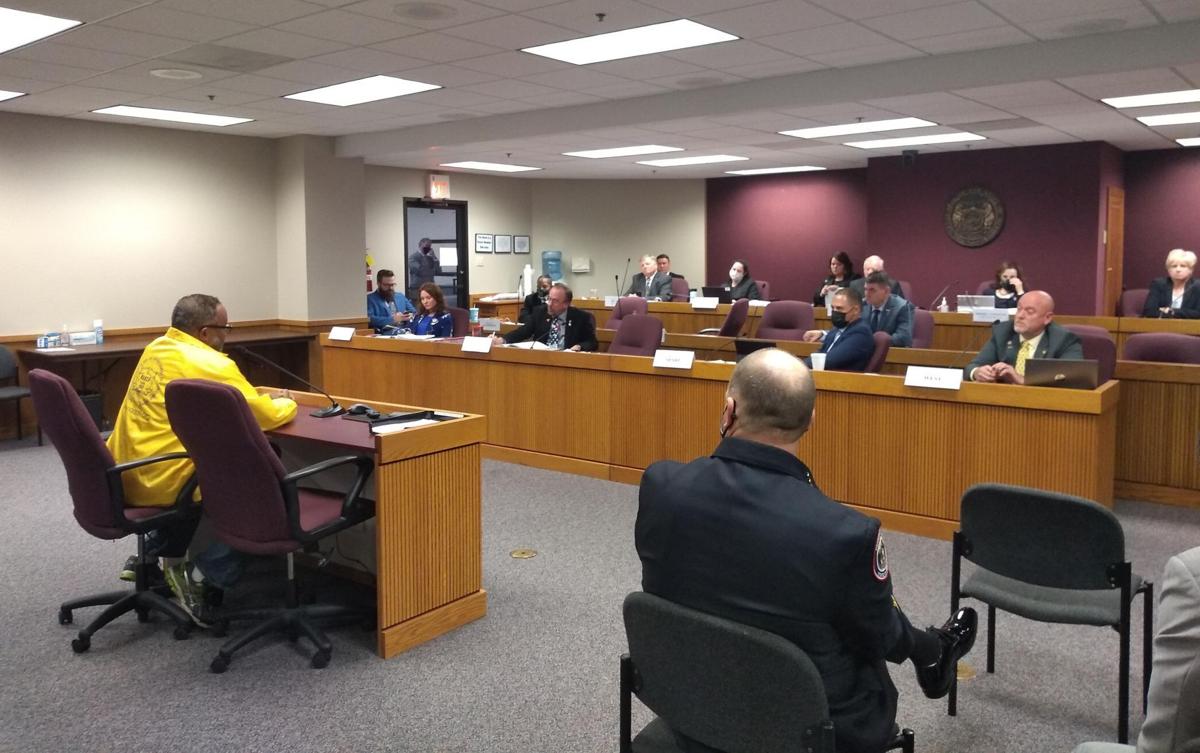 JEFFERSON CITY — Members of groups focused on faith and racial justice lined up Monday to oppose a proposal that would impose criminal penalties on protesters who block roads or vandalize monuments.
The legislation, sponsored by Sen. Bill Eigel, R-Weldon Spring, and already approved by the Senate, would also add legal protections for police and make it more difficult for municipalities to reduce police budgets unless they are reducing other department budgets by a similar proportion.
A "law enforcement bill of rights" in the proposal creates protections for police officers under investigation for misconduct and disallows parole for people convicted of attacking police.
Eigel's proposal comes after a year in which the killing of unarmed Black people by police led to nationwide protests for police accountability, including in Missouri.
During a House Crime Prevention Committee hearing Monday, Eigel rejected the idea the legislation affects First Amendment rights and said protesters' motivations and race were irrelevant. Instead, he said the proposal was concerned with avoiding the "chaos that ensues" and the potential danger when protesters block roads, especially highways.
"There is no right that you or I have that can come at the expense of the physical safety of our fellow citizens," he said.
Some members of the committee brought up concerns with blocking emergency vehicles or preventing economic activity.
Rep. Brian Seitz, R-Branson, said he and his wife had postponed an anniversary trip out of state and a shopping trip to Springfield because they worried protests had blocked roads.
Witnesses at the hearing and several committee members argued protesters' motivations do matter and asked if Eigel had worked with them to develop an alternative solution.
Eigel said he had spoken to constituents in St. Charles.
"If the concern is safety then I would sure like to see legislation filed that would protect those protesters rather than create a penalty," said Rep. Mark Sharp, D-Kansas City. "People are not in the streets protesting for fun. They're there for a reason."
Rep. Rasheen Aldridge, D-St. Louis, said that under the proposal, he would have ended up with a felony conviction and lost the right to vote for attending protests that block roads. His motivation to protest was "seeing people that look like me" killed by police, he said.
Aldridge also said protesters make police aware of plans so they can address safety concerns.
Eigel insisted on explaining the proper authority Aldridge and other leaders should have notified ahead of a protest blocking Interstate 70 in St. Charles. Eigel said the protest was his inspiration for the legislation.
When he called the exchange a "teachable moment," witnesses in the audience reacted with sounds of anger.
"Teachable moment? Watch what you say," one person said.
The Rev. Darryl Gray, a criminal justice activist and chairman of a St. Louis jails task force, said he had been jailed for civil disobedience in the past.
"I will go to jail again if I feel that we have to go to that extreme … these types of bills force us to the edge," he said.
During Senate debate on the proposal, Eigel agreed to an amendment that softened penalties for first and second offenses of "unlawful traffic interference," an offense created by the legislation. But the third offense would still be a felony.
The lone witness in support of the proposal was Jay Schroeder, president of the St. Louis Police Officers Association. Schroeder focused his praise on the law enforcement bill of rights portion of the legislation, saying it would ensure due process right for police.
Aldridge and Rep. Robert Sauls, R-Independence, said they might support that part of the bill if it stood alone.
But some witnesses argued it was problematic to protect police without addressing protesters' concerns about police violence.
Protecting perpetrators of violence but not potential victims is a refusal to recognize that "God loves all people," he said, responding to Seitz's argument that the Bible supports defending "peace officers."
Testimony on the proposal was cut short because of time constraints. Committee Chair Lane Roberts, R-Joplin, asked witnesses to limit their remarks to two minutes.
At the end of the hearing, Roberts thanked people for attending and said the result was not a foregone conclusion. The fact so many attended and spoke compellingly might influence the legislation, he said.
Ahead of the hearing, about three dozen people attended a rally sponsored by a coalition Gray leads.
A press release from the coalition said it is not only concerned with Eigel's proposal, but with anti-protest bills in state legislatures around the country since the death of George Floyd in police custody and the resulting protests.
Speakers at the rally included Rep. Ashley Bland Manlove, D-Kansas City, chair of Missouri's Legislative Black Caucus; Nimrod Chapel, Missouri NAACP president; and Dr. Linden Bowie, president of the Missionary Baptist State Convention of Missouri.
Members of the coalition, many of whom testified at the hearing, also include Expect US St. Louis, the NAACP St. Louis branch, Missouri Jobs With Justice, Organization for Black Struggle, Missouri ACLU, Missouri Faith Voices, Jewish Community Relations Council, Southern Christian Leadership Conference KCMO, Missouri Faith Leadership Council, and the Missouri Democratic Party Progressive and LGBTQ Caucuses.