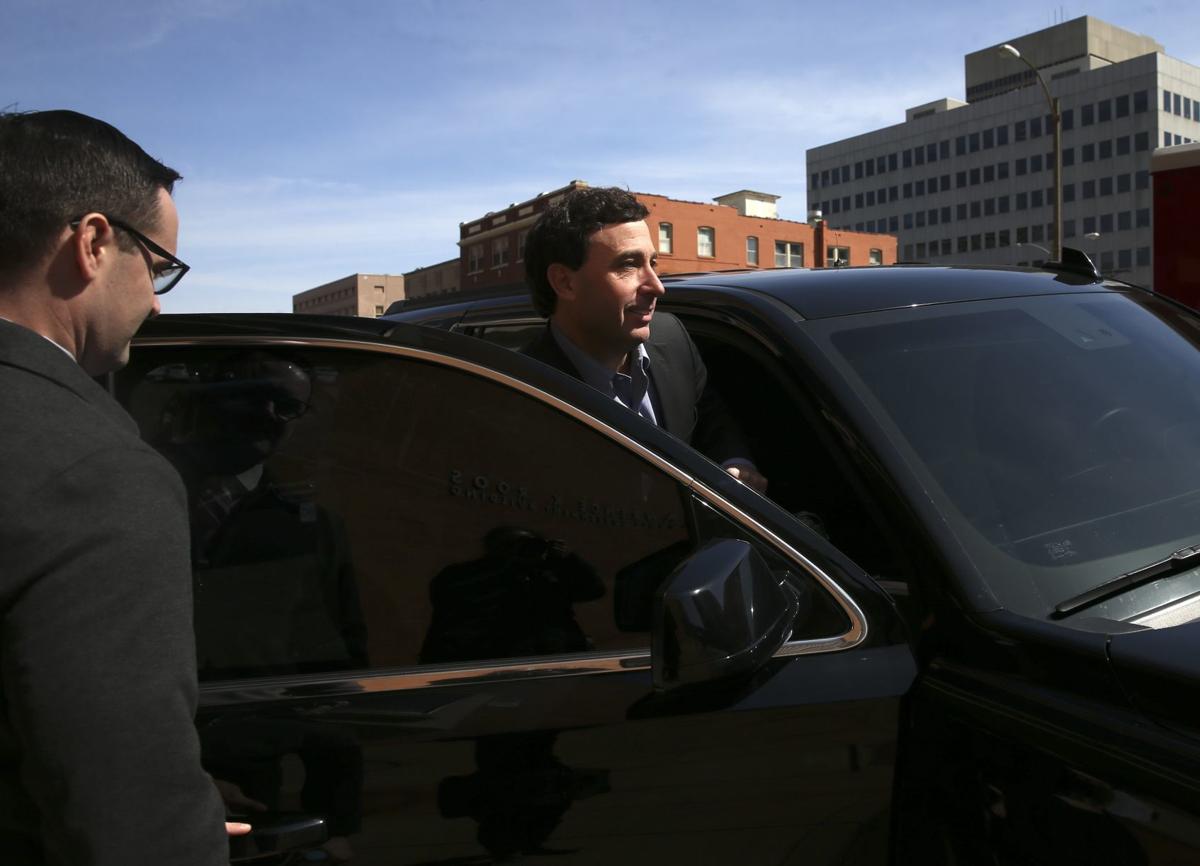 CLAYTON • A federal prosecutor leading the investigation into St. Louis County Executive Steve Stenger's administration has asked the county to turn over records from a list of grants and contracts — most of them involving Stenger's campaign donors.
In an April 4 letter to St. Louis County Counselor Peter Krane, obtained by the Post-Dispatch from a source, Assistant U.S. Attorney Hal Goldsmith asked Krane to focus on records of contracts and grants with several entities. At the top of the list are two businesses — Northwest Crossings and Givco LLC — involved in the county's lease for office space at the former Northwest Plaza shopping mall in St. Ann.
The deal will cost county taxpayers between $69 million and $77 million. The owners of the site, brothers Robert Glarner and P. David Glarner, donated $365,000 to Stenger's campaign.
The Stenger administration initially touted the deal as saving taxpayers $10 million. A Post-Dispatch investigation revealed that those claims were false and that the contract had the potential to cost millions more than had been disclosed.
Goldsmith said Monday he could not discuss the subpoena. Stenger did not respond to a request for comment. He has previously said in response to questions about Northwest Plaza that the "Post-Dispatch narrative concerning my campaign contributions is misleading and tiresome."
The Glarners have denied that the donations and the contract were related. They did not respond to a request to their lawyer for comment on Monday.
Next on Goldsmith's list are two businesses — Cardinal Insurance Group and Brentwood Capital Partners — associated with businessman John Rallo.
He and partner Corey Christanell were investors with Wellston Holdings, which bought two Wellston industrial parks from the St. Louis County Land Clearance for Redevelopment Authority for a little more than $525,000. Rallo, Christanell and companies they are associated with have donated around $40,000 to Stenger's political campaign.
Stenger has repeatedly denied any involvement in the 2017 deal. But the St. Louis Economic Development Partnership official who oversaw the sale told the newspaper in December that Rallo's relationship with Stenger was central to the bidding process, and that he had been told not to find other bidders for the sites. Rallo and Christanell did not respond to a request for comment.
The list also asks for contracts or grants involving Crescent Farms South LLC, whose registered agent, Mike Roberts, owns Crescent Farms golf course in Eureka. His entities have donated more than $43,000 to Stenger's campaign. The inquiry seems to point to the government's interest in a proposed $2 million county contract to replace the Lewis Road bridge, which carried traffic only to and from the golf course and mansion on the other side of railroad tracks.
A May 2017 Post-Dispatch story under the headline "Bridge for one" revealed in 2017 that Roberts' companies owned those properties. The revelation led to allegations of cronyism, a call for a state audit and hours of public hearings. The project failed in April 2018, when it did not get a County Council majority. Roberts could not be reached at the golf course on Monday.
Other contracts
Goldsmith's letter also asks for grants and contracts made with Gershenson Construction Co., which in 2017 said that Stenger canceled a $500,000 road contract approved by the County Council after the company complained about why it was taking months for Stenger to sign it. Stenger said at the time that it was a budget decision. Company president Ed Gershenson did not return a phone message.
The list also asks for grants and contracts with Pelopidas, a lobbying firm working on behalf of St. Louis financier, philanthropist and political donor Rex Sinquefield. It also is one of the firms associated with the Better Together merger proposal that, before it was revised, would have made Stenger the region's first metro mayor without an election. Pelopidas owner Travis Brown did not respond to a request for comment.
The letter also seeks contracts with NorthSide Regeneration, the company owned by developer Paul McKee that owned property in north St. Louis that will be the site of the new National Geospatial-Intelligence Agency complex. It's unclear what, if any, business dealings NorthSide has had with the county. McKee did not immediately respond to a request for comment.
And it seeks grants or contracts involving the nonprofit group Missouri Association of Career Fire Protection Districts. Executive Director Gary Donovan did not return a request for comment. The president of the nonprofit is Dave Tilley, a political fundraiser whose firm has made $80,000 this year working exclusively for Stenger. Tilley could not be reached.
Post-Dispatch metro columnist Tony Messenger in an August 2017 column first put the spotlight on how the groups were helping Stenger bring in donations without having to report potential conflicts when donors also work for the county. Messenger disclosed a year later that the PAC paid for ads against two other petitions the council had placed on the ballot over Stenger's vetoes, and that $200,000 had originated from a nonprofit funded by Sinquefield.
Another firm the feds want to see contracts with is Habbas & Associates, owned by lobbyist Mark Habbas. Habbas was a longtime Jefferson City lobbyist for firefighters and was involved with a failed medical marijuana ballot initiative that Rallo and Christanell were also part of. Brown, of Pelopidas, was also an organizer for that marijuana effort. Habbas did not reply to an email.
The letter also seeks grants and contracts with Lemay Housing Partnership, a nonprofit reliant on grants from the St. Louis County Port Authority. When the group was facing the prospect of losing county funding, it hired a financial felon at Stenger's recommendation whose wife had been Stenger's legislative aide. Phil Mannhard, the nonprofit's board president, said Monday it was the first he had heard about the government's request.
Goldsmith also wants Krane to produce documents from the county's contract with LDI Integrated Pharmacy Services, also known as Leehar Distributors. The company and its principals, Len and Grant Dino, have given at least $80,000 to Stenger's campaign. LDI was sold in late 2017 to Flint, Mich.-based Diplomat Pharmacy. Neither Dino could be reached for comment.
Jail phone plans
The letter also seeks records relating to two firms, Securus and Legacy, which provide phone plans for jail inmates. Representatives for the companies could not be reached Monday.
Also listed are contracts with Demien Construction Co., of Wentzville. Owner Dave Demien said the firm has worked on a few county construction projects, including a business incubator in Wellston built in part with a $2 million federal grant. He said in a brief interview Monday that he was "not aware of any improprieties involved with anything we did with the county."
The letter also prioritizes contracts with law firm Blitz, Bardgett & Deutsch. One of its partners, Bob Blitz, is a frequent contributor to Democratic candidates, including Stenger. The firm received a no-bid $75,000 contract from the St. Louis County Port Authority to work on the county's efforts to build an ice rink and soccer fields in Creve Coeur Lake Memorial Park. It received a $50,000 contract from the Port Authority for legal fees associated with a transportation study performed by consulting firm Accenture. Blitz did not respond to a call.
Another company on Goldsmith's list, ARCO Construction, was named as the contractor in the failed plan to build a practice facility for the St. Louis Blues in Creve Coeur Lake Memorial Park. The firm's principals have given several thousand dollars in campaign contributions to Stenger. Its chairman also donated to Stenger's opponent in the primary election. The company's CEO did not immediately respond to a request for comment.
Another entity that Goldsmith's letter said was a priority: Lou Fusz companies, which has given at least $35,000 to Stenger's campaign account and another $15,000 to the fire protection organization.
Goldsmith also seeks records related to nonprofit Better Family Life Inc., which provides workforce development programs at the county's office in Northwest Plaza. Representatives for those organizations could not be reached.
Jacob Barker of the Post-Dispatch contributed to this report.
St. Louis County Executive Steve Stenger's fall: Some background reading
Here's a collection of Post-Dispatch stories looking at some of the controversies surrounding former St. Louis County Executive Steve Stenger.
Daily updates on the latest news in the St. Louis business community.