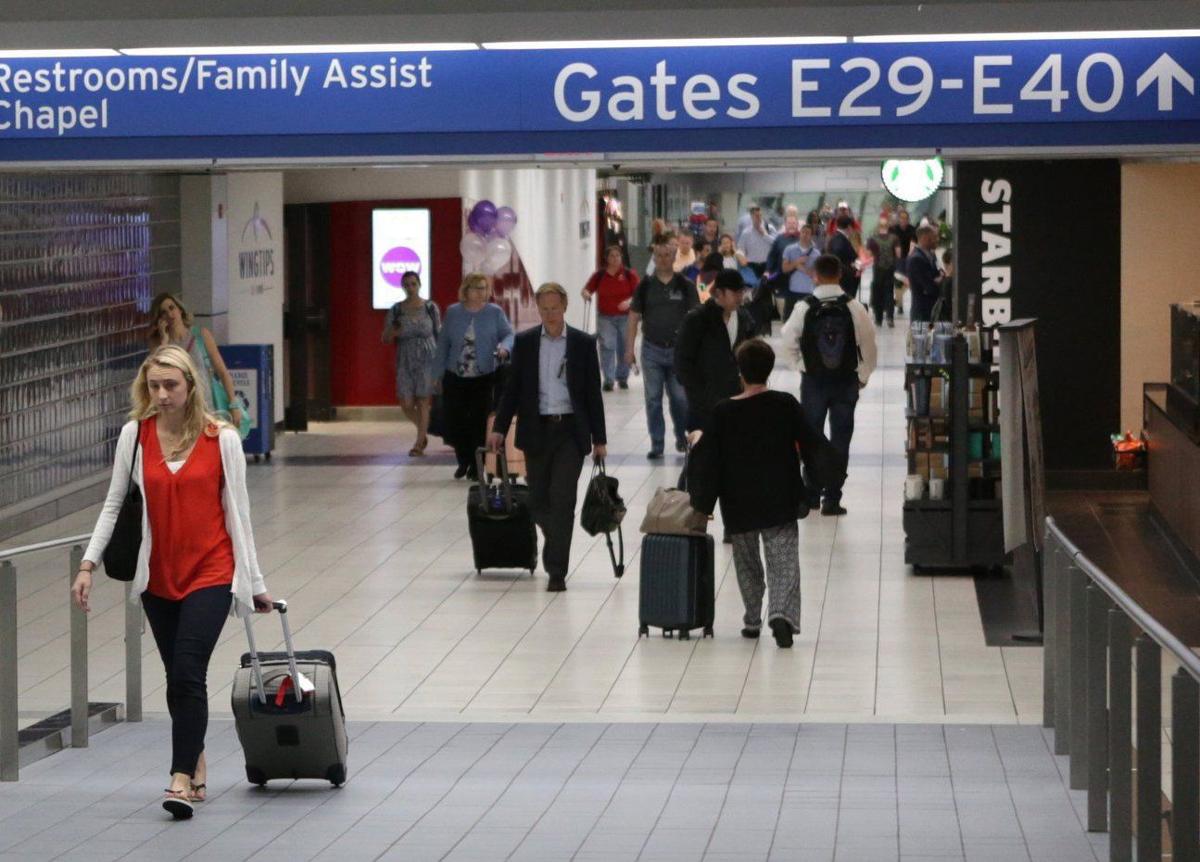 ST. LOUIS • A financial firm advising the city on whether to privatize St. Louis Lambert International Airport says there has already been significant interest in operating it from potential investors.
St. Louis' airport is a "mature, proven transportation opportunity" that has drawn the attention of airport operators, infrastructure fund managers and pension funds from around the world, said Glenn Muscosky, managing director of Moelis & Company, one of the city's lead privatization consultants.
Not only is it a sizable opportunity to invest, in theory, hundreds of millions of dollars, but investors also see potential real estate development opportunities for the unused land surrounding the airport, Muscosky said.
St. Louis is about four months into its exploration of potentially leasing Lambert to a private operator. While the city initially applied to explore privatization to the FAA's Airport Privatization Pilot Program in April 2017, the first major step happened this summer, when top city officials approved contracts for an advisory team.
A committee that's been working alongside the privatization consultants in recent weeks includes representatives of the mayor, aldermanic president and comptroller, as well as the city budget director and airport director, as well as 19th Ward Alderman Marlene Davis, who chairs the Board of Aldermen's transportation committee.
Budget Director Paul Payne told top St. Louis officials on Wednesday that the city could issue a request for qualifications, or RFQ, early next year.
Meanwhile, the working group has also been negotiating with airlines. Public outreach efforts to St. Louis County and other surrounding municipalities begins this week, Payne said.
It could take anywhere from 18 to 24 months to reach a deal, if the city decides to move forward at all, he added.
Public-private partnerships like the one St. Louis is considering are fairly common in European airports but rare in the United States. The San Juan Luis Muñoz Marín Airport in Puerto Rico is the only private U.S. airport. Other cities, like Chicago, have explored the idea without moving forward on a deal.
It's too early to estimate how much money the city could receive from a potential lease agreement, Muscosky said, but showcasing such a partnership is another draw for investors.
"A private investor can come in and really demonstrate the merits of public-private partnerships associated with airports, to build a case for doing more of these in the U.S. than the ones that have been done to date," he said.
Mayor Lyda Krewson said she's still undecided on leasing the airport and wants to see what kind of formal response the city gets from bidders. Any deal must help the city attract new companies and jobs and lead to "more flights to more places more often," she said.
"I think we frankly don't know enough yet after these first four months to make a decision on the airport," Krewson said on Thursday. "I think we're going to have to wait and see what proposals we get as to whether or not any of them are good enough for us to entertain."
St. Louis Comptroller Darlene Green remains skeptical that privatizing the city's largest asset will benefit taxpayers in the long run.
"Certainly, the private side looks at this as something that they would benefit (from) greatly," she said. "But in our history, in the 20-plus years that I've been here and of course going back way further than that, private industry, or private partners, have fallen short of their promises."
Meanwhile, a bill that would allow for a public vote on a potential lease agreement has stalled in committee.
A hearing on the bill this week was canceled because of a scheduling conflict, said sponsoring Alderman Cara Spencer of the 20th Ward. It has been rescheduled to Dec. 6.
Aldermanic President Lewis Reed has also proposed a bill outlining spending priorities for potential revenue the city would receive from a private airport operator, including crime prevention initiatives, affordable housing and small business development. It would require the city to issue a financial report explaining how the money from a contract would be used each year.