ST. LOUIS • For St. Louis officials, the discussion surrounding the state initiative known as Proposition B, which would gradually raise Missouri's minimum wage to $12 an hour, triggers a bit of déjà vu.
An initiative petition that has put the proposed increase on the Nov. 6 ballot may be a newer approach, but their reasons for supporting the change are the same as they were when the city tried to act on its own in 2015.
"Everyone knows the city of St. Louis tried to raise the minimum wage on our own, because we know how important it is to the people of our city," said 9th Ward Alderman Dan Guenther. "This is our opportunity … to make sure the state follows through with what we were asking to do years ago, to be able to put money back into the pockets of our people here."
He's referring to a city ordinance that would have eventually raised the minimum wage in St. Louis to $11 an hour. The Board of Aldermen passed the measure in 2015, but it was tied up in court for two years after business groups sued to block the hike.
By August 2017, the new law took effect and city leaders were back to square one.
As is the case with gun-control laws, leaders in St. Louis and Kansas City have argued that cities have different needs than Missouri's rural areas or smaller municipalities. Missouri's current minimum wage of $7.85 an hour makes it nearly impossible to support a family in an area with a higher cost of living, they contend.
"When you look at Craigslist or look at apartments, it is impossible to find a place to live that you can afford on minimum wage. It is simply not feasible. And we've got to right that," said Alderman Cara Spencer, 20th Ward.
After state lawmakers overrode the local minimum-wage effort, supporters knew changing the wage statewide was the only way to make it stick.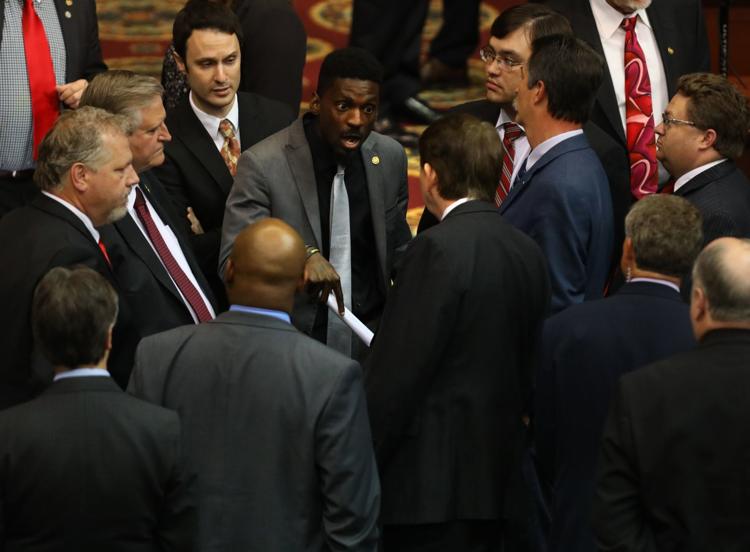 For state Rep. Bruce Franks Jr., it's an issue that hits close to home. His mother raised both Franks, D-St. Louis, and his brother on a White Castle paycheck, making minimum wage, he said.
"This is an opportunity for the people to give themselves a raise," Franks said.
Proposition B would bump the minimum rate to $8.60 an hour starting Jan. 1, and increase it every year by 85 cents until reaching $12 in 2023.
Raising the minimum wage has been a well-funded effort, with support from state labor groups, left-leaning organizations and $1 million from the Sixteen Thirty Fund, a Washington "dark money" nonprofit that does not have to reveal its donors.
Other businesses support the initiative, with 170 St. Louis employers signing onto a Missouri Business for a Fair Minimum Wage statement in support of Prop B. Several spoke to reporters on Thursday, contending that paying workers a little more actually boosts their bottom line.
"Paying fair wages is one of the smartest business moves I've ever made," said Delmar Loop businessman and landlord Joe Edwards. "We don't have nearly the employee turnover of others in the restaurant and service industry. That translates to better customer service and saves us time and money in recruiting and training costs."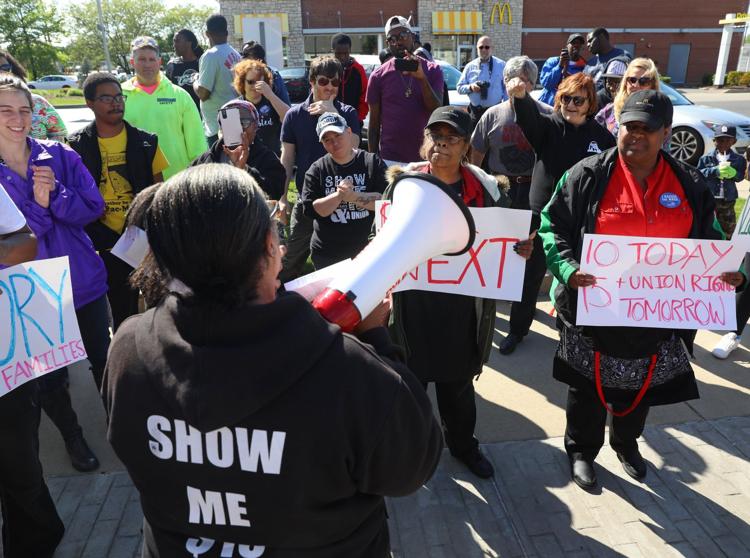 Spencer said St. Louis officials knew a long time ago that this was good policy, but voters can ensure the change is permanent this time by passing Proposition B in November.
"This is personal. St. Louis wants to see our residents have a livable wage. Our elected body voted to increase the livable wage here. The state Legislature overturned that," Spencer said.