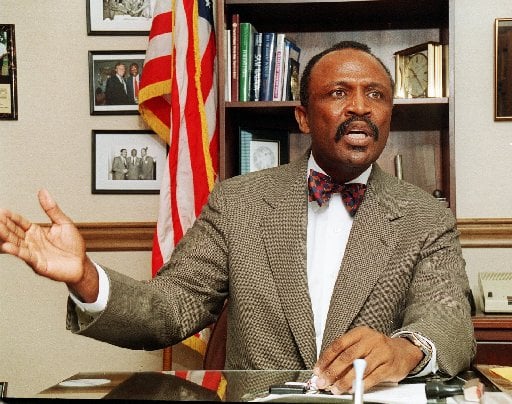 ST. LOUIS -- Former city comptroller Virvus Jones, with his penchant for bow ties and infectious grin, is a man of distinct style.
So when Virvus Jones moves somewhere, he doesn't just get a new house -- he gets the whole street.
The measure, sponsored by Alderman Frank Williamson, would provide the honorary designation near the intersection of Cates and Belt Avenue.
Jones grew up in the area, and recently built a new home on the street.
During his prime, Jones was a force at City Hall, engaging in legendary feuds with then-mayor Vince Schoemehl.
He left office in 1995, after pleading guilty to tax invasion. Jones was accused of improperly using campaign funds and money from a nephew's guardian account.
Jones still hangs around City Hall -- he advocates for the Roberts Brothers at the Board of Aldermen -- where he can be found swapping stories and talking politics in the Leisure Room.
Aldermen are not shy about providing "honorary" street titles from everyone from religious leaders and sports stars to politicos and businessmen. Williamson had two other street namings on today's agenda.
The designation usually comes with a sign, but is not official -- for mail and other purposes, the legal street name does not change.