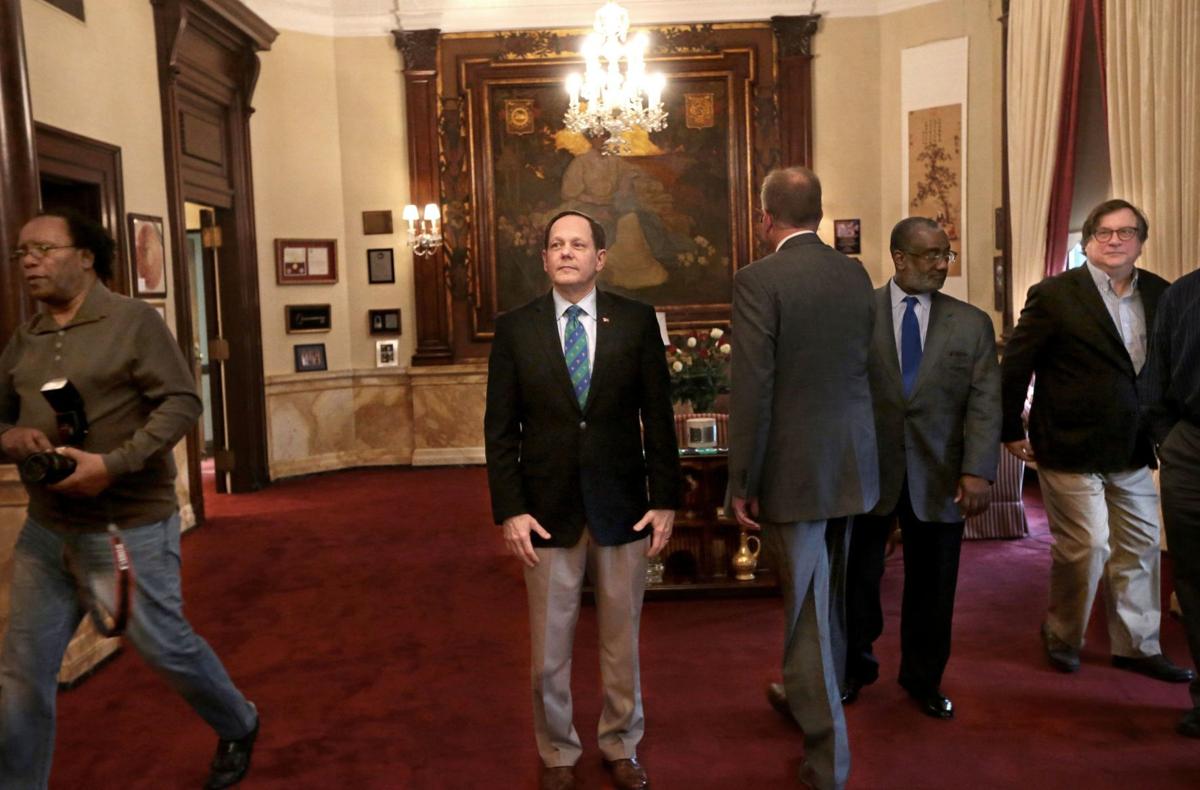 ST. LOUIS • Francis Slay has been hired by Ferrovial, a Spanish company mulling a bid to lease St. Louis Lambert International Airport, in a move that would thrust the former St. Louis mayor back into a process he initiated before leaving office last year.
"As a leading global developer of airport solutions, we join many within industry who are following the possibility of improving the St. Louis airport. We are delighted to announce that John Bardgett with John Bardgett and Associates, and Francis Slay of Spencer Fane LLP have joined our team locally," said Patrick Rhode, vice president for U.S. corporate affairs for the Madrid-based firm, on Wednesday.
Ferrovial operates four airports in the United Kingdom, including London's Heathrow Airport. Last year, Ferrovial Airports was awarded a 34-year contract for upgrading the Jeppesen terminal at Denver International Airport in Colorado — a $1.8 billion deal.
It was Slay, with the aid of retired St. Louis investor Rex Sinquefield, who asked for federal approval to study whether it's a good idea to put St. Louis Lambert International Airport under private management just weeks before finishing his fourth term as mayor.
His entrance into the city's exploration of a potential public-private partnership, this time as a private attorney, drew concerns from those who have already pointed to conflicts of interest in the process.
"It raises questions and sounds the alarm bells, but I think the bells have been ringing since the beginning," said Cara Spencer, alderman for the city's 20th Ward and a vocal critic of the privatization effort.
She has called for voters to decide on whether the airport should be privatized and said a company looking to make a profit off the airport might not be aligned with the public's best interests.
"When you have a deal that's entangled in conflicts of interest, it really could compromise the public's best interest," she said.
Slay did not return messages seeking comment.
Both were part of a group of city aldermen who voiced those fears this year, arguing that there has been an "appearance of quid pro politics" ever since Grow Missouri, a Sinquefield-affiliated nonprofit, was chosen as one of the city's advisers. Sinquefield is paying consultants who will walk the city through the process, with any reimbursement contingent on a deal being reached.
Before leaving office, Slay told the Post-Dispatch the money from a potential lease agreement could be used to bolster the city's infrastructure, citing the Northside-Southside MetroLink expansion — a project that he made a priority in the waning days of his administration — as one potential recipient of such funds.
But opponents of the effort, such as Comptroller Darlene Green, disagree.
"Currently, the airport is in a strong financial position, showing 31 straight months of passenger growth, two credit rating upgrades and added international flights," she said. "Privatization would disrupt this growth."
Green was the lone "no" vote on contracts for the team of consultants advising the city on potential bidders.
Her fellow members on the city's Board of Estimate and Apportionment, Mayor Lyda Krewson and Aldermanic President Lewis Reed, have said it makes sense to explore the idea of whether a private company can make the city's airport more efficient.
Beyond potential improvements at Lambert, the draw of a lease agreement includes the large sum of money, either upfront or over a series of payments, the cash-strapped city could receive from a new operator.
Francis Neuner, a partner at Spencer Fane, said in an email Wednesday that the firm would not provide details of the services it will provide to Ferrovial, saying it "respects the attorney-client relationship and does not comment to others on our engagements with clients."
A spokeswoman for Krewson declined to comment on Ferrovial's hiring of Slay.
Daily updates on the latest news in the St. Louis business community.