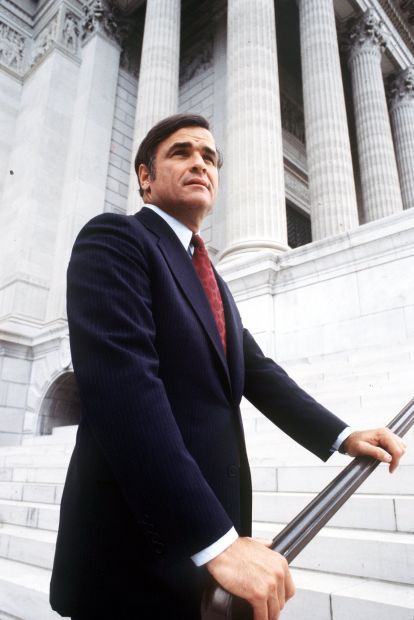 KANSAS CITY • Joseph P. Teasdale, the 48th governor of Missouri in the late 1970s, died Thursday in Kansas City from complications of pneumonia, his family said. He was 78.
Gov. Teasdale, a Democrat who was born in Kansas City, defeated Republican Gov. Christopher S. "Kit" Bond in 1976 and was in turn defeated by Bond in 1980.
Gov. Teasdale died Thursday (May 8, 2014) surrounded by his family.
Gov. Teasdale earned the nickname "Walking Joe" for his treks covering 1,000 miles across the state over two years during his nearly victorious primary election campaign in 1972.
After his defeat in 1980, he returned to Kansas City to practice law in Kansas City.
Gov. Teasdale was a "bigger-than-life personality who loved campaigning and meeting people more than governing," recalled Democratic political insider and strategist Steve Glorioso. "Honest to the core and always with the best intentions."
Gov. Teasdale avoided public and political attention after losing his bid for re-election, giving few interviews. In 1993 he told a reporter for The Star he had made a final decision that his political career was over.
"I wanted to become a normal person again, and I really wasn't normal before," Gov. Teasdale said. "For 20 years I was completely consumed by politics."
Describing a different era, Gov. Teasdale said the power of being governor was addictive.
"You make daily decisions about a multibillion-dollar budget," he said. "Everybody waits on your every word with baited breath."
He described the sudden loss of that power as "a pretty devastating reality to have to accept."
Gov. Teasdale was a graduate of Rockhurst High School and Rockhurst University. He got his law degree from St. Louis University.