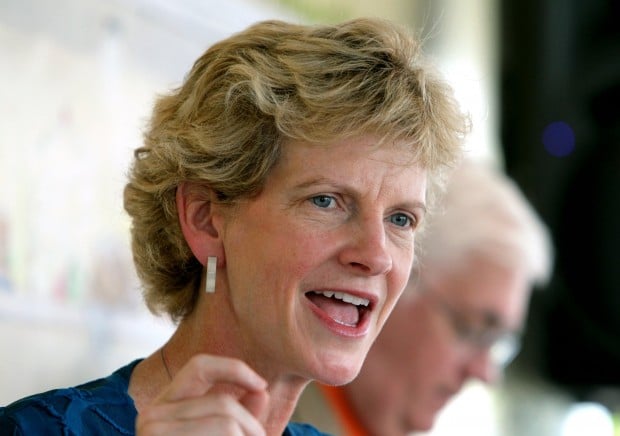 Former Missouri Secretary of State Robin Carnahan is now a senior director for the Washington D.C.-based Albright Stonebridge Group, a global strategy firm headed by former U.S. Secretary of State Madeleine Albright and former National Security Advisor Sandy Berger.
According to news release from the firm, Carnahan, a Democrat who served eight years in the secretary of state's office and is the daughter of former Gov. Mel Carnahan and former U.S. Sen. Jean Carnahan, brings to the firm a "diverse experience in both international business and state-level public and private sector leadership."
"I have admired the firm and its leadership for their integrity and breadth of experience and look forward to putting my expertise and understanding of both state and local public policy and the needs of business to work adding value for clients around the globe," Carnahan, 52, said in a statement.
ASG is a commercial diplomacy and strategic advisory firm that helps its clients "navigate the intersections of business, the public sector, and civil society in over 100 countries on six continents," according to the news release.
A Rolla native, Carnahan unsuccessfully ran for U.S. Senate in 2010, losing to Republican Roy Blunt.
This fall, Carnahan will serve as a visiting fellow at the University of Chicago's nonpartisan Institute of Politics, and she's on the board of the National Democratic Institute for International Affairs.
Before becoming secretary of state, she served as an executive at the Export-Import Bank of the United States and practiced corporate law.
"Her expertise, network, and insights will add enormous value to the work we do for our clients in every corner of the globe," said Albright, who served in President Bill Clinton's administration.
Berger, who also served during the Clinton administration and infamously pleaded guilty in 2005 to a misdemeanor amid claims that he removed classified documents from the National Archives, founded the Stonebridge Group in 2001. It later merged with the Albright Group.
"Robin understands what it takes to create partnerships between business and government to improve people's lives. The combination of her global perspective and her hands-on experience on how business gets done at the state and local level will add a tremendous perspective to our team," Berger said in the news release on Carnahan's hire. "Robin knows how to solve problems and execute strategies to maximize returns whether it is for taxpayers or shareholders, and she has the kind of integrity that makes our team unique."