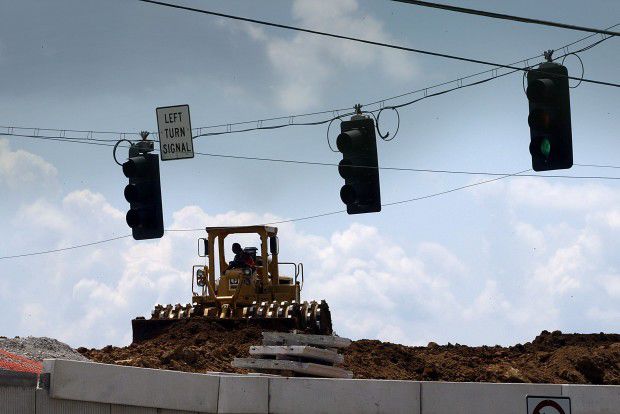 JEFFERSON CITY — A former state senator who served with Gov. Mike Parson is in line to win a $152,000 grant from a special pot of money championed by the Republican chief executive.
Jay Wasson, a Republican from Nixa who served alongside Parson in the Missouri House and Senate, will learn Wednesday if his family real estate company gets the matching funds when the Missouri Highways and Transportation Commission meets in the capital city.
Wasson said he didn't lobby Parson or his administration for the money, which will pay half the cost of a new intersection on Highway 160 in Christian County.
"I personally didn't make a single phone call or reach out to anybody," Wasson said. "I've never wanted to be in that position."
In December, Parson announced that 20 transportation projects will receive $50 million under his transportation cost-share program. The projects were selected by officials at the Missouri Department of Transportation and the Department of Economic Development.
According to the governor, the panel reviewed 48 applications requesting more than $92 million to deliver $321 million in projects. The committee selected 20 applications to receive the $50 million, which will deliver $131 million in projects if approved by the commission.
"The number of applications shows that these partnerships are not only of great interest but of great benefit to Missourians. It also highlights that many unfunded transportation needs remain in our state," Parson said.
Other projects being financed by the program include construction of an additional lane on Interstate 70 in O'Fallon, Missouri, and a new roadway for a long-sought riverside development in St. Charles.
Wasson, who is a longtime real estate developer in the community south of Springfield, said his project will open up land he owns to development. Without an intersection, the property is not viable for businesses, he told the Post-Dispatch Tuesday.
He's already sold one of the lots in the commercial subdivision to CoxHealth, which plans to build a clinic employing about 90 people on the site. Wasson said he has since inked another contract to sell at least one other parcel.
The proceeds of those sales could help him pay the matching funds for the intersection.
Wasson, who was appointed by Parson to an unpaid post on the state Tourism Commission in 2018, said local officials were instrumental in getting the project underway.
"I didn't have a lot to do with it, but I signed it because I'm paying the other half," Wasson said.
On Tuesday, Parson announced he was appointing Wasson to a new post as a member of the Missouri State University board of governors.
Wasson represented parts of Christian, Lawrence and Stone counties in the House between 2002 and 2010, before moving to the Senate. He resigned from the Senate in November to take position on the tourism board. His Senate term was up in January, and he was term-limited from running again.
He also served as mayor of Nixa from 1997 to 2002.
Wasson has not yet closed out his campaign account. Through October, he still had $218,000 available.
His last significant campaign contribution was a $10,000 check to Safer Missouri, a political action committee that raised money in support of the Parson-backed increase of the gas tax.