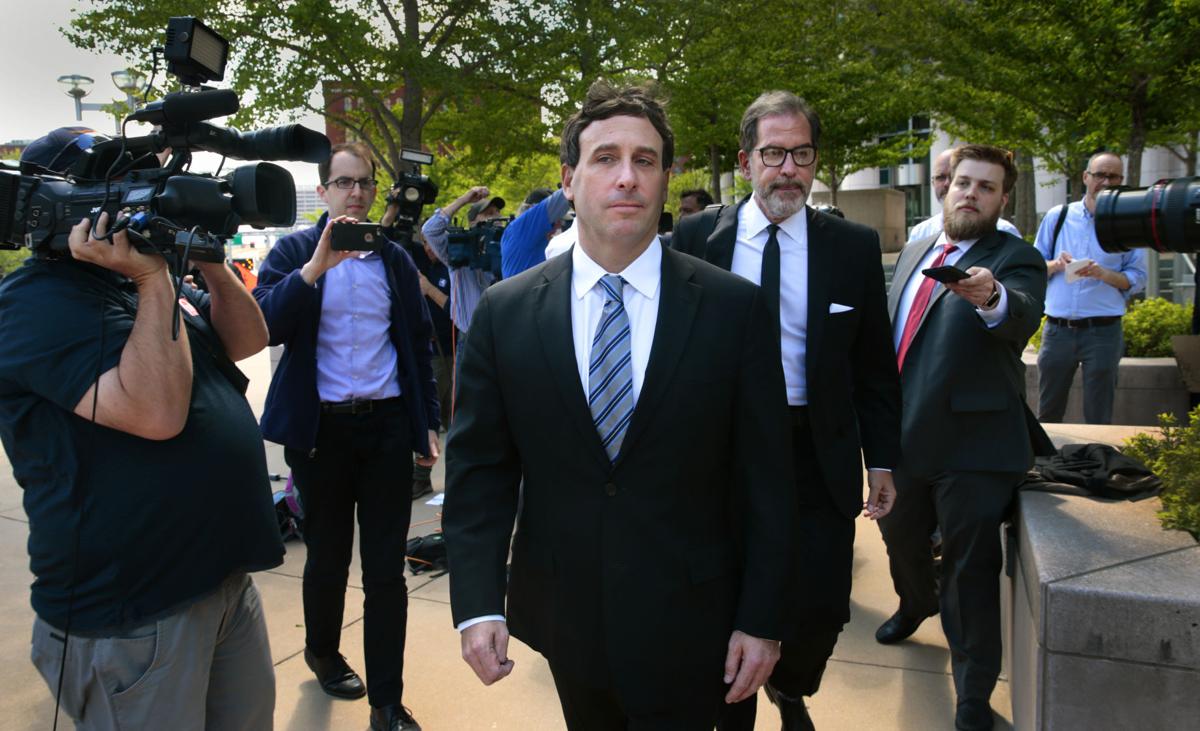 ST. LOUIS — Former St. Louis County Executive Steve Stenger has been released from prison.
Stenger, 49, was sentenced in August 2019 to nearly four years in federal prison for charges related to pay-to-play corruption. The Federal Bureau of Prisons now lists him at the St. Louis Residential Reentry Management Field Office.
A spokesman for the Federal Bureau of Prisons said it doesn't disclose an inmate's conditions of confinement "for privacy, safety, and security reasons."
But a court official confirmed to the Post-Dispatch that Stenger is on house arrest. He and his wife own a home on North Forsyth Boulevard in Clayton appraised at $1.43 million.
Stenger, a Democrat, pleaded guilty in May 2019 to federal corruption charges following a federal investigation into favors traded for campaign contributions. He represented south St. Louis County on the County Council before winning election as county executive in 2014 and reelection in 2018. A former CPA and attorney, he forfeited both licenses after he was indicted.
He reported to a federal prison camp in Yankton, South Dakota, in September 2019. Though he was initially sentenced to 46 months, his sentence was later reduced and is set to end in December.
Prisoners can earn up to a year off of their sentences by completing the intensive Residential Drug Abuse Program. Stenger, a former criminal defense lawyer, had requested admission to that program. But U.S. District Judge Catherine Perry initially rejected a request that he be recommended for the program, saying that although he may have abused alcohol — successor Sam Page's staff removed seven boxes of alcohol and party lights from the county executive's office when they moved in — there was no evidence of drug use.
Shortly after being admitted to prison, however, Stenger was admitted to the Residential Drug Abuse Program, his lawyer, prominent defense attorney Scott Rosenblum said in October 2019. Rosenblum also said then that Stenger may be able to get even more time off under the 2018 First Step Act, meant to help shorten federal prison sentences.
Stenger's chief of staff Bill Miller and campaign donor John Rallo were also indicted in the pay-to-play scheme and sentenced to prison time. Both have since been released.
Stenger also punished or tried to punish his perceived opponents, including the St. Louis County Council, and county employees who didn't do his bidding, according to federal prosecutors.
Robert Patrick of the Post-Dispatch contributed to this report.
Here's a collection of Post-Dispatch stories looking at some of the controversies surrounding former St. Louis County Executive Steve Stenger.