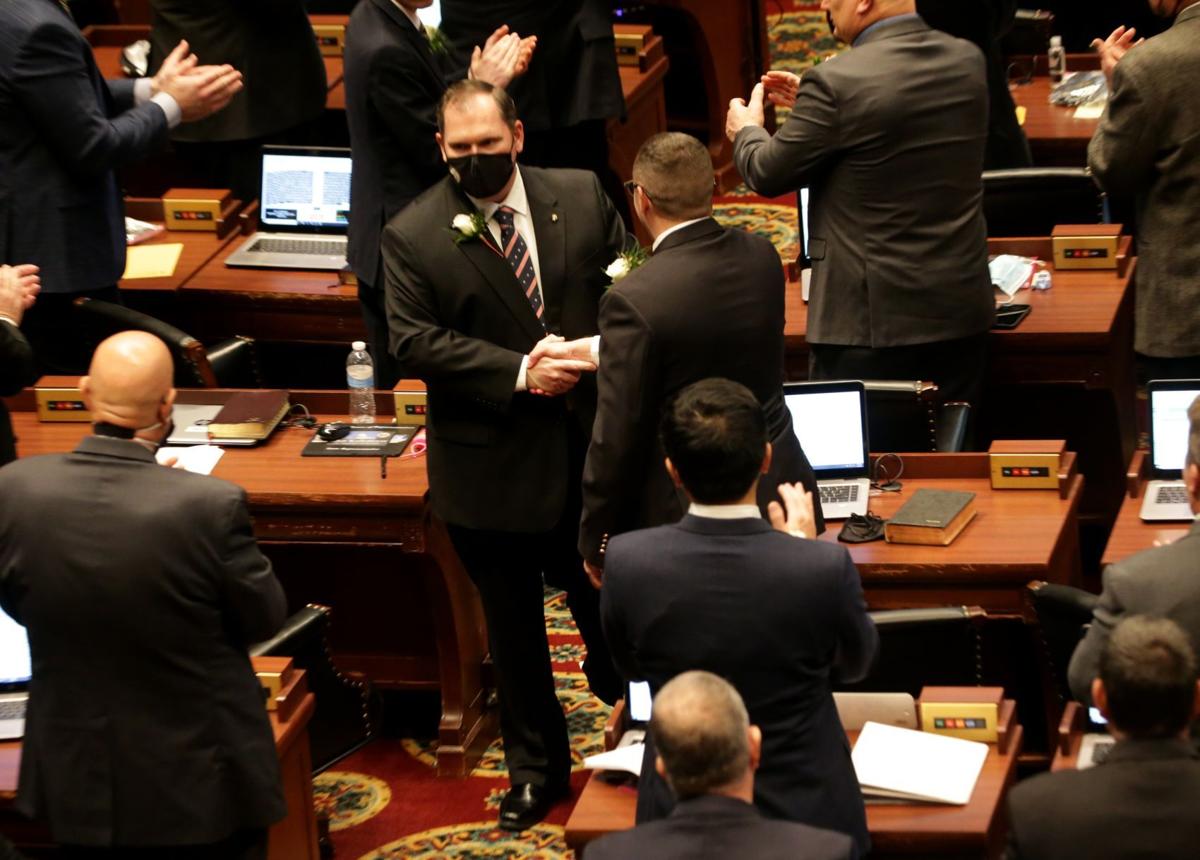 JEFFERSON CITY — Legislation increasing financial help for foster and adoptive parents unanimously passed in the Missouri House on Wednesday. The proposals now advance to the Senate.
A second proposal from Kelly would expand eligibility for a $10,000 tax credit to offset adoption expenses. The credit is currently available for the adoption of special needs children from Missouri. If the bill becomes law, it would be available to anyone adopting a child and to businesses that cover adoption expenses for their employees.
Kelly said the special needs tax credits had been underused. Despite an annual cap of $2 million, the maximum that has been claimed in a year was about $1 million. Last year, less than $30,000 worth of tax credits were claimed.
During debate Monday and Wednesday, representatives from both sides of the aisle spoke in favor of the bills.
Rep. Raychel Proudie, D-Ferguson, said Monday that she hoped support of the foster bill would be unanimous.
"For those parents who are taking children into their homes and opening their hearts, this is a very very small drop in the bucket" compared to potential expenses, she said.
Rep. Keri Ingle, D-Lee's Summit, spoke in favor of both bills Wednesday. Ingle is the ranking minority member on the Children and Families Committee.
"Anything that we can do to encourage people to adopt and to take children into a forever home is a very very just cause," she said. "It's arguably one of the most important things we can do in this body."
Rep. Dottie Bailey, R-Eureka, said she usually supported keeping government as small as possible, but saw the adoption proposal as an exception.
"This is where government can do good things for good people that want to share their home with a child," she said.
Rep. Tom Hannegan, R-St. Charles, clarified that the financial assistance would be available for LGBT or single parents and expressed his support of the proposals.
Hannegan said the bills had prompted the most feedback from his constituents.
"Many people told me they just simply would not be able to do these adoptions without these tax credits," he said. "I've heard over and over and over again from my constituents."
Rep. Brenda Shields, R-St. Joseph, on Monday offered an amendment to the adoption proposal that would define a child to include people younger than 18 and also adults who cannot care for themselves.
Kelly supported the amendment, which was added with no apparent dissent.
"I'll never forget when I got a phone call from an individual in my district that has a family member who is an adult who was not able to take care of themselves, and it opened my eyes to a whole new world of need," Kelly said.
Several representatives cited personal experience with the foster system as a reason they supported the legislation.
Kelly said she realized she knew little about the system when she heard a foster bill early in her time in the Legislature. She decided to learn more and eventually became a foster parent. She now has an adopted daughter and has fostered 11 children.
"Getting to be her mom has been one of the greatest privileges of my life," Kelly said of her daughter.
Kelly closed her foster license recently so she wouldn't benefit personally from the bill.
Speaker of the House Rob Vescovo, who named foster and adoption reform as among his top priorities, fast-tracked the legislation.
Vescovo, R-Arnold, was adopted from foster care as a child.