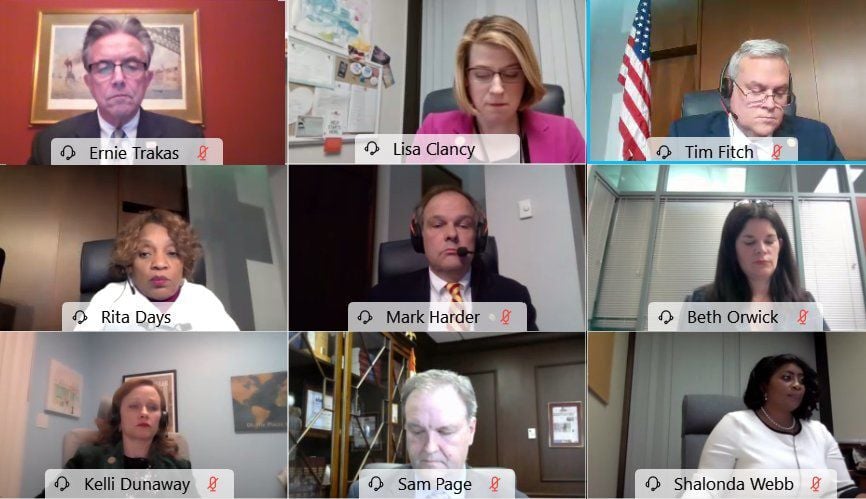 ST. LOUIS — Four members of the St. Louis County Council said they will meet Friday to select a new chair and vice chair.
Council members Mark Harder, R-7th District, Tim Fitch, R-3rd District, Rita Heard Days, D-District 1, and Shalonda Webb, D-4th District, announced Thursday that they would meet at 4:30 p.m. Friday to vote for new leadership.
The meeting is the latest development in a fight over control of the seven-member legislative body, and whether allies of County Executive Sam Page will be in charge or not.
On Jan. 5, the council voted 4-3 to retain Councilwoman Lisa Clancy, D-5th District, as chair. Councilman Ernie Trakas, R-6th District, was elected vice chair. But the pivotal fourth vote for Clancy and Trakas was cast by Councilwoman Rochelle Walton Gray, the District 4 Democrat who lost her bid for reelection in the Democratic primary on Aug. 4.
A charter change, approved by voters on Aug. 4, delayed the swearing-in of Gray's successor, Shalonda Webb, until Jan. 12. Because of that delay, Gray's term was extended, and she was allowed to vote on Jan. 5.
Fitch was one of three council members opposed to allowing Gray to vote, citing the Missouri constitution; Webb joined them Tuesday in voting to rescind Clancy's election as chair and designate Fitch as "presiding officer" until the council votes on a new chair.
On Wednesday, both Clancy and Fitch insisted they would take charge at the council's next regular meeting Jan. 19, arguing they have the county charter, state constitution and parliamentary rules on their side.
On Thursday, Harder, Fitch, Days and Webb petitioned the county clerk's office to set a meeting for Friday, according to a public notice.
The St. Louis County Charter establishes that a "majority of the members of the council shall constitute a quorum," and four out of seven is a majority, Harder said late Thursday on KMOX (1120 AM).
"We have petitioned the clerk as of today to set up a meeting," Harder said. "The only thing that will be on the agenda will be the election of a council chair and vice chair."
"We will pick up where we left off when it comes to the election, and get that issue resolved so that we can move forward next Tuesday night," he said.
But the plan didn't appear to have included Clancy or her allies on the council, Trakas and Kelli Dunaway, D-2nd District.
"We welcome them, we want them to join us if they choose to," Harder told KMOX talk show host Mark Reardon. "They are invited as they would be to any meeting that we have, and any meeting that anyone would call."
Clancy told the Post-Dispatch that she would attend the meeting, but that any vote for a new chair or vice chair would be illegal.
"I will attend and chair the meeting," she said in a text, "but the purposes that they wish to achieve during the meeting are not legal and circumvent our charter and rules."
Dunaway and Trakas did not immediately respond when asked if they would attend the Friday meeting.
Editor's note: A previous version of this report incorrectly stated Clancy objected to the meeting as illegal. This version has been corrected.