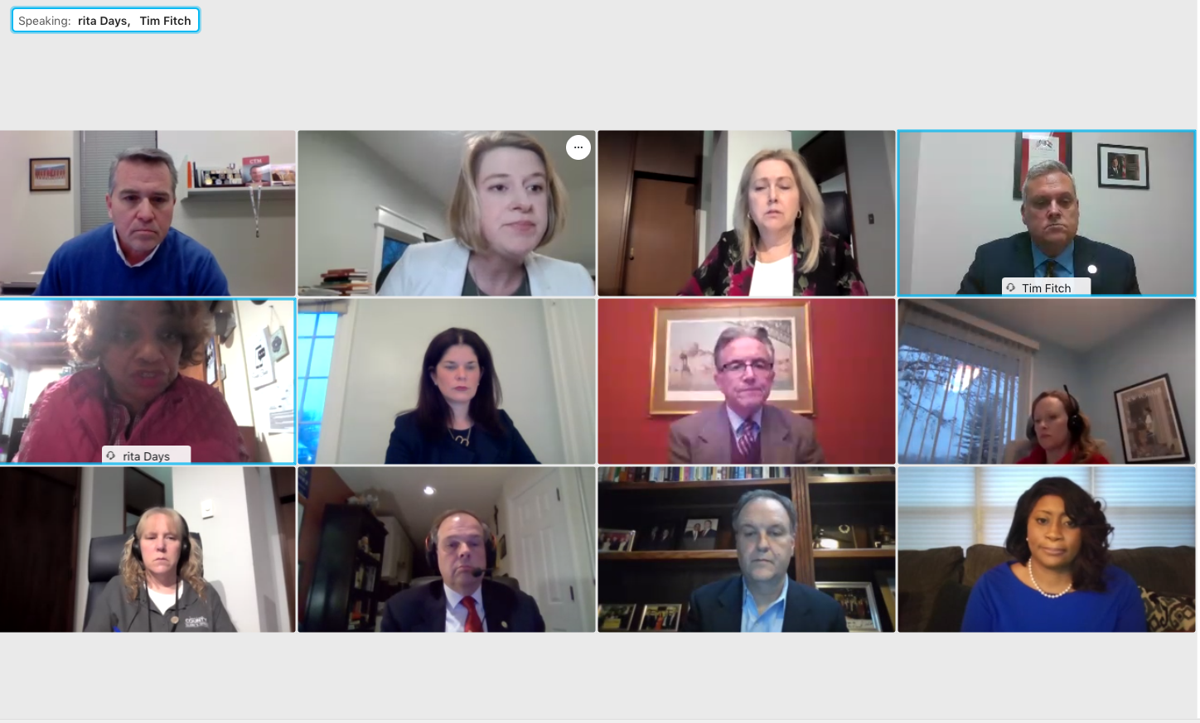 ST. LOUIS — The St. Louis County Council, at a special meeting held Friday, voted 4-3 to elect Councilwoman Rita Heard Days, D-1st District, as chair and Councilman Mark Harder, R-7th District, as vice chair.
But Councilwoman Lisa Clancy, D-5th District, who was elected chair on Jan. 5, insisted the vote was illegal, and that she, not Days, remained in charge.
Councilman Ernie Trakas, R-6th District, elected vice chair last week, also objected and said the dispute would end up in court.
The Friday meeting was the latest development in a fight over control of the seven-member legislative body, and whether allies of County Executive Sam Page will be in charge.
Clancy, Trakas and Councilwoman Kelli Dunaway, D-2nd District, have generally supported Page, including on public health orders and oversight of federal relief funds; Days, Harder and Councilman Tim Fitch, R-3rd District, have not.
The genesis of the fight stretches back to the Aug. 4 election. In the Democratic primary held on that date, incumbent Rochelle Walton Gray, D-4th District, was defeated by Shalonda Webb, who went on to win the general election. Separately, also on Aug. 4, voters approved technical changes to the county charter that delayed the start of county officeholders' new terms from Jan. 1 to the second Tuesday in January.
The new date fell a week after the council's first regular Tuesday meeting, when the charter calls for the council to elect a chair and vice chair for the year. Clancy and Gray, backed by legal advice from County Counselor Beth Orwick, argued that Gray's term, which was originally set to expire in 2020, continued until she was replaced. Because of that interpretation, she was allowed to vote at the Jan. 5 meeting, including on the election of a new chair and vice chair for 2021.
Fitch was among council members who objected, characterizing the move as an illegal power grab and accusing Orwick, a Page appointee, of bias. And Webb asked the council to delay the vote until she was seated Jan. 12, arguing Gray's participation would disenfranchise voters of District 4, which takes in a large section of north St. Louis County.
On Tuesday, Webb joined Fitch, Harder and Days in voting 4-3 to rescind Clancy's election as chair and designate Fitch as "presiding officer" until the council votes on a new chair.
But Clancy objected, arguing the move was illegal because the charter doesn't stipulate that a chair can be replaced unless the seat is vacant. That argument derailed Tuesday's meeting, and the council adjourned abruptly with both Fitch and Clancy attempting to take charge, Clancy calling Fitch a "bully" and Trakas calling Fitch a "fool."
On Thursday, the new council majority scheduled the special meeting to select a new chair and vice chair.
All seven council members attended Friday's meeting. Both Clancy and Fitch attempted to take charge, leading County Clerk Diann Valenti, who took directives from both council members, to ask the council members not to interrupt one another.
"As the county clerk, and my deputy clerk here today, we are obligated to record the proceedings from the meeting," Valenti said, "and when everyone is talking over one another it is very difficult for us to capture what is being said."
Clancy, Dunaway and Trakas refused to acknowledge the other council members' votes and objected at each procedural step.
"They should ask that legal question in the proper forum, not just say they don't like what the law is and so they're not going to follow it," Dunaway said. "If my colleagues wish to ask a court to break this impasse, I will accept whatever decision is made, but I will not be bullied into not following the law."
Dunaway characterized Fitch and other council members' objections as "a power grab" and compared it to a violent storming of the U.S. Capitol last week by supporters of President Donald Trump.
"You don't get to not follow the law when it doesn't suit your designs or when you disagree with it," Dunaway said. "Especially after last week's events at the Capitol this is not a time to normalize chaotic transitions of power."
Even after Days was elected, Clancy continued to try to steer the meeting, prompting a sharp rebuke from Days.
"Councilwoman Clancy, when you were the chair, we respected you, we asked you for permission to speak," Days said. "Please allow me the same respect. This vote was 4-3, whether you think it was illegal or not, please allow the respect of the chair that has just been elected to perform her duties."