In 2012, then-Missouri House Speaker Steve Tilley left public office with more than a million dollars remaining in his campaign fund — money that supporters had donated to further the public agenda he represented.
Instead, almost four years later, that money is furthering Tilley's private empire of lobbying and political consulting, through a tangle of private firms and PACs tied to Tilley family members and political allies.
It's a paper labyrinth that has legally accomplished what is normally illegal: the effective transfer of a fortune in donated campaign money from under the restrictions of the state's political system, and into the pockets of Tilley, his family and others.
A Post-Dispatch analysis of Tilley's post-legislative business and political dealings found that, of his original $1.1 million in donated money, roughly half remains unspent and under his control, though in a different fund than where it started.
The newspaper's analysis found: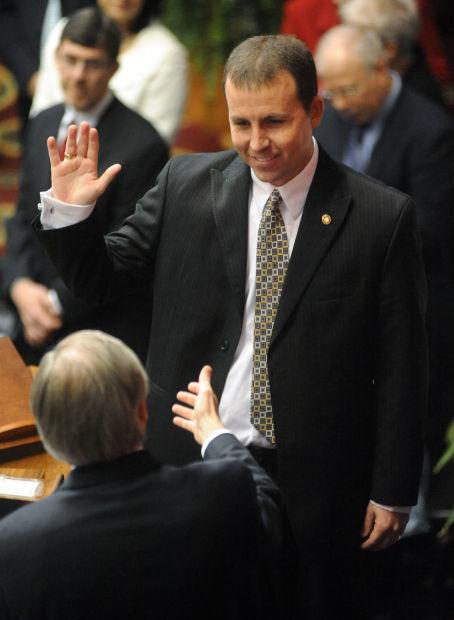 • Campaign funds controlled by Tilley or his family members have, over four years, showered more than $550,000 in donations to the same Missouri politicians he lobbies on behalf of his corporate clients. Though those donations were made through various committees, they originated almost entirely in Tilley's old cache of campaign money.
• At least a dozen state lawmakers who got those donations have turned around and paid more than $420,000 in fees to two consulting firms run by Tilley and his sister, Kristal Brickhaus. Unlike the original campaign money, those fees are regular, unrestricted income that the recipients can spend as they please.
• The money from Tilley's original campaign fund also bankrolled two subsequent PACs, one created by Tilley, the other by his brother, Jason Tilley, and their father, Everett Tilley. Both PACs have continued making donations to politicians whom Steve Tilley is lobbying, while some of those lawmakers are paying Tilley's sister, Brickhaus, for political consulting services. At the same time, the two PACs, along with Tilley's original fund, have directly paid Brickhaus or her consulting company a total of almost $20,000 in salary and fees.
• Tilley has long invested a large portion of the campaign funds he continues to control, growing tens of thousands of dollars in interest on those funds, from bank stock through a privately held holding company in his hometown of Perryville, Mo. That income, too, is restricted to political use only but can still be donated to the politicians who are being lobbied by Tilley and/or are paying consulting fees to his family.
Steve Tilley, Jason Tilley and Kristal Brickhaus didn't return calls seeking comment. Everett Tilley declined to comment.
Steve Tilley's complex recycling of campaign money through family, political allies and private entities is legal under Missouri's famously lax campaign finance and ethics laws. Missouri is the only state in America that places no restrictions on either campaign contributions or political lobbying.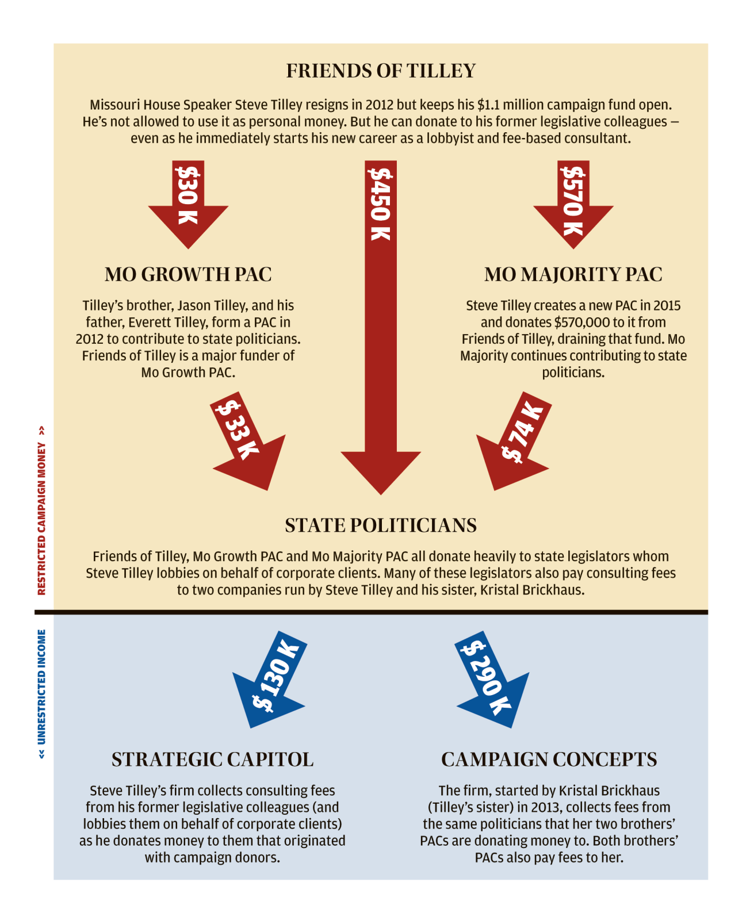 That will change, somewhat, with a new state statute passed this year and signed into law last month. It requires that future lawmakers who become lobbyists liquidate their campaign funds.
"Raising campaign funds is for the purpose of running one's own campaign, and not using it as a hedge fund," said the law's sponsor, state Rep. Jay Barnes, R-Jefferson City, who stressed that he was speaking in general terms and not about Tilley specifically. "It's not for ... turning around and using it later to run a business."
Lawmaker to lobbyist
Tilley, 44, a Republican from the small town of Perryville, about 80 miles south of St. Louis, had been Missouri House speaker for about 19 months when he resigned in August 2012, five months before the end of his term. He told colleagues as he left that he would "not be far away."
He wasn't. In Missouri, unlike the federal government and more than 30 states, ex-lawmakers can turn around and lobby their former legislative colleagues from literally the minute they leave office.
Records show Tilley waited about two weeks, registering as a lobbyist at the end of August 2012. He also began providing fee-based consulting services to his former fellow politicians under the auspices of a new consulting firm, Strategic Capitol Consulting.
Under Missouri law at the time, Tilley was able to maintain his campaign fund and its $1.1 million in donated money after leaving office. All he had to do was confirm in campaign filings that he intended to run for some unspecified state office in the future.
"I haven't ruled it out," he told the Post-Dispatch when pressed on the issue two years ago.
Four days after Tilley left office, he got his first consulting fee: $2,000 from state Sen. Mike Parson, R-Bolivar. It was the first of $10,000 that Parson's campaign fund would pay to Tilley's company during the remainder of 2012. It was the same Parson campaign fund that, earlier in the year, had received $10,000 from Tilley's campaign fund.
It was a pattern that would be repeated in subsequent months: consulting fees coming into Tilley's new firm from state lawmakers to whom Tilley was contributing through his still-open campaign fund. As the Post-Dispatch reported in 2014, the donations from Tilley's fund to the legislators' funds, and the fees the legislators' funds paid to Tilley, often were of similar amounts and timing.
There is no evidence that the transactions were related. But the clear result was that Tilley's leftover campaign funds, which he could legally spend only in limited ways, were effectively providing the money to politicians who would then buy Tilley's consulting services — paying him fees that, unlike the original campaign funds, were unrestricted income that he could use any way he wanted.
In all, Tilley's original fund shelled out more than $175,000 to several former legislative colleagues who paid him more than $130,000 in consulting fees, records show.
Some of those same lawmakers have subsequently paid Tilley's sister's consulting firm, even as the two PACs spun off from Tilley's original campaign fund continue donating to those lawmakers.
'Strictly business'
At the upper end of the scale is Parson, the Republican state senator, who is currently running for Missouri lieutenant governor. Parson's campaign fund has received more than $65,000 from Friends of Tilley since 2012, and $3,000 from Tilley's Missouri Majority PAC.
During that time, Parson's campaign funds have paid consulting fees totaling more than $35,000 to Steve Tilley's Strategic Capitol Consulting firm, and more than $150,000 to Campaign Concepts, the firm owned by Tilley's sister, Brickhaus.
Parson last week said his campaign's business relationship with Brickhaus "has nothing to do with Steve Tilley." He said the work — including consulting, fundraising and accounting — has picked up during his run this year for statewide office.
Parson said he considers Brickhaus' fundraising work a bargain because she charges standard fees rather than taking 10 percent of the total raised, as some other firms do. He credited her with raising about $1.2 million for him, and he argued that, when her non-fundraising work is added in, he's paying her less than he would have with some firms.
"It was strictly a business decision for me," said Parson. "I was sick of everyone taking 10 percent of the money."
Asked whether he's concerned how it looks for a candidate who has received thousands of dollars in political donations buying services of firms owned by the donor and the donor's sister, Parson pointed to "people out there doing million-dollar contributions. I think that's a little more of a concern."
Among Parson's opponents for the Republican nomination for lieutenant governor this year is Kansas City attorney Bev Randles. In 2014, Randles received a $1 million political contribution from St. Louis businessman Rex Sinquefield, apparently unprecedented in Missouri.
At the lower end of the scale are lawmakers like state Sen. Paul Wieland, R-Imperial. He has received $7,000 in campaign funds from Steve Tilley's original Friends of Tilley committee, and $1,000 from Missouri Growth PAC. Meanwhile, Wieland's campaign fund has paid consulting fees of $5,000 to Steve Tilley's consulting firm and $4,000 to Brickhaus' consulting firm.
"I've known Steve for years. Steve is a lobbyist, lobbyists help to fund campaigns, Steve helped me," said Wieland. As for the fees he paid to Tilley and Brickhaus, Wieland said, "In this business, there are people who know how to do things. I don't think there's anything unethical about it."
Records show Tilley has virtually stopped collecting consulting fees from his former legislative colleagues, but he continues to lobby those colleagues on behalf of a slew of major clients, including Anheuser-Busch, Tesla Motors, Uber and labor and professional associations.
Meanwhile, the consulting fees being paid to Tilley's sister's firm have risen dramatically, almost all of them from the same legislators who had earlier been paying Tilley.
Two spinoff PACs
In June 2015, Steve Tilley formally registered his new political action committee, Missouri Majority PAC, and soon after donated $570,500 to it from Friends of Tilley, effectively emptying out that old committee. Tilley still controls the money in the new PAC, and he still isn't allowed to spend it on anything other than making donations and paying PAC-related expenses under state ethics rules.
However, since it's a PAC rather than candidate campaign fund, Tilley no longer has to keep formally claiming that he plans to run again for public office — a claim that had become increasingly implausible, as he morphed from politician into one of the more successful lobbyists in Jefferson City.
Generally, PACs differ from candidate committees in that they are intended to promote political causes rather than candidates. The cause in the case of Missouri Majority PAC, Tilley told an interviewer last year, would be "growing the majority" for the Missouri Republican Party.
But at least some of that money would end up in the campaign funds of Democrats, via yet another PAC, set up by Tilley's father and brother.
In late 2012, shortly after Tilley left office, Missouri Growth PAC was registered as a limited liability company with Tilley's attorney brother, Jason Tilley, as its registered agent and with their father, Everett Tilley, as president. The group lists the same treasurer as both of Steve Tilley's funds.
In 2014 and 2015, Steve Tilley's original campaign fund donated a total of $30,000 to Missouri Growth PAC, making him its biggest donor. Missouri Growth PAC subsequently made donations of between $300 and $1,000 each to numerous state legislators — including eight Democrats, who together received $6,000.
It isn't the first time in Steve Tilley's post-legislative life as a lobbyist that he has ended up supporting Democrats with money that was donated to a Republican.
Tilley caused an uproar in mid-2013, not long after leaving office, by donating $7,500 from his former campaign fund to Democratic Missouri Attorney General Chris Koster. "Very disappointed to see money raised by a Republican Speaker going to a Democrat AG who recently pledged to fund Dem Legislative races," tweeted then-Senate President Pro Tem Tom Dempsey, R-St. Charles.
Amy Huber is listed as treasurer of Steve Tilley's now-closed campaign fund, and is currently treasurer of both PACs opened by the Tilleys. She declined to comment when contacted by phone. "I don't think I can help you," she told a reporter, and hung up.
New law
A new Missouri law this year places unprecedented restrictions on how legislators deal with their leftover campaign funds after they leave office. The law requires that any ex-lawmaker who registers to become a lobbyist must liquidate his campaign fund by either giving it back to the contributors, giving it to a party committee or donating it to charity.
The sponsor, Rep. Barnes, declined last week to address Tilley's situation, saying he would only talk about what the new law does in generic terms. "I'm not going to throw anyone under the bus," he said.
He then described a series of newly outlawed maneuvers that are essentially a diagram of what Tilley has done since leaving office: putting campaign funds in long-term investments that don't allow immediate access to the money; passing them into separate PACs controlled by the former office-holder; and passing them to other elected officials while lobbying those officials.
"If I donate to 'Joe Smith,' I expect those dollars to be used to further 'Joe Smith' in his work as a lawmaker, not in his work as a lobbyist," said state Rep. Gina Mitten, D-Richmond Heights, a supporter of the measure. "I think Missouri residents would agree with that."
New laws generally cannot be applied retroactively, meaning the measure won't affect Tilley or his continuing operations.
Walker Moskop of the Post-Dispatch contributed to this report.