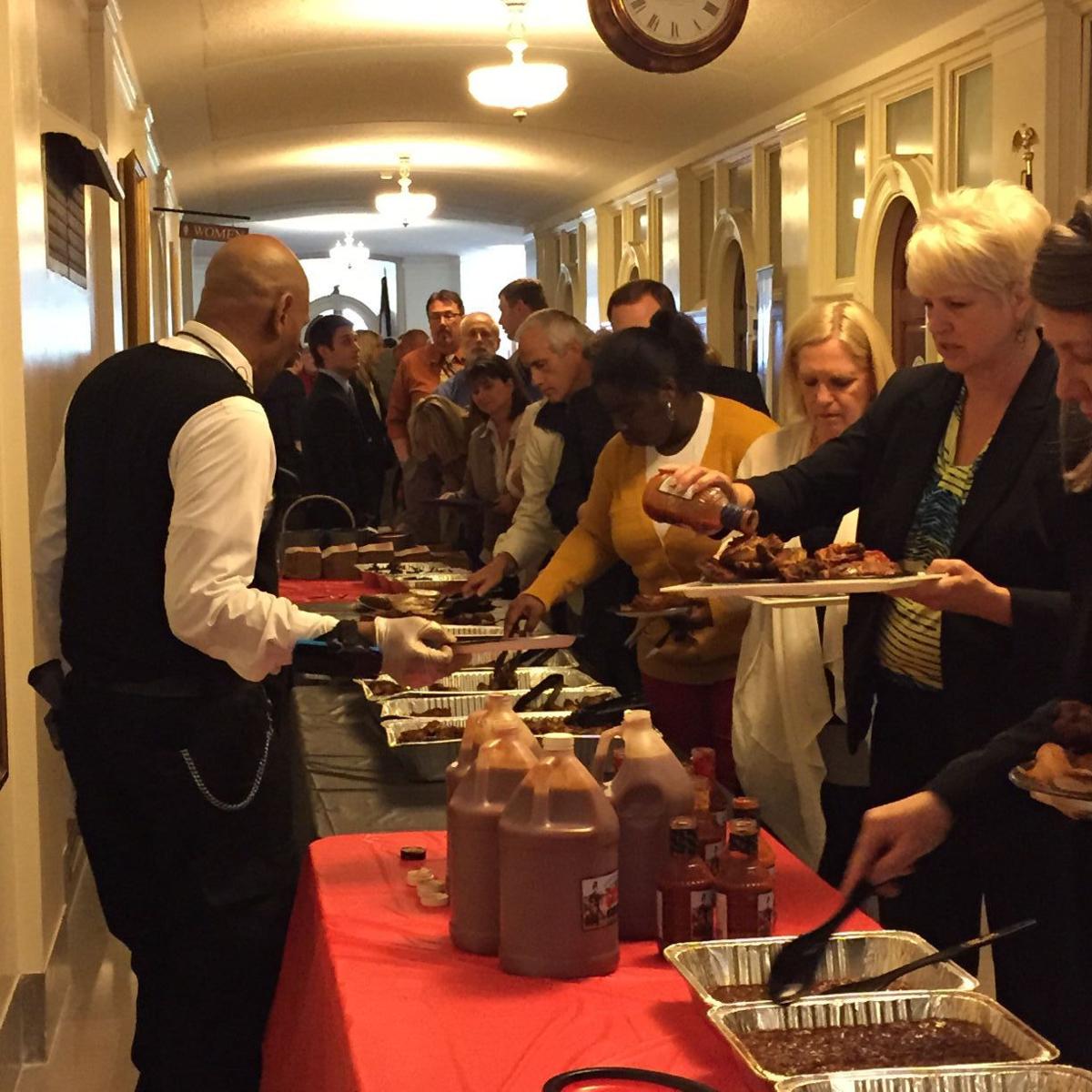 JEFFERSON CITY • Hungry legislators, staffers, lobbyists and onlookers converged outside Sen. Kiki Curls' office at noon Tuesday to help themselves to platefuls of ribs, chicken and sausage served up by the famed Gates Bar-B-Q.
Lobbyists paid for the feed, which drew a line that wrapped around the Senate side of the Capitol. Curls, whose Kansas City district includes Gates' headquarters, hosted the event, as her Senate predecessors did each spring before her.
The meal is among the most popular ones during the 4½-month Missouri legislative session, but it is far from unusual.
For lawmakers, a typical day in the Capitol might start with bagels in the Rotunda, include a picnic or fish fry on the lawn at noon, continue with a cupcake from a state university at midday and conclude with a buffet reception at a local hotel, hosted by credit unions or soybean farmers or any of a number of other groups with a stake in legislation.
Missouri imposes no limits on lobbyist-provided meals or gifts. And that appears unlikely to change when the legislative session ends at 6 p.m. Friday.
An ethics bill has languished in a House-Senate conference committee since early April. The sticking point: whether to impose a $25 cap on individual meals, tickets and trips that legislators receive from lobbyists.
House Speaker John Diehl, R-Town and Country, favors the cap, saying it would "get rid of the excesses," such as expensive dinners, entertainment and trips. The House added the gift cap to the Senate-passed ethics bill.
The bill's sponsor, Senate Majority Leader Ron Richard, R-Joplin, opposes the cap, saying it could be easily circumvented: A lobbyist who represents multiple companies, for example, could simply divide the cost of an expensive outing among his or her clients, assigning $25 to each one.
"All it is, is a way to hide stuff," Richard said.
Richard prefers to increase transparency by requiring lobbyists to name the individual recipients of committee meals, rather than just listing House or Senate committees.
With only three days left until adjournment, the conference committee appointed to iron out the differences has never met, though negotiators have traded drafts. They say they have resolved all issues in the bill except one: the gift cap.
If no ethics bill passes, Missouri will be bucking the trend, according to the National Conference of State Legislatures.
Only 10 states have no limits on gifts to legislators. In the last five years, almost half the states have passed some type of gift law. Last year alone, the NCSL said, changes passed in at least five states: Arkansas, California, Kentucky, Virginia and Washington.
The laws vary widely, ranging from "zero tolerance" in 10 states to monetary limits in 30 states. Iowa sits at the low end with a $3-per-day lid while Texas is among the highest, allowing $500 for gifts and $500 for entertainment annually, according to NCSL.
The push for gift laws "has gathered steam because legislators want to make certain that the public understands that these gifts do not influence public policy," said Peggy Kerns, who recently retired as the director of NCSL's Center for Ethics in Government.
In Missouri, special interests paid $277,849 to wine and dine legislators during the first three months of this year, according to Ethics Commission records.
That's less than in 2014 and 2013, when expenditures in the first quarter hit $436,490 and $470,143, respectively. The food tab apparently dropped this year because Diehl barred House committees from having off-site dinner meetings and eating lobbyist-provided food while conducting hearings.
Sen. Scott Sifton, D-south St. Louis County, wants to ban lobbyist-provided gifts altogether.
Sifton let the Post-Dispatch collect all the invitations he received this year. Since January, the senator has been asked to attend at least 135 free meals, ballgames and other entertainment events.
The offers came from pilots, dentists, firefighters, pawnbrokers, motorcyclists, water districts, private colleges, community colleges, biotechnology companies, pharmacists, labor unions, interior designers, insurance agents, accountants, veterans, sheltered workshops, podiatrists, retired teachers, trial attorneys, marriage and family therapists and the Missouri Press Association, among others.
"Taxpayers are already reimbursing us for meals," Sifton said, referring to the $103.20 daily expense allowance that legislators receive to cover lodging and meals in the Capitol. "I think it's wrong for legislators to pocket that money rather than use it for its intended purpose."
Gifts he rejected included a tin of cinnamon rolls, luxury suites at Blues games, "one of the hottest craft beers" (Bur Oak), which was offered at an Ameren Missouri reception, and barbecue from Pappy's Smokehouse, courtesy of the St. Louis Regional Chamber.
There was a Senate crab boil thrown by lobbyist Ginger Steinmetz, a "cooking with beer" demonstration by Missouri Beer Wholesalers, wine-tastings in senators' offices and a corned beef and cabbage lunch hosted by Express Scripts on St. Patrick's Day.
Whether a sandwich buys a vote isn't the question, said Sen. Rob Schaaf, R-St. Joseph.
"You will at least feel some goodwill toward the guy after he pays your way," said Schaaf, who advocates a wide-ranging ethics proposal. "The rule is, 'You dance with the one who brung you.'"
Affluent trade groups may throw the fanciest galas but increasingly, everyone has something edible to offer — from small businesses to Probation and Parole officers to the Missouri State Alliance of YMCAs.
Getting their message out in the era of term limits is the goal, the groups say.
Heating and air conditioning companies sponsored a breakfast on March 11. Years ago, they banded together as the Missouri Coalition for Fair Competition to fend off utilities that aimed to get into the heating and air conditioning business.
"We have our members come down and educate new members of the General Assembly who may not know what our coalition is," said Richard McIntosh, the group's lobbyist. "We just buy bagels and donuts and juice." The tab: $543.
Everyone wants to be remembered, a truism that special interests know well.
After the Missouri Energy Development Association's reception on Jan. 14, legislators left with a portable cellphone charger emblazoned with the trade group's initials.
Electric carmaker Tesla Motors, meanwhile, offered test drives during its Jan. 26 reception. The company, which sells its cars directly to consumers, has been battling with the state's auto dealers.
Longtime lobbyist John Bardgett brought an army of nurse anesthetists to the capital to hold a "cocktail reception" on Feb. 24. The nurse anesthetists opposed bills that would have limited their practices. (The legislation appears dead.) The party's tab: $2,883.
That same night, senators could opt to watch the University of Missouri-Florida basketball game from the president's suite at Mizzou Arena in Columbia. Mizzou popped for $400 in basketball tickets at $40 apiece.
It's impossible to tell who went; no individual names are listed on the MU lobbyist's report because the entire Senate and two House committees were invited. That's one of the problems Sen. Richard hoped to fix when he filed the ethics bill.
Freebies also can be hard to track if a legislator uses campaign funds to reimburse a lobbyist for tickets or meals. That way, the gift doesn't appear on the lobbyist's report. However, special interests provide campaign funds, too, so it's not as if the legislator dipped into his or her own pocket to pay the tab.
Critics say the debate over gift caps is irrelevant. They say it's those five-, six- and even seven-figure campaign contributions that legislators should be worried about. Missouri has no campaign contribution limits.
"Which is more important, going out to a $100 dinner or taking $10,000 in campaign contributions?" asked Rep. Brandon Ellington, D-Kansas City, during House debate.
Sen. Paul LeVota, D-Independence, agrees that campaign contributions are the bigger issue. Still, LeVota says capping gifts would be "a half-step forward" in improving public confidence in the Legislature.
"We have a huge problem with ethics," LeVota said. "The people of Missouri wonder why we're allowed to have unlimited lobbyists' gifts, why we're allowed to have unlimited campaign contributions."