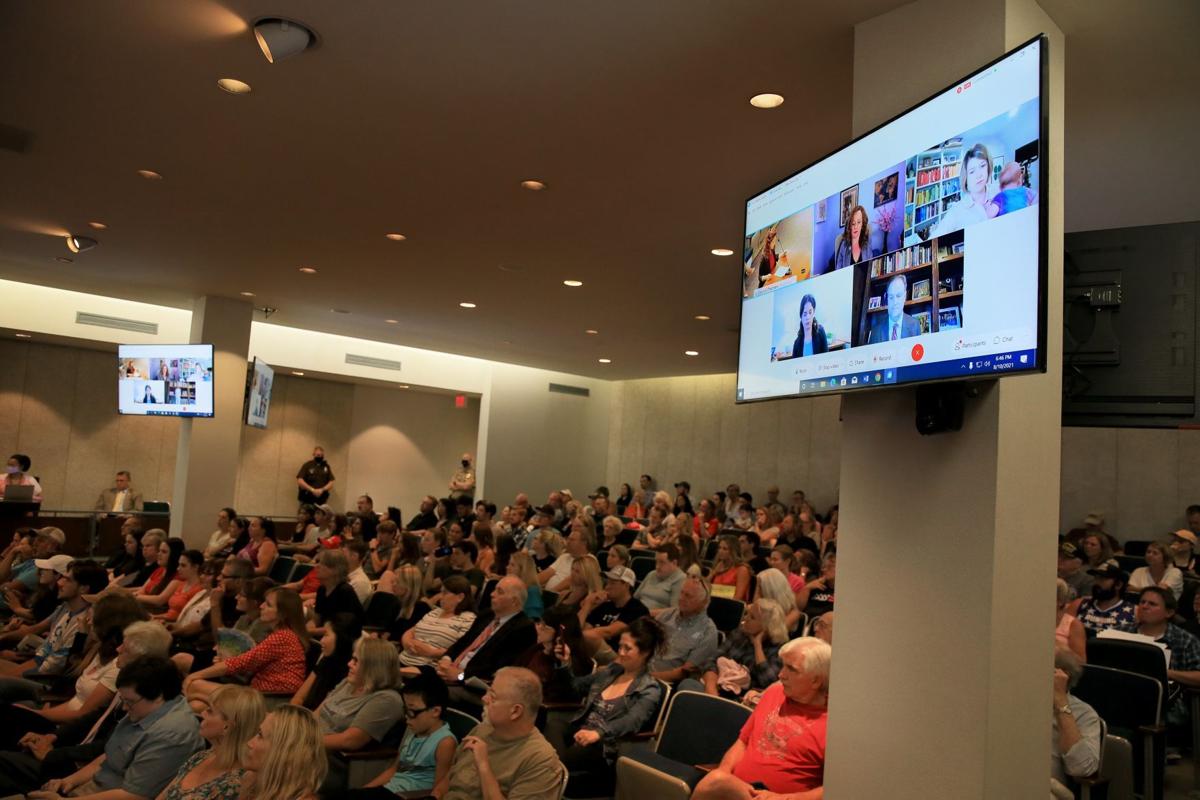 CLAYTON — Week after week, they have expressed skepticism about the threat posed by COVID-19, voicing opposition to any public health mandates. They've shared information gleaned from the internet, while repeatedly expressing deep distrust of politicians, health care professionals and the media. More than one has called for the removal of County Executive Sam Page.
Before the pandemic, the St. Louis County Council public forum period typically featured residents weighing in on a contentious zoning matter or a hot button issue like animal welfare at the county shelter. A few gadflies and self-styled watchdogs were regulars.
All that changed after July 26, the day the St. Louis County Department of Public Health issued a public order requiring masks be worn indoors and on public transit. The council's public forum has since been dominated by a single question: Should people be required to wear masks or be vaccinated to help protect themselves and others from a deadly virus?
In eight weekly meetings beginning July 27, council members and the public have listened to 242 speeches from the public, totaling more than 13 hours. The vast majority of speakers have opposed masks and vaccines, arguing it's their personal right to choose. Other objectors have spent hours trying to discredit the efficacy of masks and vaccines entirely.
But many people spoke at two or more meetings. In fact, a review of council records shows 46 people — nearly one-third of the 150 who opposed masks and vaccines — spoke multiple times.
Eight people — including conservative activists Zina Hackworth and Rene Artman and Fenton pastor Matthew Sheffer — addressed the council at more than half of the meetings, for a combined total of more two hours of testimony. Hackworth is a longtime anti-abortion activist. Artman is chair of the county's Republican Central Committee. Sheffer leads the Church of the Word, which sued unsuccessfully in 2020 to block a previous county health order.
Other frequent speakers disclaim any political agenda, saying they're just asking local officials to weigh additional facts. Elizabeth Cohen, for example, has challenged findings that masks help to limit the spread of the virus, arguing that wearing them can cause "substantial adverse physiological and psychological effects," particularly for children.
Karen Smith of Webster Groves told the council last month: "I'm not a political activist, I'm a freedom activist, that's what I am." Hayley Walton said she brings her 13-year-old daughter to the meetings "because it means a lot to her." William Hermanson of Wildwood, who has spoken at seven council meetings, has contradicted scientific evidence by calling the vaccine a "bioweapon" and a "poison." Jason Moore said he'd never obey a mask mandate: "Send me to jail, I don't care."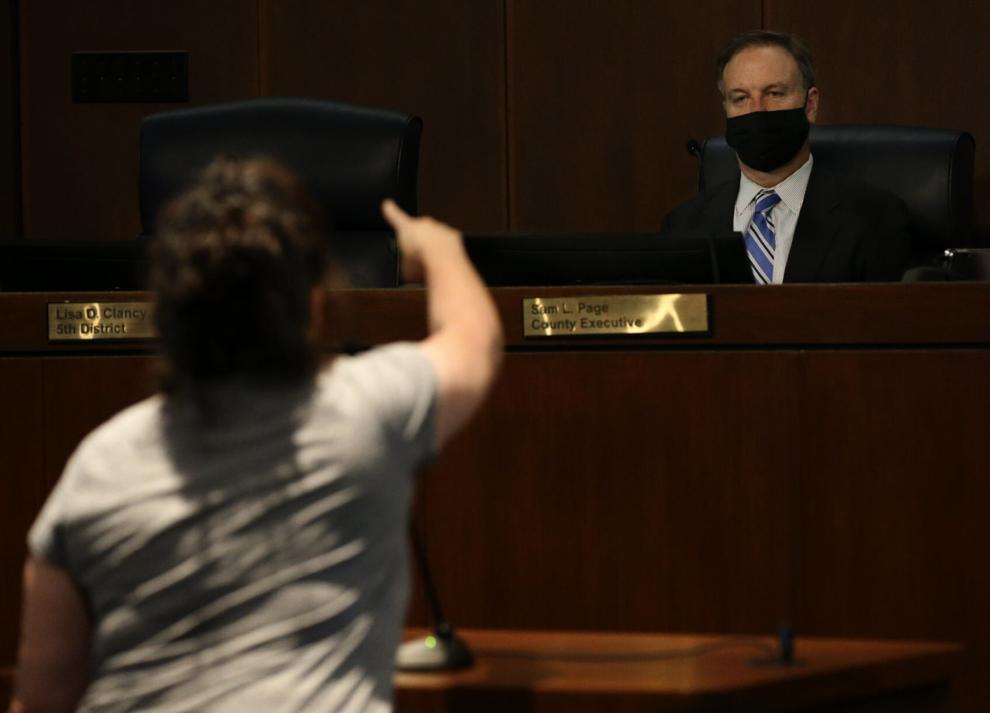 A vocal fringe?
Participants in the public forum are asked to provide their ZIP code area. Most, but not all, comply.
Of the 123 mask and vaccine opponents who gave their ZIP codes, 26 were from two Ballwin and Wildwood area ZIP code areas. By comparison, just 19 people said they were from any of the 17 ZIP code areas that make up north St. Louis County.
The geographic imbalance, and the fact that there have been only a handful of supporters of the public health orders who've spoken, prompted some County Council members to say they're just hearing from a vocal fringe.
In recent weeks, the claims the activists have advanced have grown increasingly dark and outlandish, prompting YouTube to block streaming, at least temporarily, of four of the past eight meetings in which public speakers claimed the pandemic didn't exist, or was a government conspiracy, or that masks and vaccines don't at all combat the virus.
But when the hundreds of email communications to the County Council are taken into account — all recorded in the official minutes of the County Council — the support for masks and vaccines, in a county where just under 52% of the population is now fully vaccinated, is substantial. In the Aug. 24 minutes, for example, one writer complains that "the loud voices in the room outweigh written comments on the subject of masks."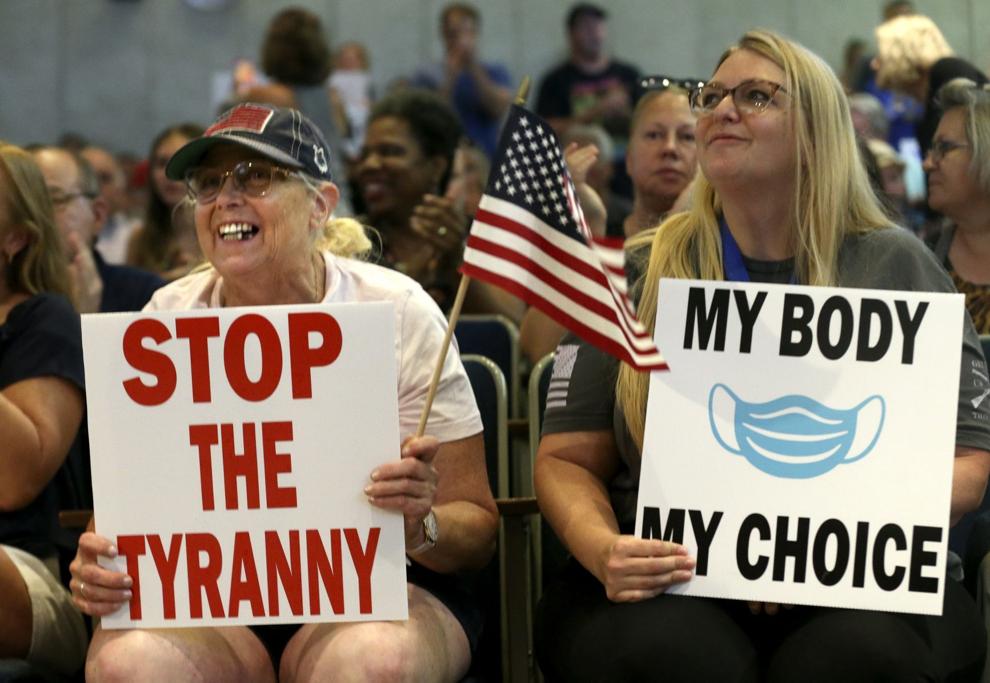 Other voices
Democrats Lisa Clancy and Kelli Dunaway have argued that the County Council has a duty to also read emailed public comments, including letters from local doctors and medical associations supporting the public health measure.
Dunaway said in an interview that the recent public forums haven't reflected the majority of county residents, and "certainly not what I'm hearing in my district," including some people who told her they don't feel comfortable addressing the council in-person with a crowd of people who aren't wearing masks.
And they've become repetitive.
"Sometimes new people show up, but I don't think we're hearing anything new," she said.
Dunaway and Clancy have been the two most consistent supporters of the original mask mandate, and that's made them special targets of critics, who have often laughed or shouted over the two councilwomen during council debate.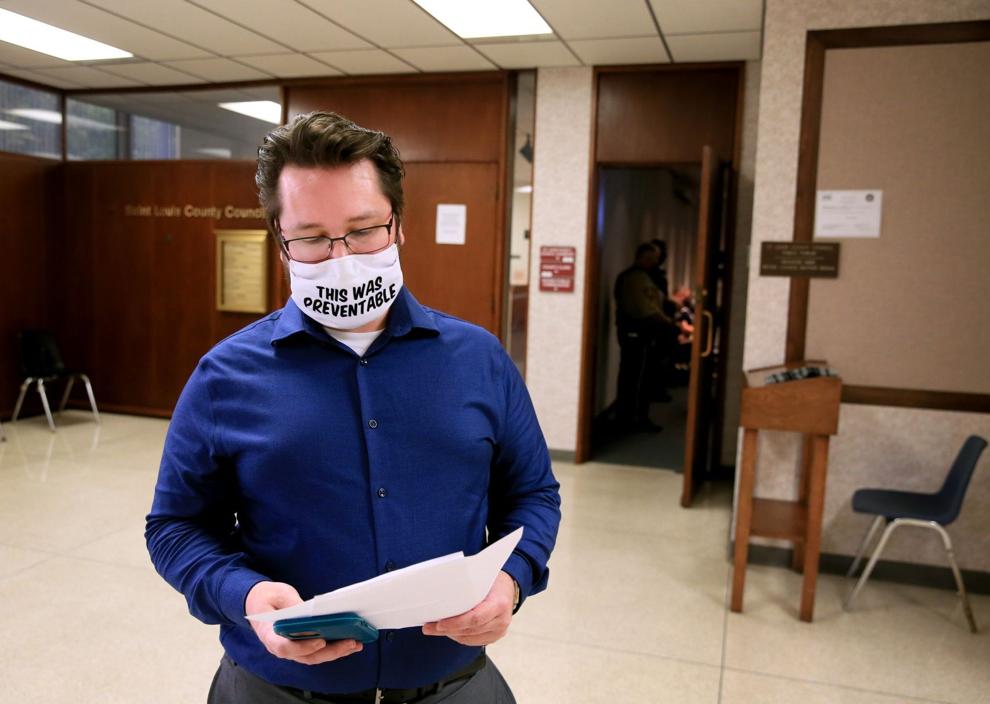 Dunaway shared with the Post-Dispatch a Facebook message from one person who has spoken publicly at multiple meetings, who made a vulgar sexual reference to Dunaway's political support for Page.
"I'm not a human, I'm not someone's mother, someone's friend, someone's daughter — I am a mask mandate and that is how they treat me, as if I am completely undeserving of someone's respect, dignity or even kindness," she said. "That is how I feel I'm treated by them, as if I'm their enemy."
Dunaway said the council should consider limiting the public forum to an hour, but she did not call for preventing comments or monitoring its content, apart from vulgarity or disruption preventing public business.
"People have a right to say what they want to say to their government," she said.
The right to be wrong
State laws don't require that the public be allowed to speak at public meetings. They do require that the public be notified in advance about governmental meetings and be allowed to attend unless there is a legal justification for officials to meet behind closed doors.
But local officials are free to set their own rules for how they share the microphone with constituents, if they choose to do so. And they may extend or modify time limits for certain situations, such as when a long list of people want to talk about the same topic, or when someone is deemed disruptive.
Councilwoman Rita Heard Days, as council chair, has ruled that public forum would last a minimum of one hour every week and that each speaker would have up to three minutes to talk. But in many cases, public forum has gone up to two hours or more.
At the most recent meeting, when Days moved to cut off public comment after an hour, Councilman Ernie Trakas successfully pushed to extend the period to allow remaining speakers have their say.
Trakas said in an interview that public forum is a "privilege," but once it is granted, carries all the protections of the First Amendment protecting free speech.
Trakas, who has also cited false claims that COVID vaccines have killed thousands, said he could talk at length about "significant misinformation on both sides of the issue."
But free speech gives people "a right to be in error," he said. And it's not unprecedented for the County Council to see an issue bring out dozens of protesters, or for some people to address the council week after week, Trakas said.
"There are people who come weekly with the same message ad nauseum and no one has ever raised a concern or an issue about it," he said.
Neither the overwhelmingly Democratic city of St. Louis nor Republican-leaning St. Charles County has seen as much public debate over COVID-19 health measures as St. Louis County, which is more politically diverse.
Shifting alliances
Until recently, an alliance of Republicans Tim Fitch and Mark Harder and Democrats Days and Shalonda Webb has challenged Page, a Democrat, including on public health orders, to applause from several of the public speakers who've packed council chambers week after week.
But prolonged debate over masks and vaccines appears to be causing that alliance to shift somewhat. Both Days and Webb have faced sharp criticism from other Democratic officials for voting to rescind the original health order; they subsequently voted with the two other Democrats, Clancy and Dunaway, in favor of a resolution supporting an extension of the order.
Last week, Webb came under sharp criticism from some public speakers for advancing a bill to require vaccinations or tests for county employees. Some members of the public shouted over Webb as she appealed to her council colleagues to support the bill, prompting her to ask the crowd for respect.
"I have weighed and listened to everyone, and I've also listened to the people of North County," Webb said about her support for masks and vaccines.
"I listen to you all … for weeks," she said. "But I also, at the same time, had a different balance and listened to the other side, something that we've not had here for the past eight weeks."
Webb later told the Post-Dispatch that she has not agreed with most of what she's heard during the public forums.
"The misinformation we've heard is surreal," Webb said in a text. "But this is the world we are living in. Anyone can go online or on social media and kinda throw out anything and it becomes believable."