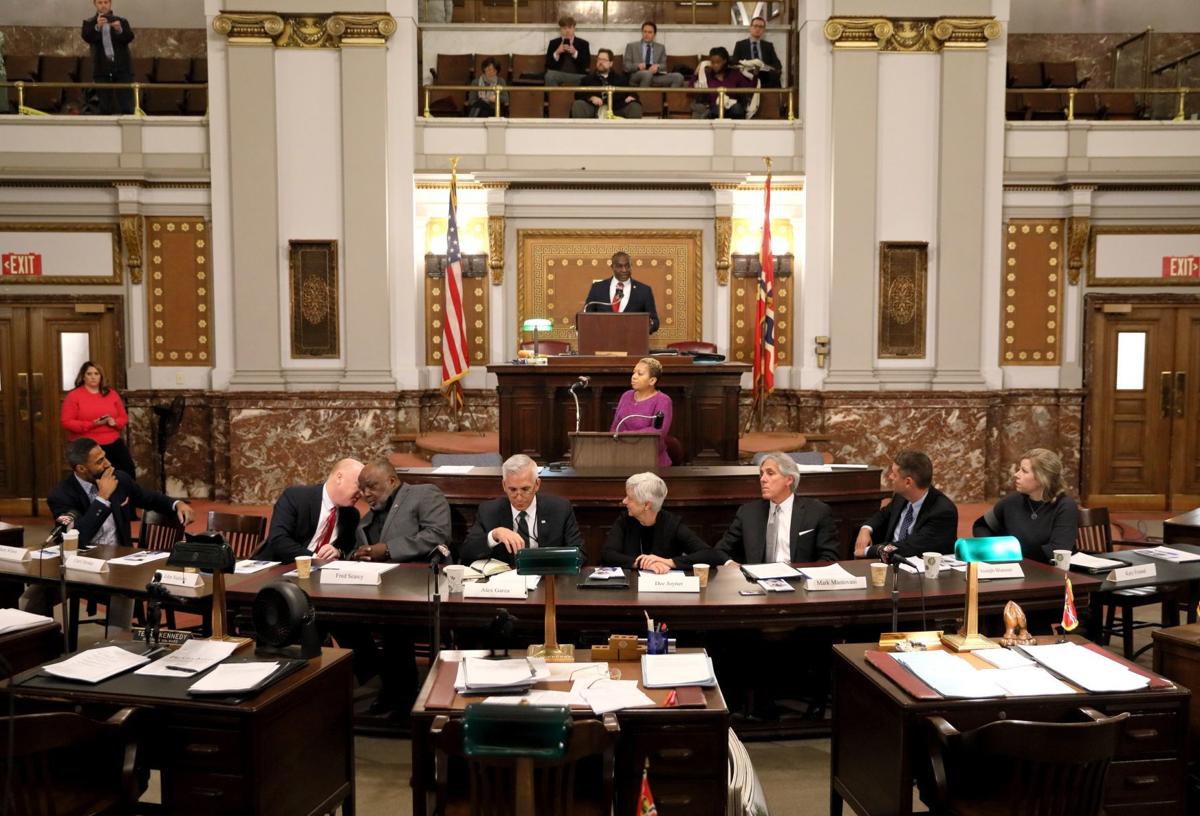 ST. LOUIS — After a year of inaction, another effort will soon be launched to activate a city-county board which is supposed to consider changes in the local governmental structure. But anything it does could be under a legal cloud.
Mayor Lyda Krewson will submit a new list of nine appointees to the metropolitan Board of Freeholders after the Board of Aldermen returns from its summer recess Sept. 18, said mayoral chief of staff Steve Conway.
Last Sept. 23, election authorities certified that enough signatures had been gathered in the city and county to trigger formation of the joint panel, which is authorized under the Missouri Constitution.
But the board never began work because Krewson was unable for more than six months to get an aldermanic committee to approve her appointees and various substitute names she proposed. The mayor withdrew her last set in April.
"Maybe now is a better time to have them start working to bridge some of the divisions within our communities," Conway said of the freeholders board.
Waiting on the sidelines has been the county delegation appointed last fall by County Executive Sam Page and quickly confirmed by the County Council. Gov. Mike Parson also has one appointee, who doesn't need approval by the Legislature.
At issue legally is the constitutional requirement that the freeholders submit to voters a possible plan for governmental changes "within one year after the appointment of the board."
Conway said city officials interpret that to mean a year after all the city and county appointees are approved. "The appointment isn't made until they are confirmed," Conway said.
A spokesman for Page, Doug Moore, said Page also believes that the one-year clock won't start ticking until after the "completion of appointments."
Questioning that is city Alderman Sharon Tyus, D-1st Ward. She pointed out that the county and state appointees, who made up a 10-member quorum of the full 19-member board, held an initial ceremonial meeting last Nov. 12.
"Why wouldn't it start" then, Tyus asked, referring to the one-year period to devise a ballot issue.
Under that interpretation, the board at best would have just a few weeks to complete its work even if aldermen promptly endorsed Krewson's new appointees.
The constitutional provision also says freeholders appointments "shall be completed within 30 days" after the petitions are certified.
Jordan Cherrick, a lawyer who led a successful effort to get the Missouri Supreme Court in 1990 to keep the freeholder process intact, said it's legally unclear when the one-year time period begins.
"There would be a serious legal question under the Missouri Constitution as to whether the board has the legal validity to proceed," Cherrick said. "This is a big can of worms. It's a mess."
He said he expected that whatever the board ended up proposing, someone opposed to it would launch a court challenge. He questioned if it makes sense for the city and county amid an economic downturn to devote significant time and funds to a process that might be voided in court.
An agenda
Krewson, Page and Parson haven't outlined any particular issues they want the board to look at.
But Pat Kelly, executive director of the Municipal League of Metro St. Louis, last week suggested two subject areas: the crime problem and putting St. Louis Lambert International Airport under some kind of regional governance.
On crime, Kelly said, coming up with a way for municipalities to share police resources and officers could be looked at.
He said he now believes those two issues are more urgent now than what he suggested as a freeholder topic a year ago — allowing St. Louis to reenter the county as one of its municipalities.
Members of Kelly's organization initiated the freeholder petition effort last year as an alternative to the now-discarded Better Together plan.
That plan, created and promoted by a private organization, aimed at merging the city, county and county municipalities into one entity.
Kelly said he had sent Krewson a letter recently urging her to submit a new set of appointees.
Alderman Megan Green, D-15th Ward, also suggested that the board look at regional governance for Lambert.
She also proposed studying possible changes in school district boundaries and devising "a more progressive taxation structure" because the metro area has become so reliant on sales taxes.
Green is the new chairwoman of the aldermanic Intergovernmental Affairs Committee, which wrangled with Krewson over her previous freeholder appointees.
Green succeeded Sam Moore, who died in February. Moore and Tyus, who as vice-chairwoman filled in as acting chairwoman, had pushed for more appointees from north St. Louis.
"I do believe we need to look at things more regionally," Green said. In fact, she said she had helped collect signatures on the petitions that triggered the process.
Seldom used
The freeholders process has been used only six times since the constitution was changed in 1924 to give the city and county a way to reunite or otherwise modify their relationship following their separation in 1876.
Only once has such a board successfully altered government here: in 1954, when city and county voters approved setting up the Metropolitan St. Louis Sewer District.
The last freeholder petition drive was in 1987, when then-County Executive Gene McNary initiated one to advance his goal of significantly reducing the number of county municipalities. Amid die-hard opposition from municipal officials, the board hammered out such a plan.
But an election scheduled for 1989 was never held. Opponents challenged the plan all the way to the U.S. Supreme Court, which declared invalid the state constitution's requirement that only property owners could serve on freeholder boards.
Backers, represented by attorney Cherrick, then got the state Supreme Court to order appointment of a second board, with no property ownership requirement. The court didn't name the new board but said it should be made up of electors, a term that generally means registered voters.
So the new board informally called itself the Board of Electors, which Parson's current appointee has proposed should also be used by the pending board.
The electors board came up with a plan to put Forest Park under joint city-county operation but it was turned down by voters.
In 1954, the state Supreme Court refused to block a freeholders board studying mass transportation despite the fact that the lone gubernatorial appointee wasn't appointed in the time period outlined in the constitution.
However, Cherrick said he believed that the 1954 ruling wouldn't control how courts would decide whether the current board is properly formed.
Conway said the mayor hasn't submitted new appointees since April because of the press of more important matters, such as dealing with the coronavirus pandemic and the unrest following the death of George Floyd in Minneapolis.