In 1991, Forest Park Southeast was a neighborhood reeling. Although smack-dab in the middle of the city, poverty, violence and neglect isolated it from the rest of St. Louis, including the adjacent Central West End, a generous spread of mansions and boutiques.
The 4300 block of Gibson Avenue was among the more troublesome stretches, flush with guns, heroin and cocaine dealers. A beat cop at the time called Gibson a "premier street" for violent crime. It's where a scrawny Bruce Franks Jr. was living at age 6 with his family, including his 9-year-old brother, Christopher Harris.
In June of that year, Christopher was on a neighbor's porch talking about a trip he had taken the previous day. A man approached with a gun and the neighbor grabbed Christopher, using him as a shield. The boy was shot in the back and died. Police said the shooting was a dispute between drug dealers.
Today, Forest Park Southeast has transformed into one of the most desirable areas in the city. It has been rebranded as the Grove, the name of the popular entertainment strip along Manchester Avenue that runs through the middle of the neighborhood.
Like Forest Park Southeast, Franks, 33, has changed as well.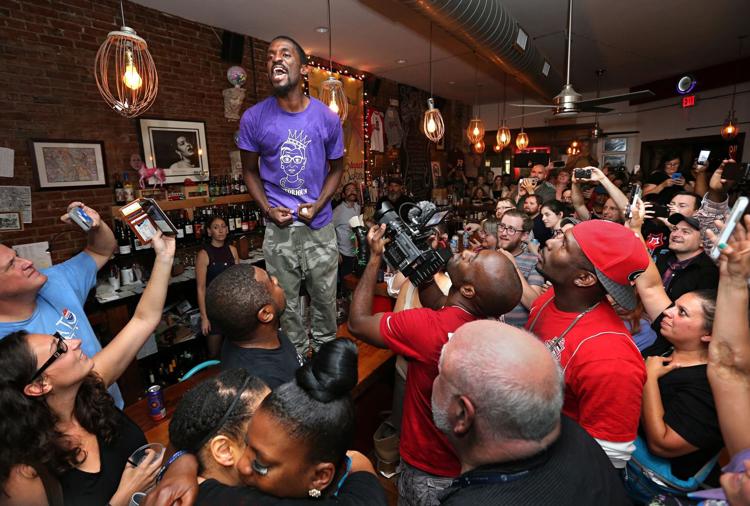 A year ago, he was elected state representative for a swath of town that takes in 37,000 residents, including those who live in Gravois Park, where Franks, a husband and father of five, lives. It was his first time to seek political office, and the campaign included a highly publicized legal battle over absentee balloting that led to a do-over election. Franks pulled off an overwhelming victory against Penny Hubbard, an incumbent from an entrenched political family.
Before then, Franks was best known as a Ferguson protester, part of the Black Lives Matter movement. A young man in the rap music community who performs as Ooops, biting off angry lyrics about the injustices that befall poor African-Americans.
Michael Brown, a black teenager, was fatally shot by a white police officer on Aug. 9, 2014, the same day that Franks was celebrating the first birthday of his son, King. He did not know Brown, but Franks knew he had to be in the streets with others demanding to know what happened, and why. Franks would rise through the progressive movement of St. Louis, a young, racially diverse bunch who have said the status quo must go.
Black and Beautiful
On most days, Franks prefers a hoodie, T-shirt and sweatpants. During an interview with the Post-Dispatch, he wore a shirt emblazoned with "Black and Beautiful as Fk" on the front. But in Jefferson City, Franks wears a jacket and tie. The business attire covers most of his 33 tattoos. The most prominent ones, however, are those under his eyes. The ink is in the shape of tears, giving his face a look of perpetual sadness.
Loss came early and frequently for Franks. A brother, a grandmother and a cousin. A girlfriend he was feuding with by phone while she was driving was killed when her car collided with another. As of the last week of October, Franks has attended 161 funerals, many of them young men who look like him. Friends, neighbors, activists.
In 2004, a stray bullet from a nearby shootout in the Walnut Park East neighborhood struck Franks in the knee shortly after he had finished a game of basketball. It ended his track career at St. Louis Community College at Florissant Valley. It made Franks think about mortality. He tattooed the name of his newborn daughter, Taj, on both his neck and his right temple. As a young father, he was not sure how much time he had left.
Franks said the tears ink-stained under his eyes are there so he does not have to cry anymore.
A bigger world
Anxious to get her sons out of the environment that took Christopher's life, Earline Banks enrolled Franks and his younger brother, Rodney, in Lindbergh schools through the voluntary desegregation program. Franks started third grade in the high-performing south St. Louis County school district, graduating in 2002.
A black kid in a largely white district. A poor kid in a largely middle-class part of town.
"Nine out of 10 of their homes were nicer than ours. Nine out of 10 of their cars were nicer than ours," Franks said of his classmates. "But they never treated me differently."

A year ago, he found out not all that disparity is rooted in urban areas. During a two-week bus tour of Missouri as part of freshman orientation for state legislators, Franks saw places he didn't know were on the map. Rural areas, especially in the Bootheel, where unemployment and drug addiction are high, schools are low-performing and economic development is nonexistent.
"Disenfranchisement has many faces. That opened my eyes," Franks said.
Rep. Mike Stephens, of Bolivar, entered the Legislature at the same time as Franks and considers him a friend.
"We are sort of an odd couple because we have absolutely nothing in common," said Stephens, a Republican. "He's kind of a rabble-rouser and a peacemaker all at the same time. I sympathize greatly with many of his passions. At the same time, we certainly disagree on a lot of issues that come around."
After Christopher's shooting, Franks met Rodney Wilkerson, a city police officer who was a family friend. One day Wilkerson gave Franks a globe as a gift. There's a lot more out there than 4300 Gibson, the officer told him. A lot more to the world than Cochran Gardens public housing complex, where Franks' mom moved her boys after Christopher was killed.
Wilkerson's story stuck with Franks, although he is not sure what happened to the globe. Six years after Christopher's death, a statue was dedicated in his memory at Cardinal Glennon Children's Hospital, where it still stands.
The statue is by local sculptor Rudolph Torrini, whose notable works include the likeness of Pope John Paul II on the Cathedral Basilica grounds in the Central West End and the Rev. Dr. Martin Luther King Jr. in the Fountain Park neighborhood. It is a hollow bronze casting, filled with parts from melted firearms collected as part of a gun buyback program organized after Christopher's death. Over 30 days, the police department bought 7,469 guns from the public, no questions asked.
Franks was 13 when the statue was dedicated in November 1997. A plaque at the base says the statue "stands as a testament against violence, and as a place of healing, as we mourn the lives of all the children we have lost."
At the dedication, Franks recalls thinking: "How can I make a difference when it comes to gun violence?" It's hard to make any movement in the Republican-controlled Legislature, he said, although bringing an urban perspective to the discussion is necessary, and he will not stop pushing for gun control measures.
"If it was easy, it wouldn't be worth it," Franks said.
Seeking understanding
In addition to his five children, Franks has two stepsons, 23 and 19. Two young black men, north of 6 feet tall. He worries about their future. After the death of Brown, followed two months later by the fatal police shooting of VonDeritt Myers, also 18, Franks can't help but think about the what-ifs. His younger brother, Rodney, whom Franks refers to as his best friend, has run afoul of the law several times. He spent a dozen years behind bars, including a conviction for assault on a police officer and, most recently, for being a felon in possession of a gun. Rodney has been out of prison since April, and Franks is helping him find his way.
Franks works in a teen mentoring program, funded through a grant and housed in the St. Louis Agency on Training and Employment offices, better known as SLATE. His brother, Rodney, is a mentor with SLATE.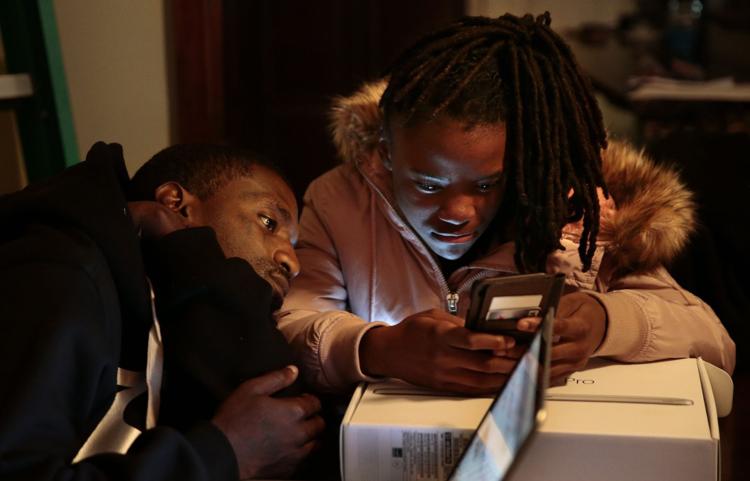 In March 2015, Franks founded 28 to Life, matching black teens with jobs. He has since dissolved the organization, named after an oft-quoted but debunked statistic that a black person is killed by a law enforcement officer every 28 hours. Instead of dealing with the red tape of a startup organization, including getting nonprofit status, Franks said he is putting his energy into his current position, working alongside those at SLATE to reach more teens who need assistance getting jobs.
While it was Brown's death that started Franks down the "stop killing us" crusade, it was the shooting death of Myers that made him a regular street protester. Myers was killed a few miles from Franks' home and with that case began an unlikely relationship with then-Circuit Attorney Jennifer Joyce.
Seven months after Myers was killed, Joyce announced charges would not be filed against the white police officer. Her decision was detailed in a lengthy report. Franks went to meet with Joyce.
He showed up with a copy of the report, "all highlighted, dog-eared and with sticky notes, asking me questions about it," Joyce said. "I was impressed because it was a 51-page report and I believe Bruce was the only person who read it."
In Stephen R. Covey's self-help book, "The 7 Habits of Highly Effective People," he says to "seek first to understand, then to be understood." Franks seems to have taken that message to heart, Joyce said.
"Bruce is someone who listens to the perspectives of others and is not afraid it will weaken him or weaken his resolve," Joyce said. "As a result, I think he is able to accomplish some things that other activists could not."
Joyce said during her talks with Franks — the two remained in regular contact through the end of her final term last year — an "aha" moment occurred when she told Franks about a south St. Louis gas station, at Interstate 55 and Arsenal Street.
"It's where all the police hang out, and I've told my stepchildren: 'Late at night when you've been partying and if you are running out of gas, don't stop anywhere other than 55 and Arsenal because you'll be safe there," Joyce said. "When I relayed that story to Bruce, his advice to people was exactly the opposite. 'Anywhere but Arsenal,' he said. 'Police are there and you won't be safe.' The safest place for my children is the least safe for his children, he perceives. It's troubling but a stark example of very different experiences people have in this city."
Pipeline to change
Franks has received criticism from some activists for being too close to the establishment, including Joyce. During an interview with the Post-Dispatch last month at the SLATE office on Market Street, Franks received a text from Capt. Ron Johnson of the Missouri Highway Patrol, who oversaw security in Ferguson after Brown's killing. In June Johnson became director of the agency's new Office of Community Engagement and Outreach. New U.S. attorney Jeffrey B. Jensen arrived for a meeting with Franks a few minutes before the newspaper interview ended.
Franks said a direct pipeline to those in authority, including police and prosecutors, is imperative to cultivating change. They need to know firsthand what the issues are and what changes need to be made, he said. Becoming a legislator is an extension of that, not a sellout, Franks said.
"I'm in the streets still," Franks said. He returned to the streets in September, when former St. Louis police officer Jason Stockley, who is white, was found not guilty in the shooting death of Anthony Lamar Smith, a black drug suspect. Franks has often led the protests and was among a group arrested and charged with trespassing after briefly blocking Highway 40 (Interstate 64).
Jean Evans, a Republican state representative from Manchester, went through freshman orientation with Franks last year. She was struck by his candor and drawn to his sense of humor. Shortly after they met, Franks referred to her as Sarah, Plain and Tall. Evans initially thought he was calling her Sarah Palin. Once Franks explained that he was referring to one of his favorite books growing up, the burgeoning friendship cemented. But Evans said she is not pleased with how Franks has responded to the Stockley verdict, by protesting and boasting of hurting the economy. Businesses shut down temporarily, and events such as a U2 concert were canceled.
"Here's a guy who is an amazing father, husband, business owner, tremendous role model, and I'd like to see him lead in ways that lift up the community, drive economic growth, provide jobs," said Evans, who serves on the workforce development committee with Franks. "The stuff where he says he is proud of creating economic damage is disappointing. His effectiveness as a legislator may be hurt by this."
Mayor Lyda Krewson, who oversees the police department, has been criticized by protesters. Her house was damaged during one of the nights of unrest. Franks was a supporter of Krewson's Democratic primary opponent, Treasurer Tishaura Jones.
Krewson said she and Franks are "friendly enough" but he is not someone she confers with regularly. Franks, like Jones, opposed Proposition P, a sales tax increase that voters approved Tuesday to give police officers and firefighters raises. It's a measure Krewson supported. Franks said the culture of the police department needs to change before more tax dollars flow there.
"I consider him someone to be listened to," Krewson said of Franks. She calls nonviolent protests a "fundamental part of our democracy" and has no criticism of Franks being on the front lines.
"I think that's up to every elected leader," she said. "Being elected doesn't mean giving up your right to demonstrate."
4300 Gibson
Franks is often seen in a shirt with a Superman logo. It started with 28 to Life, the organization Franks formed to make superheroes, he said. The logo took on new meaning when he ran for state representative: an underdog taking on the incumbent with long shot odds. He said he used his strength to fight the establishment and is now using it to push back against those who are trying to bring him down for not being who they think he should be.
He points to an article on The Daily Caller website last month, with the headline: "Elected Democratic Lawmaker Rapped About Dismembering Murder Victims." The story quoted some of his lyrics, which included threats to police snitches.
"They won't recognize you until they find you and count your parts," Franks raps in a video.
Franks said he was in a different mindset then and is being attacked for his "artistic form of aggression. If that's the worst they got, digging up some rap lyrics from eight years ago, we're doing all right."
As Franks puts it, "I'm from 4300 Gibson." It's his way of saying: "Bring it on. I can take whatever you've got."
With the recent turmoil and the ongoing fight to eradicate racial disparities he says are destroying St. Louis and the country, Franks has an idea for tattoo No. 34.
"I'm going to get 'Justice' somewhere."