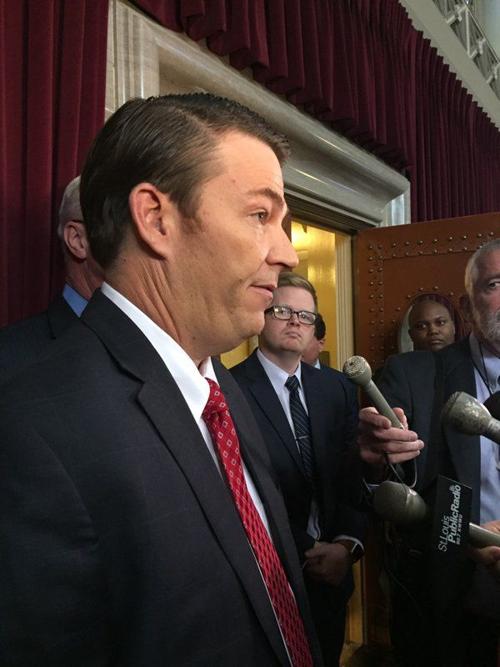 JEFFERSON CITY • The leaders of the Missouri House and Senate may have discovered just how far their pledges of cooperation will go when it comes to reforming the state's ethics laws.
After showing a united Republican front for two months, House Speaker Todd Richardson and Senate President Pro Tem Ron Richard watched the Senate on Thursday gut a House proposal designed to erect a firewall between the Legislature and the more than 900 lobbyists who patrol the Capitol corridors.
Rather than signing off on a House-led plan to enact a one-year cooling off period before lawmakers can become lobbyists, the Senate rejected the waiting period, instead only requiring legislators to wait until the end of their terms to jump into the potentially lucrative private sector.
The Senate's action raised questions of not only what will happen to the revolving door ban, but with a larger package of ethics-related bills that were sent to the Senate after moving quickly through the House.
Richard, a Joplin Republican who formerly served as House speaker, predicted more rough patches ahead as the ethics overhaul is aired in his chamber.
"We're a frustrating group," Richard told reporters at a post-session news conference Thursday.
For his part, Richardson threatened to bottle up Senate bills if the upper chamber doesn't offer up significant changes to the state's wide-open ethics laws.
"If that means I have to put ethics reform on every single Senate bill that comes over here, I'm willing to do it," Richardson said.
The fissures between the House and Senate come after pledges in January to take advantage of the GOP's veto-proof majorities to clean up state government. It was an election year message designed to wash away the memories of a 2015 legislative session plagued by scandal and gridlock.
"The communication between the House and Senate is going to be historic — and in a good way," Senate Majority Leader Mike Kehoe, R-Jefferson City, said at the time.
After Thursday's beat-down, however, the path forward on ethics reform is cloudy.
Asked how the two chambers could find common ground on the cooling-off period, the Senate sponsor of the weakened legislation acknowledged he wasn't sure.
"We look forward to working with the House and reconciling the two bills," said state Sen. Bob Onder, R-Lake Saint Louis.
Onder refused to speculate if the two sides might split the difference between a year and nothing by enacting a six-month cooling-off period, which is the law in North Carolina. Most of the 33 states with revolving door bans call for a one-year or two-year waiting period.
"We'll be talking about that in conference," Onder said.
Richard predicted more lengthy debate and possible changes to the House proposals still awaiting action in the Senate.
"I'm not naive enough to know that something sent from the House is going to be taken up by the Senate and passed just because it happens to be a great idea. We're trying to be deliberative. I suspect that will be the case when we go back to the House calendar," Richard said.
"The Senate is a different body," Kehoe added.
Still on tap for debate in the Senate is a ban on lobbyist gifts. Under that plan, lawmakers would no longer be able to accept freebies from lobbyists, such as tickets to baseball and football games or one-on-one meals.
Other proposals include tightening reporting requirements for lawmaker junkets and additional sunshine on people who serve on state task forces, to ensure they are not financially benefiting from their volunteer positions.
Richard and Richardson said they don't think the Senate's action on Thursday will harm their efforts to show voters that Republicans can get things done heading into the 2016 elections.
"I've been visiting with the speaker several times a day since the session started," Richard said. "Let's just take one step at a time."
Said Richardson, "We're in the second week of February, so I remain very optimistic that before this session is out, substantive, meaningful ethics reform will be on the governor's desk."