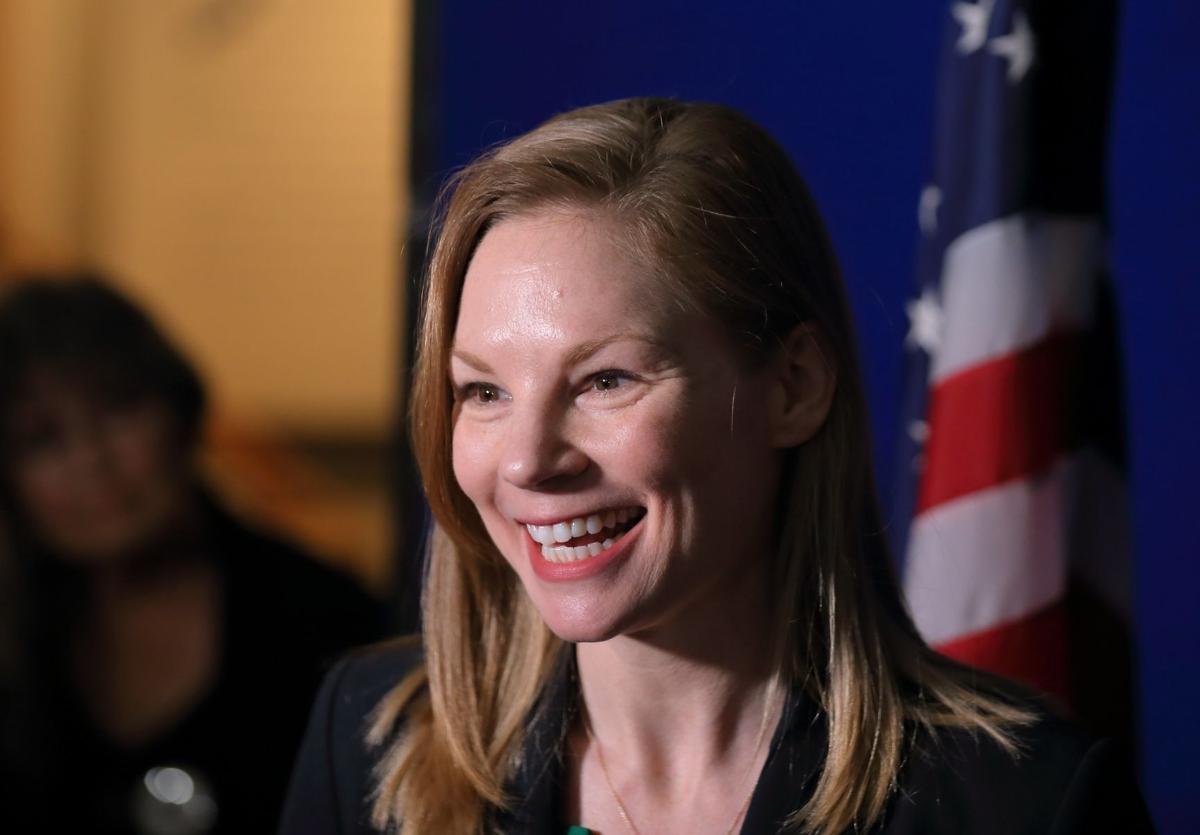 JEFFERSON CITY — Democratic state Auditor Nicole Galloway, in the midst of a heated election for governor, is asking a judge to block an investigation of her by Republican Secretary of State Jay Ashcroft.
In a complaint filed Tuesday in Cole County Court, Galloway's attorney said Ashcroft's office lacks the legal authority to issue a subpoena for documents related to the probe.
And the filing says the move by the secretary of state is politically motivated because voters are already casting ballots in the race for governor.
"In less than 30 days before a major election, the Secretary of State is commencing an entirely unlawful investigation against another statewide elected official based upon a fatally flawed complaint from a dark money organization," wrote Joel Anderson, chief litigation counsel for the auditor's office.
With Galloway and Republican Gov. Mike Parson engaged in a tight race heading toward the Nov. 3 election, Ashcroft agreed last month to investigate Galloway over a GOP group's allegations of campaign finance violations.
Liberty Alliance, a not-for-profit organization trying to get Republicans elected, says an opinion piece by Galloway that ran in the Post-Dispatch last year focusing on a restrictive state abortion law was submitted to the newspaper by one of her state-paid press aides, violating state law barring the use of taxpayer dollars for campaign purposes.
The auditor's office said there is no law prohibiting her, as an elected statewide officeholder, from speaking on any variety of topics.
In launching his investigation, Ashcroft first submitted a public records request for emails related to the abortion issue.
The auditor's office said it would comply with the request, but the collection and review of the emails would take at least 30 days.
In response, Ashcroft's office issued a subpoena requiring the documents to be turned over immediately.
"Rather than wait for the response that we indicated would be forthcoming, the Secretary of State has decided to inject partisan politics into his request a few weeks before an election," said Scott Holste, a spokesman for the auditor's office.
Ashcroft issued a lengthy response to the auditor's actions.
"Our office does not comment on ongoing investigations, but since Auditor Galloway has chosen to make this a legal and political fight, rather than simply complying with the Sunshine law, we felt the need to respond to this matter.
"Our office made a very narrowly-tailored request for documents to the Auditor's office — any emails or documents related specifically to an op-ed submitted to the St. Louis Post-Dispatch — in order to allow us to come to a quick resolution. Instead, her office failed to comply with the Sunshine law by stating it would take them at least 30 days to provide our office the documents since our request was so large. Because the Auditor's office failed to comply with the Sunshine law, our office issued a subpoena for the emails. So far her office has not cooperated, and instead has decided to fight the subpoena," Ashcroft said.
"In the spirit of transparency, we would like to encourage the Auditor to cooperate with this investigation. If her office would provide the documents which show there was no wrongdoing, we could close this investigation and move forward," Ashcroft said.
Liberty Alliance USA is owned by Cornerstone 1791, a 501(c)(4) organization incorporated in Missouri in February 2019, according to the Missouri Ethics Commission. While the organization says it won't be backing specific candidates, Liberty Alliance has close ties to once-powerful figures within the Missouri GOP, including ex-party chairman Todd Graves, an ally of former Gov. Eric Greitens, who resigned in 2018.
Missouri Alliance for Freedom, whose lead attorney also represents Liberty Alliance, sued Galloway in 2017 over alleged violations of the state's open-records law. A Cole County circuit judge ruled in Galloway's favor in January 2019.
In 2018, Ashcroft launched a similar investigation into Josh Hawley, a Republican, after a Democratic group alleged Hawley, then serving as attorney general, may have used public resources to boost his successful campaign for U.S. Senate.
Ashcroft, a Republican, later said he was stymied in his attempt to uncover information because he didn't have the ability to subpoena records. In response, the Legislature approved a change in law giving the secretary of state the power to force the turnover of documents.
But Galloway said that change in law doesn't apply to statewide elected officials based on a 2018 letter from Hawley.
"The dismissal of a complaint alleging a violation of a statute that, on its face, does not apply to the State Auditor, is not a duty that requires the exercise of judgment or expertise on the part of the Secretary of State, and the dismissal of such a complaint is a ministerial duty," the lawsuit notes.
The case has been assigned to Circuit Judge Patricia Joyce.