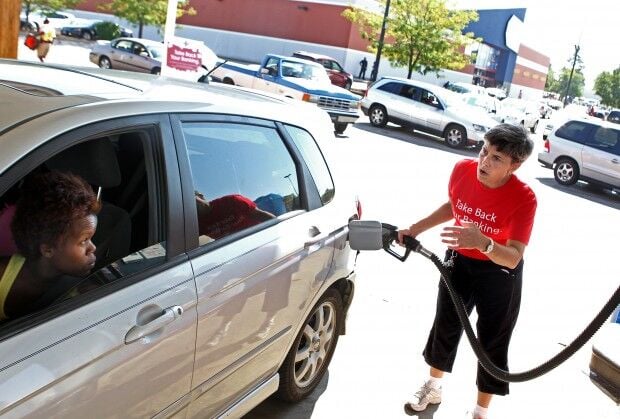 JEFFERSON CITY — Two top initiatives backed by Democrats go into effect Friday in Republican-dominated Missouri.
The first increase in Missouri's gasoline tax since 1996 will hit the pumps and Medicaid eligibility will expand, providing health insurance coverage to more than 275,000 low-income adults.
While the phased-in gas tax boost was sponsored by Republican Senate President Dave Schatz of Sullivan, it moved to Gov. Mike Parson's desk on the strength of Democratic support in the Legislature. Parson, a Republican, has long favored higher gasoline taxes to help pay for road and bridge construction.
President Joe Biden's administration had been planning a press conference Friday to highlight Missouri's expansion, with a goal of letting qualified people know that they can begin signing up for coverage.
In an email obtained by the Post-Dispatch, officials warned that the press conference should focus on enrollment issues and not the political fight over Obamacare.
In the email, Joni Wickham, a public relations consultant in Kansas City, said she and a federal official "spoke about the importance of this event focusing on enrollment awareness and not poking the Legislature or Governor's Office."
Wickham said Thursday that a press conference had not yet been scheduled.
Under terms of the August 2020 referendum, Medicaid was supposed to go into effect on July 1.
But, supporters were forced to take the issue to court after lawmakers and Parson balked at funding the expansion. That pushed the start date to Oct. 1.
Under the new guidelines, the state's MO HealthNet program will cover adults between the ages of 19 and 64 with incomes below 138% of the poverty level.
That means medical providers can begin enrolling people earning less than $18,000 per year.
Prior to the ruling, no adult without children was eligible for Medicaid unless they were disabled. Adults with children were eligible if their household income was less than about 16% of the federal poverty guideline.
In all, Medicaid in Missouri costs about $12 billion a year, but much of that cost is paid by the federal government.
The cost of expanding the program is estimated to be $1.9 billion, though all but about $130 million would be paid by the federal government. And, the state is not hurting for cash after ending the fiscal year in June with more than $1 billion in reserves.
Currently, Missouri taxpayers cover about 35% of the costs for the traditional Medicaid system. Under the terms of the Affordable Care Act, signed into law by President Barack Obama in 2010, states pay just 10% of the cost of expansion.
In addition, under the separate American Rescue Plan Act, passed this year, Missouri is in line to get an additional $1.1 billion as an incentive for Medicaid expansion.
Gas tax
The motor fuel tax also rises Friday, but motorists may recoup new fuel taxes they're about to pay — if they can remember to save their receipts.
The state's 17-cents-per-gallon excise tax on fuel will initially jump 2.5 cents.
By mid-2025, the fuel tax will have risen a total of 12.5 cents — to 29.5 cents per gallon — with money raised going toward road projects.
Motorists may save purchase receipts and fill out an online form at the start of each state fiscal year to earn a refund on the new taxes paid the previous fiscal year.
The law says a claim, which may be filed electronically, must contain a vehicle identification number, date of fuel sale, name and address of fuel buyer, name and address of fuel seller, number of gallons purchased and, separately, the number of gallons purchased and charged Missouri fuel tax.
Only vehicles with a gross weight of less than 26,000 pounds may qualify for the refund.
The fuel tax is expected to raise more than $77 million in the nine months the tax will be in effect for the current fiscal year, according to a nonpartisan analysis by legislative researchers.
In fiscal year 2023, analysts said the tax could generate $206 million. By fiscal year 2027, when the tax is fully implemented, the analysis said the increase could raise more than $500 million.
That is before refunds. Because it is unclear how many motorists will claim the refund, analysts did not offer a clear estimate on how much the state will net.