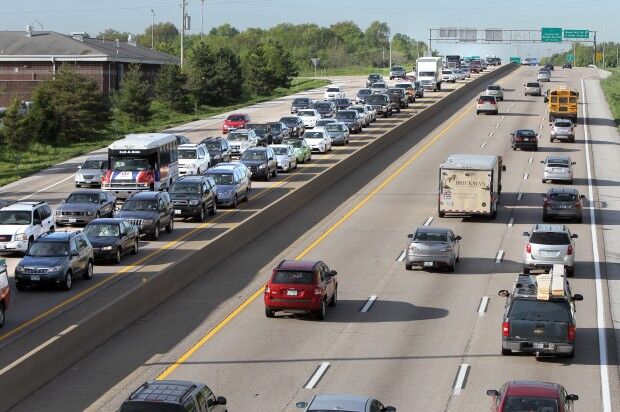 JEFFERSON CITY — A push to nearly double the state's gasoline tax over the next six years ran into a guard rail of opposition on Tuesday in the Missouri Senate, with a group of conservatives blocking a vote into the night.
Unlike past years, this year's proposal includes an option allowing motorists to receive a 100% rebate on new taxes paid. Only a fraction of motorists are expected to take advantage of the rebate.
The Senate adjourned shortly after 11:30 p.m. Tuesday without taking a vote on the gas tax hike.
The upper chamber has been unable to reach a consensus on any taxing proposal so far this year, and with longstanding differences between conservatives and other Republicans, major tax proposals of any kind have fizzled in recent years.
Tuesday's debate on the legislation, which fiscal estimates say will generate $616 million for state and local road funds once fully in effect in 2028, followed debate Monday on a proposal by Sen. Bill Eigel, R-Weldon Spring, to gradually zero-out personal property taxes in the state.
"It's amazing how much difference 18 hours can make in this chamber," Eigel said. "We go from talking about alleviating the tax burden on the people of this state … and 18 hours later we're talking about raising their taxes."
The gas tax legislation, sponsored by Senate President Pro Tem Dave Schatz, R-Sullivan, would raise the state's fuel tax from 17 cents per gallon to 32 cents per gallon by July 1, 2026. The increase would be gradual, at 2.5 cents per gallon each year.
Proponents say the tax needs to be raised because the purchasing power of Missouri's gas tax has eroded significantly since it was last raised in 1996. Missouri maintains one of the nation's largest road systems but ranks near the bottom in terms of revenue raised per mile, according to a state task force report released in 2018.
"As a conservative, I appreciate a low tax rate," Schatz said. "What I do not appreciate however is inadequate funding for the fundamental responsibility as government, that our citizens rightly expect us to carry out.
"Unless we expect Missouri citizens to build their own bridges, pave their own highways, we must make adjustments to our current tax structure," he said.
Under Schatz's plan, Missourians would be allowed to submit claims to the Department of Revenue in order to earn a full rebate on new taxes. They would have to save gas receipts for three years in case the state audits the taxpayer.
The refunds would only apply to gas purchased before July 1, 2027.
Schatz said a rebate model had been used in South Carolina. For the 2020 filing season, as of the end of November, 79,000 returns claimed the state's motor fuel credit. The average credit was $43 and cost the state $3.4 million in total, according to that state's Department of Revenue.
Sen. Andrew Koenig, R-Manchester, offered an amendment shortly before 6 p.m. to reduce the proposed increase from 15 cents to 10 cents. It would also delay implementation until the Missouri Department of Transportation reduces its debt to below $500 million; it is $1.5 billion currently, Koenig said.
"Before we just raise taxes I think it would be prudent to pay some of that off if we're able to," Koenig said.
Schatz said that instead of interest charges, the state would face penalty fees from creditors if it paid off too much debt early.