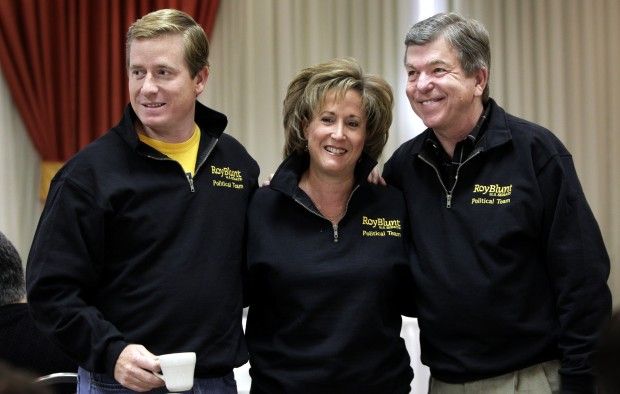 WASHINGTON • Andy Blunt said Tuesday he sees no conflict of interest between his lobbying in Jefferson City and managing his father's Senate campaign, and said that Roy Blunt's likely 2016 opponent, Secretary of State Jason Kander, had conflicts of interest of his own.
"I am a son who loves my father and helps his political campaign," Andy Blunt said in a telephone interview with the Post-Dispatch. "I lobby in the state of Missouri, not the United States Congress, and there is a clear distinction."
He added: "Roy Blunt isn't a state lawmaker and doesn't weigh in on state issues."
Asked if he and his father had discussed establishing a wall between his lobbying and the campaign, Andy Blunt responded: "I have always taken the approach that I don't talk to my father about my clients. And so there is really no wall discussion to be had, because the initial conversation never happens."
He said Democrats were attacking him because "they have nothing else to talk about.
"They know where their candidates stand on the issues... is contrary to that of Missourians," he said. "You run out of strategy in a situation like that rather quickly."
Democrats have criticized Andy Blunt for running his father's campaign while simultaneously representing the University of Missouri after recent campus unrest there and for a recently announced contract in which Blunt on Jan. 1 will be executive director of the Missouri Cable Telecommunications Association.
Chris Hayden, a spokesman for the state Democratic Party, said the latter was an apparent conflict of interest because Sen. Blunt serves on the Senate Commerce Committee and a subcommittee that oversees cable. 
Hayden has also criticized Andy Blunt for representing Exelon, which is potentially liable for cleanup costs of radioactive waste at the West Lake Landfill. "His father is involved in the situation on the federal level," Hayden said, "which pits father and son/campaign manager on opposite sides of an extremely important issue with public health ramifications in Missouri."
The Blunt campaign would not make Sen. Blunt available for an interview on this topic. But Andy Blunt said Jefferson City and Washington, D.C., are two different universes, and that Missourians understand the difference.
"I think if you surveyed the state of Missouri, that there are a number of issues that are much more significant in their minds than what Roy Blunt's children do for a living, or what Jason Kander's family does for a living," Andy Blunt said.
Andy Blunt said Democrats "don't see their own hypocrisy.
 "When Jason Kander was in the legislature and was a member — a dues-paying member — in the Missouri Trial Attorney Association, he voted on every tort reform piece of legislation that was brought before the body. I mean you don't see us out there (criticizing Kander on that point). He is going to have to decide what is a conflict here, and what is not."
Abe Rakov, Kander's campaign spokesman, said that "Andy Blunt has 35 lobbying clients, all of which currently present potential conflicts of interest with his role running Sen. Blunt's campaign."
"Comparing Andy Blunt's scheme to get personally wealthy by using his father's connections in Washington and Missouri to Jason Kander paying $150 a year to be a member of a trade organization is absurd," Rakov said.
Andy Blunt said he believed he gets lobbying work because of his firm's and his colleagues' reputations of doing "great work."
When it hired Blunt's firm, the Missouri Cable Television Association described Andy Blunt as "one of the brightest young lawyer/lobbyists in Jefferson City" and a "respected strategist and tactician of integrity."
Questions about Sen. Blunt's family's lobbying have been previously raised. His wife, Abigail, is a top lobbyist for Kraft Food Groups in the nation's capital. She states on her lobbyist disclosure forms that she does not lobby the Senate, where her husband is a member of Republican leadership.
Another son, former Missouri Gov. Matt Blunt, is the president of the American Automotive Policy Council, which has wide interest in all areas of federal policy, including trade. When a question about currency manipulation — which automakers are keenly interested in — came up during a vote over a Pacific Rim trade deal, both Matt Blunt and his father said they did not discuss business.
Stanley Brand, an attorney and campaign ethics expert, said he saw no conflict in Andy Blunt running his father's campaign.
"If you went down to K Street in Washington, you'd find scores" of federal lobbyists involved in federal campaigns, he said. The fact that Andy Blunt lobbies only on the state level "makes a big difference," Brand said.
But Craig Holman, a government affairs lobbyist for Public Citizen, a non-profit watchdog group on campaign spending and ethics, said even the appearance of a conflict of interest is important in the nexus between elected office, campaign spending and lobbying. He said that over the past decade, he has documented about 25 senators who have family members as lobbyists, and Roy Blunt has the most. 
"While it is not uncommon for lobbyists to be part of a lawmaker's campaign staff, or for family members of a lawmaker to be registered lobbyists, the Blunts are deeper into these conflicts of interest than any other family on Capitol Hill," Holman said.
He argued that issues that are important in Jefferson City are probably important in Washington, too.
"Andy's ties to the cable industry lobby association raises concerns both about undue influence on behalf of the industry, which is the greatest concern, as well as the potential for self-dealing when it comes to Andy directing Sen. Blunt's campaign expenditures," he said.
Andy Blunt rejected that claim, saying multiple people on multiple campaigns would make Missouri advertising decisions in 2016 and his position with the association would affect none of them.
"All political candidates in Missouri are going to run advertising on cable TV, both Democrats and Republicans," he said. "They always have, always will."