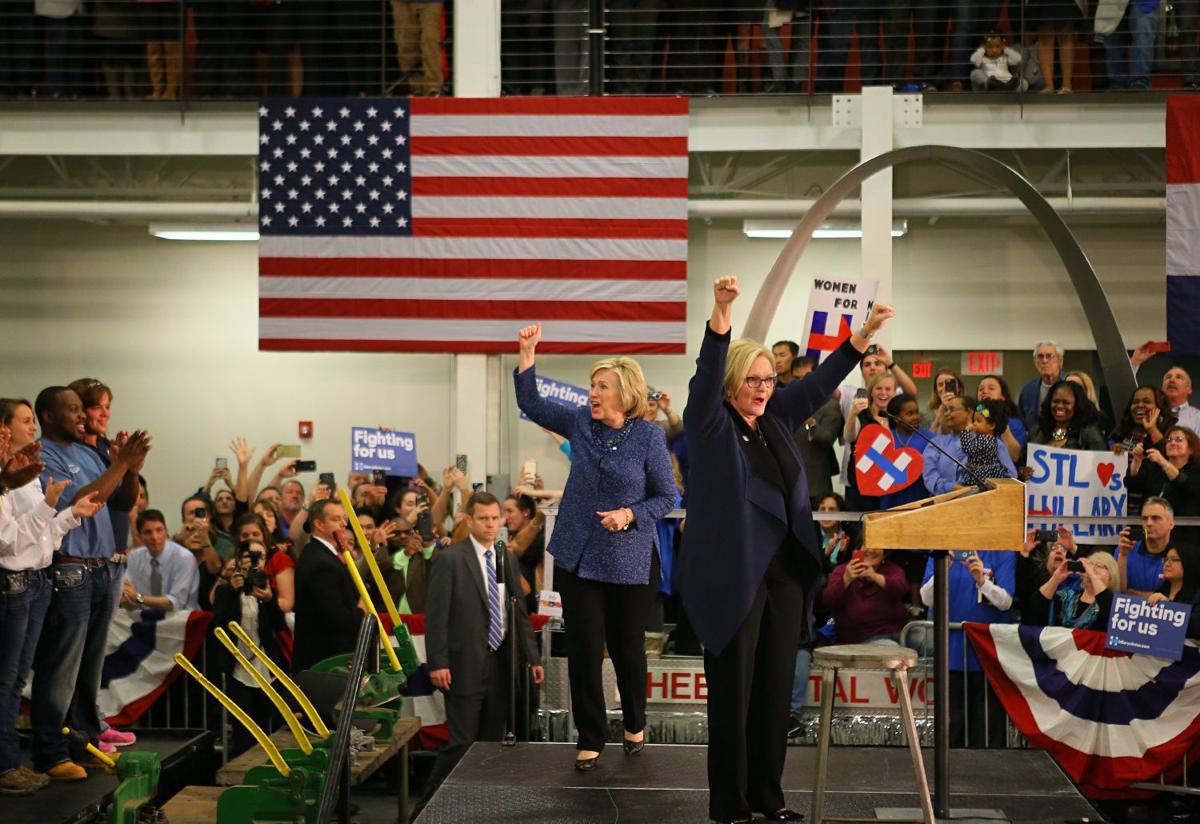 WASHINGTON • Calling it "one fiscally irresponsible step too far," Sen. Claire McCaskill was the only St. Louis-area member of Congress to oppose a $1.1 trillion package of spending and tax breaks that passed Friday.
Rep. William Lacy Clay, D-St. Louis, voted against a $600 billion-plus tax-incentive plan that was part of the package. But he voted for the spending bill, which he said "advances many of my key priorities," including money to hire more police officers and an extension of the earned income tax credit.
Two other members of the Missouri delegation, fiscal hawks and Reps. Billy Long, R-Springfield, and Jason Smith, R-Cape Girardeau, voted against the omnibus spending measure. Both parts of the package easily passed the House and, combined, the package passed the Senate, 65-33.
Supportive St. Louis-area members of Congress said that, while not perfect, the package included provisions important to the region, including $1 billion for construction of a dozen Navy jets at a Boeing facility in St. Louis County.
Republicans said they supported it because of a boost in military spending, and because of other provisions, including restraints on the budget of the Environmental Protection Agency and elimination of a ban on oil exports. They said the bipartisan support for the measure was a welcome change after the recent history of brinksmanship and shutdowns.
"While this bill is not perfect, it ultimately is a step in the right direction," said Rep. Blaine Luetkemeyer, R-St. Elizabeth, Mo.
Democrats who voted yes hailed such provisions as measures to strengthen oversight of the nation's visa waiver programs while also making permanent family-friendly provisions such as the child tax credit.
But McCaskill, D-Mo., was one of 33 "no" votes in the Senate. She said the massive legislation "includes important provision for programs I support, like a boost to the E/A 18 Growler and the F/A 18 Super Hornets production line in St. Louis.
"But the bulk of this package is just a series of huge, expensive tax giveaways to the wealthy and special interests — not paid for — that will add significantly to our national debt and hamper our ability to achieve my goal of a simpler, fairer tax code."
McCaskill's seatmate, Sen. Roy Blunt, R-Mo., voted yes. He said the bill included provisions he sponsored to boost cybersecurity, as well as several tax provisions that he said would help Missourians.
The legislation makes permanent tax credits for business research and development, which Blunt said would allow businesses to plan better. The bill also included other Blunt-sponsored tax credits, including one aimed at employers in economically distressed "Empowerment Zones" that he said could be especially important in St. Louis.
Rep. John Shimkus, R-Collinsville, said Friday that he supported the omnibus spending because of several of its main provisions, particularly those making key tax credits permanent, were crucial Republican goals.
"Now that those budget numbers are set, the questions are how you slice that pie," he said. "We're a pro-growth party. We believe that you bring certainty to the tax code, you get investment."
One provision allowing small businesses to expense up to $500,000 in heavy-equipment investments is "huge for agricultural America and our implement dealers," Shimkus said.
Unless Congress acted, the expense limits on those credits for tax purposes would have reverted to $25,000 on Jan. 1.
The votes cast Friday are certain to come back in campaign debate next year.
Secretary of State Jason Kander, a Democrat who is opposing Blunt in 2016, said he'd have voted against the omnibus because it contained unnecessary spending. His campaign spokesman, Abe Rakov, said it included "pet projects" such as a ship that the Navy didn't ask for and money to promote goat yogurt.
Shimkus' Republican primary opponent, state Sen. Kyle McCarter, criticized the omnibus as an "insider liberal spending bill" that included "wasteful solar and wind tax credits."