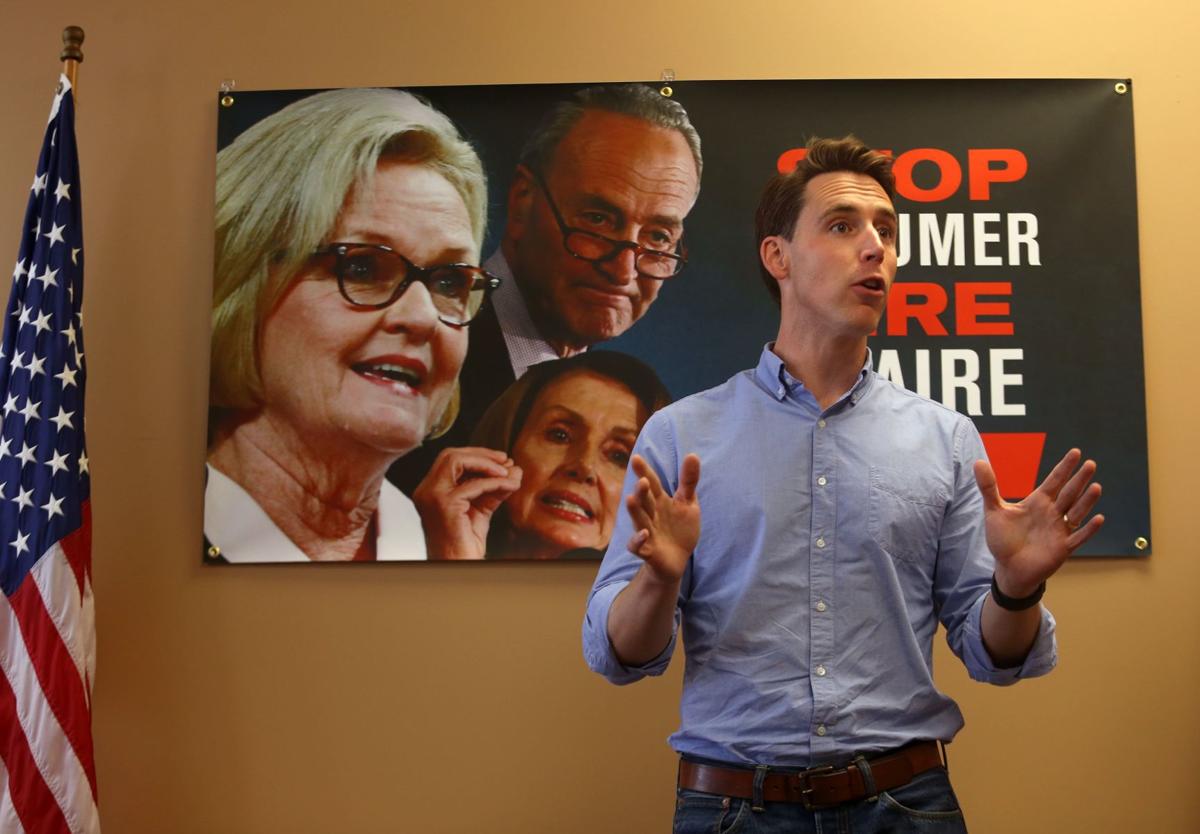 WASHINGTON • Brace yourself, average Missouri voter. You're being dragged into margin of error territory.
Polls, predictions, prognostications, percentages, probabilities, pronouncements.
This is the political world for the next 19 days.
You're being force-fed from that six-pack created by the political class. It's a diet where poll after poll has described the pivotal Show-Me Senate race as so close only the proverbial margin of error will decide it.
Not enlightening, but it feeds the horse race narrative that overtakes everything these days. It does keep the pollsters and predictors in business, though.
Too bad for the country, because there are greater things to discuss in the closing days before the election.
Like how to bring more economic growth to the middle class, what to do about a runaway federal deficit or the threats to our democratic processes by hostile states. Health care, the direction of the Supreme Court and the long-term viability of Social Security and Medicare are all worth discussing.
So is the paucity of civility in our political discourse, a condition fostered by a president for whom no thought appears to be untweetable.
But now we've entered the realm of attack-ad and quip out-of-context. The negatives are gushing messages into your ears and eyes. And profits, big profits, into the scriptwriters and ad buyers.
Brace for it. It's here, and there's not much you can do about it from now through Nov. 6.
Missouri's nationally watched U.S. Senate race between Claire McCaskill and Josh Hawley will close as the perfect storm of 2018.
It is, today, more of a microcosm of what is going on nationally than it was when it began so many months, and so many millions of dollars, ago.
The race features a veteran Democrat in McCaskill ostensibly clinging to a centrist, "New Democrat" model more befitting of the mid-1990s and Bill Clinton's deal making, while a whole left wing of her party is rushing left toward socialism, Trump resistance and Elizabeth Warren's identity politics.
McCaskill faces Hawley, an upstart Republican who rarely questions Trump's swinging of a wrecking ball through the political status quo of 2018. Hawley is a new-generation aspirant, a young man in a hurry, in a state that has been trending red.
And speaking of margin of error: A misstep or misstatement could swing it. McCaskill has been searching in vain for months for a Todd Akin moment from Hawley.
Republicans are touting surreptitiously recorded conversations with mid-level staffers by a Project Veritas employee who lied his way into McCaskill's campaign infrastructure as evidence McCaskill is not the centrist she says she is.
Neither scenario has sparked much beyond inside-baseball arguments.
Through McCaskill and Hawley, we see the national struggle in both of our national political parties:
• Are Republicans the party of Trump for the time being, or for the longer haul after he leaves office? If Hawley wins, will he be a rubber stamp for Trump's agenda, as McCaskill asserts, or will he push back on things he has mentioned on the campaign trail, such as federal spending and the deficit?
• Are Democrats about to purge what's left of their centrists? With Heidi Heitkamp imploding in North Dakota, and with other Democratic senators, like McCaskill, besieged in states Trump won, will Democrats see this election as a cue to move even more decisively left after Nov. 6 as their already-simmering presidential nomination process goes to full burner?
A word of advice over the last 19 days: Pay no attention to the national polls, and the TV talking heads pronouncing over them. They've learned little from 2016; they're fixating on macro when this nonpresidential election, more than most, will be determined on a state and congressional district level.
Politics is not all numbers. As in baseball, metrics don't explain everything. If Trump has taught a lesson that even his bitterest opponents agree on, it is that politics is, in its core, about people — their passions, biases, beliefs, struggles, indecisions.
All imperfect and human, all inherently with a margin of error.
That's why it's always best to stop paying attention to the predictors, best to focus on the issues and records of the candidates, and in the context and history in which they run.
Election Day is coming soon enough, and then we'll all know.
Hawley vs. McCaskill: Coverage of the 2018 Senate race
Post-Dispatch coverage of the 2018 race for Missouri's U.S. Senate seat.