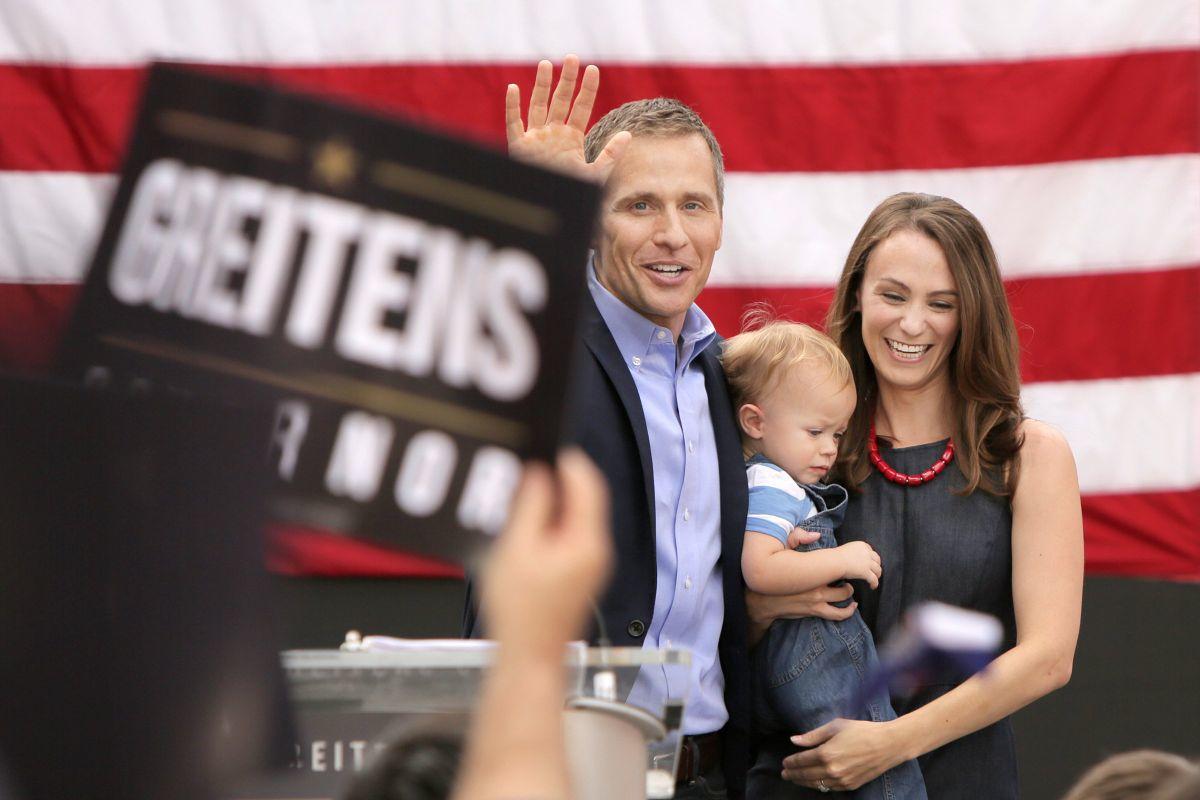 JEFFERSON CITY — As governor, Eric Greitens was a secretive chief executive who worked hard to manage his own narrative by avoiding the press and appearing only in controlled settings.
While that approach to governing melted under the heat of a scandal, it comes as no surprise the Republican has stayed off the radar in the year since he left office.
No interviews. No public appearances. No news of his whereabouts.
But now, on the anniversary of Greitens' departure, new information is beginning to seep out about Missouri's 56th chief executive.
For one, the Navy says the former Navy SEAL is making a return to the military, which he used as an asset during his 2016 campaign to become governor.
Greitens, 45, is not going back into combat, but will serve as an officer in the Naval Reserve, a Navy information officer said.
He's also returned to writing, this time working on a book about his Jewish faith. It's unclear whether he has a publisher lined up, and the former governor may have to answer for literary fraud accusations leveled against him in regard to his third book, "Resilience."
Through contacts with former employees of the governor's office, the Post-Dispatch learned Greitens has hosted occasional cookouts at the $675,000 house he and his wife, University of Missouri political science professor Sheena Greitens, bought in the Warren County vacation town of Innsbrook after he became governor.
"I think he's doing well," said former state Sen. John Lamping, a friend of Greitens. "I think it was a pretty crazy period and time. I know he's spent most of the time just with his family, a lot of time out at Innsbrook."
Lamping says he hasn't visited Innsbrook but said the two have met in between Innsbrook and Lamping's home in Augusta. Lamping said Greitens hasn't mentioned running for office again, but he said they do talk about the state of politics in Missouri.
"He knows that I was pretty involved in trying to defeat this merger proposition," Lamping said of the St. Louis-St. Louis County merger proposal known as Better Together. "We really just talk about that kind of stuff. He's really just getting his sea legs back."
Rise, fall and aftermath
Greitens' entrance into the political scene in Missouri came in 2015. The political newcomer crafted a tough guy, outsider image to win his first race for office in the August 2016 Republican primary for governor.
But in January 2018, news broke that Greitens had been having an affair at the same time he was launching his bid for office. Within five turbulent months, he would be gone.
Greitens admitted he had an affair, but denied an allegation that he threatened the woman with a compromising photograph.
Besides the affair, Greitens faced allegations of campaign finance violations, including using a charity donor list to raise campaign contributions — and then lying to the Missouri Ethics Commission about how he obtained the list.
In announcing his resignation, Greitens said he did not deserve the onslaught: "I have not broken any laws or committed any offense worthy of this treatment."
Although it's been a year since he left office on June 1, investigations continue related to his downfall.
The Missouri Ethics Commission has not completed its report into a complaint filed by the chairman of the legislative investigatory panel. The complaint alleged multiple campaign finance violations.
That has resulted in Greitens tapping his once formidable campaign fund for more than $1 million to pay teams of attorneys to defend him.
Most of the campaign cash for attorneys went to the Husch Blackwell firm, where attorney Catherine Hanaway is a partner. Hanaway, who lost to Greitens in the 2016 GOP primary for governor, has represented Greitens in his various legal battles.
Records show Greitens also continues to keep campaign aides on the payroll, including Scott Turk, who had been on the state payroll during a part of Greitens' abbreviated 17 months in office.
Gov. Mike Parson, the former lieutenant governor who succeeded Greitens, continues to defend the office in court against two Sunshine Law lawsuits related to Greitens' time in office.
Loose endsThe money in Greitens' campaign fund is separate from a nonprofit that was formed after his election that raised almost $6.1 million from secret donors in 2017.
The organization, known as A New Missouri, is a 501(c)(4) nonprofit that operated opaquely during Greitens' abbreviated tenure. The organization does not appear to be active.
Though the sources of the vast majority of the $6.1 million raised are unclear, the Center for Responsive Politics reported this month that A New Missouri received $500,000 from the Judicial Crisis Network, a secretive group that promotes conservative judges.
Meanwhile, one of the targets of Greitens' former legal defense team, St. Louis Circuit Attorney Kimberly Gardner, faces an investigation into how her office handled the prosecution of Greitens.
In mid-May, a special grand jury examining perjury allegations against an investigator hired by Gardner was extended for up to 60 days.
The probe centers on William Don Tisaby, the private investigator Gardner picked to look into allegations against Greitens.
Gardner's office is still fighting in court over data stored on a Circuit Attorney's Office server, which police seized April 29.
Watkins represented the husband of Greitens' ex-lover, and he disseminated transcripts of recorded conversations in which the woman described her affair with the future governor.
Watkins said the money went toward his client's legal bills, not to his client.
"My client did not get a dime," Watkins told the Post-Dispatch. "It went to pay attorneys fees."
Even the Navy has Greitens under a microscope.
On Friday, the Washington Post reported that the chief of naval operations, Adm. John Richardson, has called for a 30-day review of how the service handles personnel cases involving personal misconduct allegations, including Greitens'.
In a May 26 email obtained by the Post, Richardson said Navy policies for addressing misconduct are "too cumbersome and slow" and the results could weaken "the ethical fiber of our Navy" and put the service "in a situation that is hard to explain to ourselves, and even more difficult to explain to the American people."
Staff moves on
After the moving trucks pulled away from the Governor's Mansion carrying the Greitens family's possessions, the main core of his staff also exited their warren of offices on the Capitol's second floor. Some went tearfully. Others said they were ready for a new, perhaps less stressful, chapter of their lives.
His chief counsel, Lucinda Luetkemeyer, returned to private law practice. Her husband, Tony Luetkemeyer, was elected months later to a seat in the Missouri Senate.
In her online biography, Luetkemeyer notes that she worked for the governor of Missouri, but doesn't name Greitens as that governor.
Greitens' chief legislative aide, Will Scharf, left Missouri for a job in Washington.
"While I was obviously disappointed with how our administration ended, serving the people of Missouri was a tremendous honor and privilege, and I am grateful to Gov. Greitens for giving me that opportunity," Scharf said.
Austin Chambers, a Georgia political operative who oversaw Greitens' campaign for the seat and served as his political consultant after he was elected, is now the Republican State Leadership Committee president.
In Chambers' biography on the RSLC website, he lists a string of campaign victories, but also doesn't use Greitens' name.
After departing as Greitens' communications director, Parker Briden served as a spokesman for unsuccessful Nevada gubernatorial candidate Adam Laxalt. He is now spokesman for Mississippi Lt. Gov. Tate Reeves, who is running for governor there.
Just a handful of staffers stuck around to work for Missouri's current governor, Republican Mike Parson, who was sworn in the day Greitens left office.
In taking over, Parson made it a mission to calm the waters in state government.
Where Greitens openly fought with members of the General Assembly, Parson, a former lawmaker, sought to work with the Legislature to get his priorities passed into law.
Despite multiple attempts over the past year, Greitens has not responded to interview requests from the Post-Dispatch.
Post-Dispatch coverage of Greitens, his campaign and The Mission Continues
Greitens, a former Navy Seal, founded The Mission Continues in 2007. His alleged use of a fundraising list from the charity is under investigation.
For coverage of the governor's affair scandal, go here.