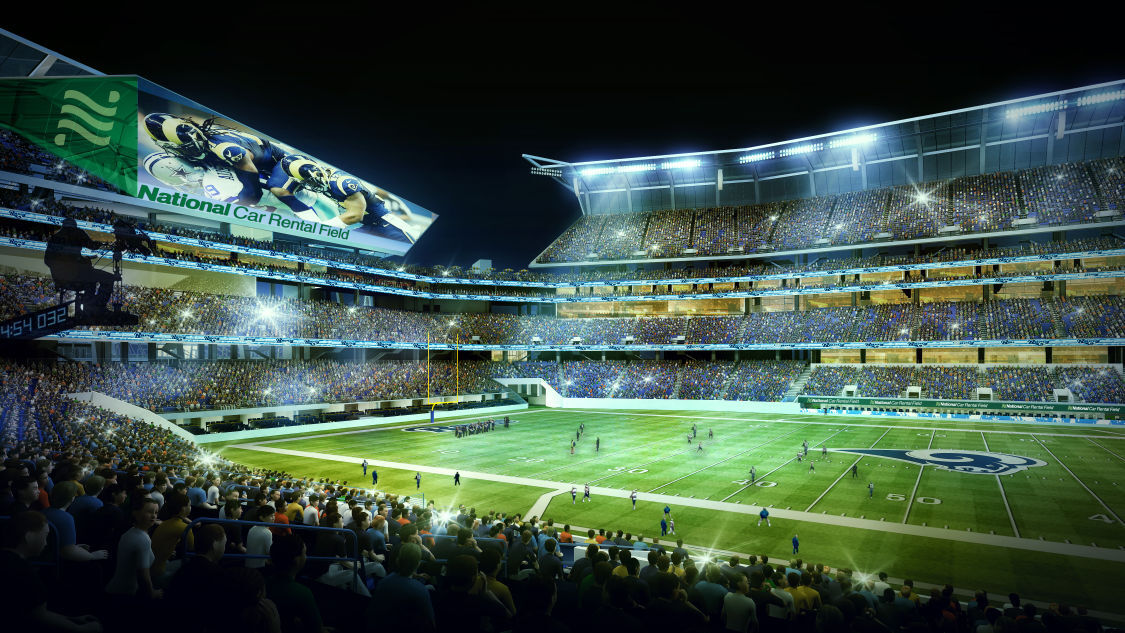 ST. LOUIS • The Board of Aldermen is poised to approve on Friday a financing package for a $1.1 billion stadium that counts on an extra $100 million from the National Football League.
But on Thursday, NFL officials wanted to make sure no one was taking league money for granted.
In a sternly worded letter to Gov. Jay Nixon and his stadium task force, NFL Commissioner Roger Goodell warned that the league has no current plans to provide $300 million toward construction of a riverfront stadium here.
The NFL provides a maximum of $200 million to help teams build new stadiums, Goodell wrote. The premise that the league has committed $300 million to the Mississippi River stadium proposal "is fundamentally inconsistent with the NFL's program of stadium financing," he said.
The letter comes at a critical moment. St. Louis aldermen are set to meet at 3 p.m. Friday to vote on the latest version of the city's financing package — a deal that changed at the last minute to give up city tax revenue in exchange for an additional $100 million from the NFL.
It's unclear whether Goodell's letter will affect that vote. Aldermen could amend the bill, introduce a floor substitute at Friday's meeting, and — should it pass — schedule another special session for next week, in time to meet the league's Dec. 30 proposal deadline.
They could let the bill, and the region's hopes of keeping the St. Louis Rams, die. Without a new stadium here, NFL owners would have far less reason to block Rams owner Stan Kroenke's efforts to move to Los Angeles.
Or they could do nothing.
"We are not changing this bill," said downtown Alderman Jack Coatar late Thursday afternoon. "We are passing the bill as is tomorrow. We have the votes, and we're moving forward."
Moreover, Coatar said, Goodell's letter isn't particularly surprising. "Everybody that's been working on this deal knows that these funding sources are not guaranteed," he said. "This is the city's proposal. This is what we're willing to spend."
Dave Peacock, chairman of Nixon's task force, said local stadium planners have been clear from the beginning that the project is counting on private investment — including $250 million from the team's owner — that has never been certain.
Peacock said Thursday's letter, he imagines, is just the NFL being careful. "I think they are trying to ensure that no one is under the misperception that an aldermanic vote means a guarantee of NFL funding," Peacock said. "But you'd have to ask the NFL what their motivation is."
NFL executives did not immediately respond to a request for comment.
The issue arose just after midnight Tuesday. Coatar, hours before a board vote, sent a new version of the legislation to his colleagues.
The task force had been laboring for months to find the last $75 million in public money. But it kept running into problems with the league.
The task force first planned to use a $158 million naming rights deal, worth about $8 million a year, to back one final bond measure to pay for construction. But NFL owners argued that naming rights proceeds belonged to the team, not the public. So the task force sent that deal back to the NFL.
Then it tried to use an estimated $4.5 million a year in game-day tax revenue to back the bonds. But owners didn't like that, either. Ticket taxes boost seat prices, they said, stealing profits from their teams.
So, on Tuesday, the task force sent ticket taxes back to the team, too.
The final bond measure, its financing much tighter than before, now rests on leftover game-day taxes, plus about $1.5 million a year in stadium rent, paid by the team for using the new facility.
The $100 million extra from the NFL — a deal Peacock cut in direct conversations with key NFL owners — was supposed to cushion the blow.
But Goodell's letter on Thursday took Peacock to task for including that money in the city's financing package.
The NFL, Goodell wrote, had told Peacock in a phone call after the board vote on Tuesday that such money was troubling to the league. "Although you acknowledged this publicly following the conference call, it does not appear that this information has been shared with the aldermen and the proposal before them does not reflect what was conveyed to you on Tuesday," Goodell said.
On Thursday, Peacock sounded weary.
"We have received input from a lot of parties," he said. "It has been challenging at times to determine what input we should follow.
"We just want to keep our football team. We have been trying to follow the process as best as we can determine it."
NFL owners are set to meet in January to discuss team relocations. The Rams are competing with a two-team proposal from the San Diego Chargers and Oakland Raiders. Owners have said they hope to make a final decision then.