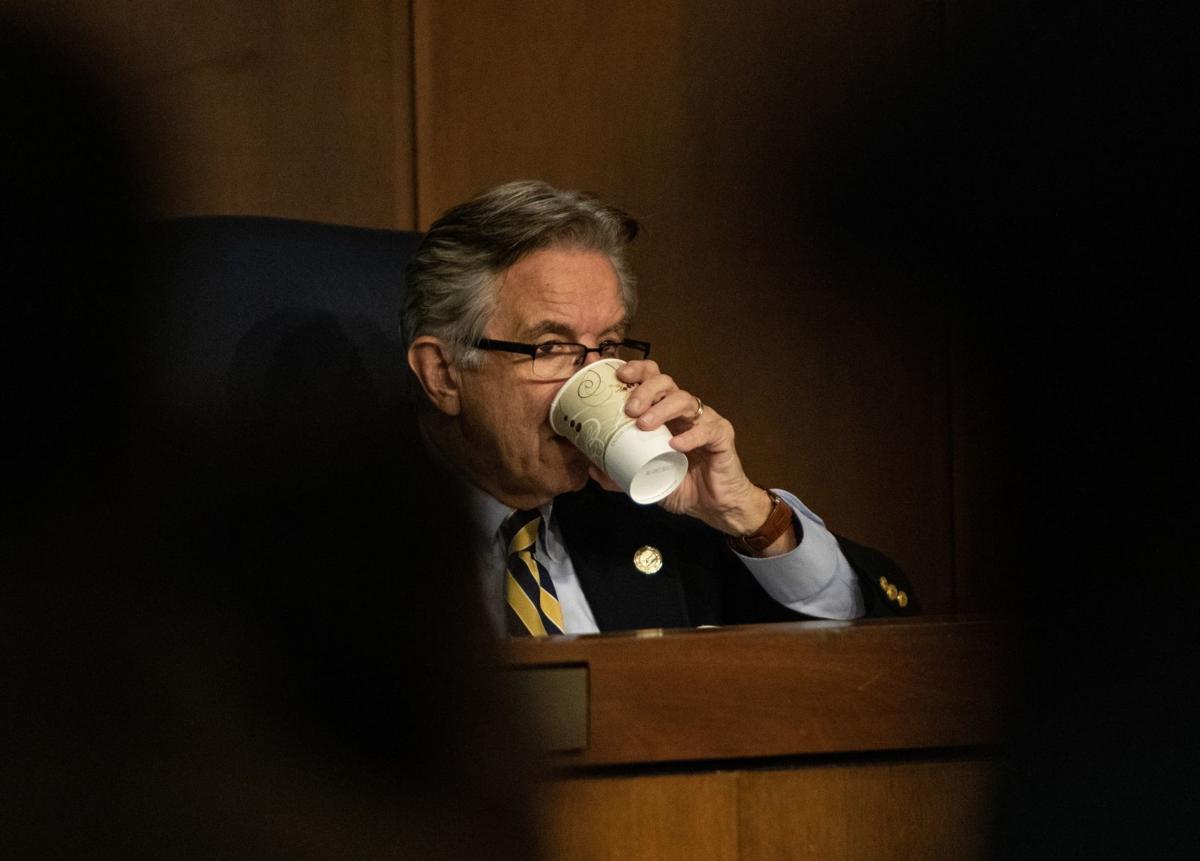 CLAYTON — A member of the St. Louis County Council is taking aim at State Auditor Nicole Galloway for the timing of an audit he describes as a "political missile" aimed at County Executive Sam Page.
In a two-page letter sent Friday, Councilman Ernie Trakas, R-6th District, said Galloway failed to disclose a potential conflict of interest with Patrick Lynn, a political strategist and adviser who has worked for several Democratic campaigns, including Galloway's and that of Page's predecessor, Steve Stenger.
Trakas, in the letter, asks whether that relationship was a factor when Galloway launched the audit of the Stenger administration: "The County Council repeatedly asked you to audit Stenger's conduct in 2017 and 2018, yet you failed to publicly criticize him until after he was indicted by the federal government for corruption that was plain as day to any public observer."
A confidential draft of the audit, which Galloway's staff presented on Tuesday to the County Council during a closed-door meeting, was obtained and published Wednesday by the Post-Dispatch.
While the draft audit details pay-to-play abuses during Stenger's tenure as county executive, it also blames the County Council, where Page served as chairman, for failing to provide rigorous oversight. The audit also criticizes Stenger for increasing pay of some county employees without changing job titles, a practice it said continued under Page. In addition, the audit was critical of the county auditor's office under Mark Tucker, a 2017 council appointee.
Lynn served as campaign manager for businessman Mark Mantovani, one of three Democrats who challenged Page in the Aug. 4 primary. Trakas, in his letter, asserts Galloway's office attempted to present the audit findings to Council Chairwoman Lisa Clancy a week before the primary. The subsequent leak of the draft suggested it was "a political missile aimed directly at Sam Page," he said.
Trakas writes: "This is deeply concerning, as it appears your office attempted to time the release of the report to inflict maximum damage on the opponent of your uncle and political advisor."
The councilman was responsible for doing something similar: A week before the primary he released documents that tied two political operatives working to elect Mantovani, Jane Dueker and Ed Rhode, to Stenger's controversial Northwest Plaza deal. In his letter to Galloway, he says, "As a Republican, my interest is not to defend Sam Page, but to defend the truth."
"Trakas is an idiot," Lynn said Saturday when asked about Trakas' allegations. "If anything, the timing of the audit only helped Sam (Page). As Mark Mantovani's campaign manager, it was a disservice to the voters to put that out two weeks after the election."
Lynn works for Show Me Victories, the political communications arm of the Kelley Group, but said he took a leave of absence to manage the Mantovani campaign.
He said he had no idea a draft of the audit was being provided to the council, and after it was leaked, he said he placed an angry call to Galloway's chief of staff to complain that they waited until after the election.
A spokeswoman for Galloway said Saturday that the state auditor's office is barred by state law from publicly discussing the work or content of an ongoing audit.
"We will provide a response to this (Trakas') letter to the St. Louis County Council," Steph Deidrick said. "This office follows audit standards and the law. Audits are about facts, not political infighting."
Galloway is the Democratic nominee for governor.
Updated at 5:26 p.m. with Patrick Lynn's comments.
Get Government & Politics updates in your inbox!
Stay up-to-date on the latest in local and national government and political topics with our newsletter.