JEFFERSON CITY — Gov. Mike Parson signed an anti-abortion law on May 24, banning the procedure at eight weeks of pregnancy, except in medical emergencies.
Controversy over the law, however, did not subside after he signed the law.
Parson, a Republican, finished his first year in office on Saturday facing a public relations and legal onslaught from abortion-rights activists and Democrats who wield little to no power in Jefferson City.
The new abortion law has generated backlash in three ways: the ACLU of Missouri and GOP mega-donor David Humphreys have started parallel campaigns to repeal the law; opponents are expected to challenge the constitutionality of the law in court; and, politically, Democrats seek to translate anger among some constituencies into success at the polls.
The measure has stirred unease among several Republicans, who worry about the popularity of strict abortion laws approved here and in other states.
President Donald Trump recently broke with Missouri lawmakers, saying he supported abortion rights in cases of rape or incest, and Humphreys, who with his family spent $14 million on Republican causes during the 2016 election cycle, has also said the law goes too far.
On another front, St. Louis Circuit Judge Michael Stelzer issued a temporary restraining order Friday blocking the state from revoking the license of the St. Louis Planned Parenthood clinic, handing a loss to the governor. On Wednesday Parson said such a court order would be "reckless."
On May 17, facing questions about why he would sign a bill without rape or incest exceptions, Parson predicted the courts would have the final say on the eight-week ban — not activists on both sides of the abortion issue.
"I believe in the pro-life side of the issue," Parson told reporters, later adding he believed all life had value, no matter how it was conceived.
"There's going to be challenges to this. You all know. This all started in 1973," he said. "There's going to be court challenges to this issue throughout the years to come."
That same day, activists chanted outside Parson's Capitol office as House Republicans advanced the ban on abortions after eight-weeks. Once the bill was on Parson's desk, they bombarded his office with phone calls and emails.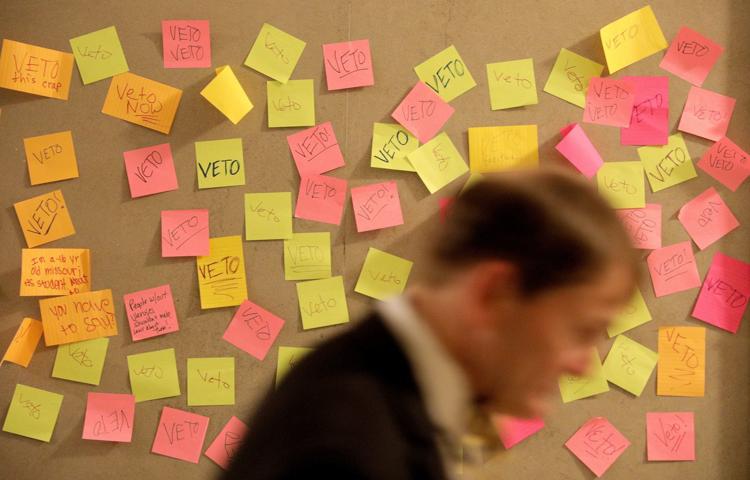 According to the governor's office, roughly 3,000 calls and 1,600 emails related to the abortion law came into the office between May 16 and May 23.
It was unclear how many contacts were in opposition, but, "typically, calls are made more in opposition," spokesman Steele Shippy said of calls to the office on any given issue.
Some activists said they couldn't get through. Alison Dreith, deputy director at the Hope Clinic for Women in Granite City, said she tried calling three times but did not speak to a real person nor did she receive a voicemail prompt.
"If Gov. Parson was not keeping track of people who supported or opposed this bill … now we will never know" how many people opposed the bill, she said.
On Thursday, with the bill already signed into law, activists confronted the governor as he stepped onto the elevator at the University Club Tower in Richmond Heights to film an episode of "This Week in Missouri Politics" with publisher Scott Faughn.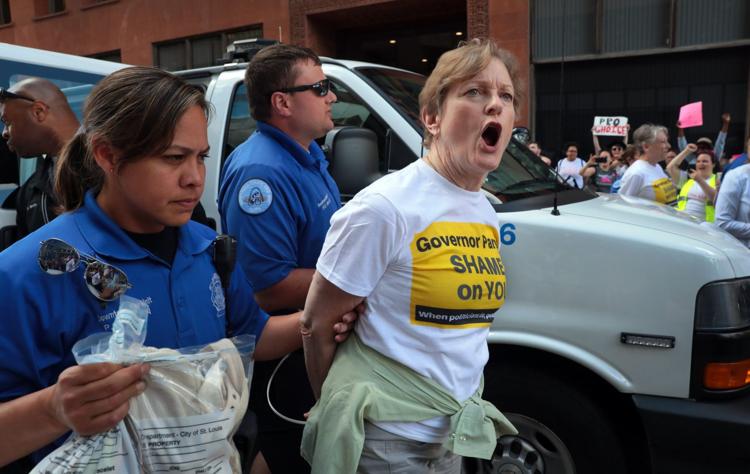 Planned Parenthood lawsuit
Fueling the activists' fury was a separate Parson administration flare-up over abortion.
On Tuesday, Planned Parenthood launched a media blitz — holding a mid-morning press call with national and local outlets to announce the organization's St. Louis abortion clinic would likely be forced to cease abortions on Friday, the result of a licensing dispute between Planned Parenthood of the St. Louis Region and the state Department of Health and Senior Services.
That morning, the group also filed a lawsuit accusing the state of illegally threatening renewal of the clinic's license.
"Just like the Trump administration and the state politicians they embolden, Missouri Governor Parson's inspections process has become just another vehicle to intimidate doctors like me and to push abortion care out of reach for patients," Dr. Colleen McNicholas, obstetrician-gynecologist at the St. Louis Planned Parenthood location, said in a statement.
Parson held his own news conference the next afternoon, flanked by top advisers and Dr. Randall Williams, a licensed obstetrician and the director of the DHSS.
"Yesterday Planned Parenthood filed a lawsuit against the state and (that) coincided with a media campaign by Planned Parenthood," Parson said.
He did not elaborate, citing an ongoing investigation, but the DHSS later put out a news release saying concerns were initially raised after inspections in March.
The agency cited "at least one incident in which patient safety was gravely compromised." It also cited what it called "failed surgical abortions" in which women remained pregnant, and an alleged failure to obtain "informed consent."
contributed to this report.