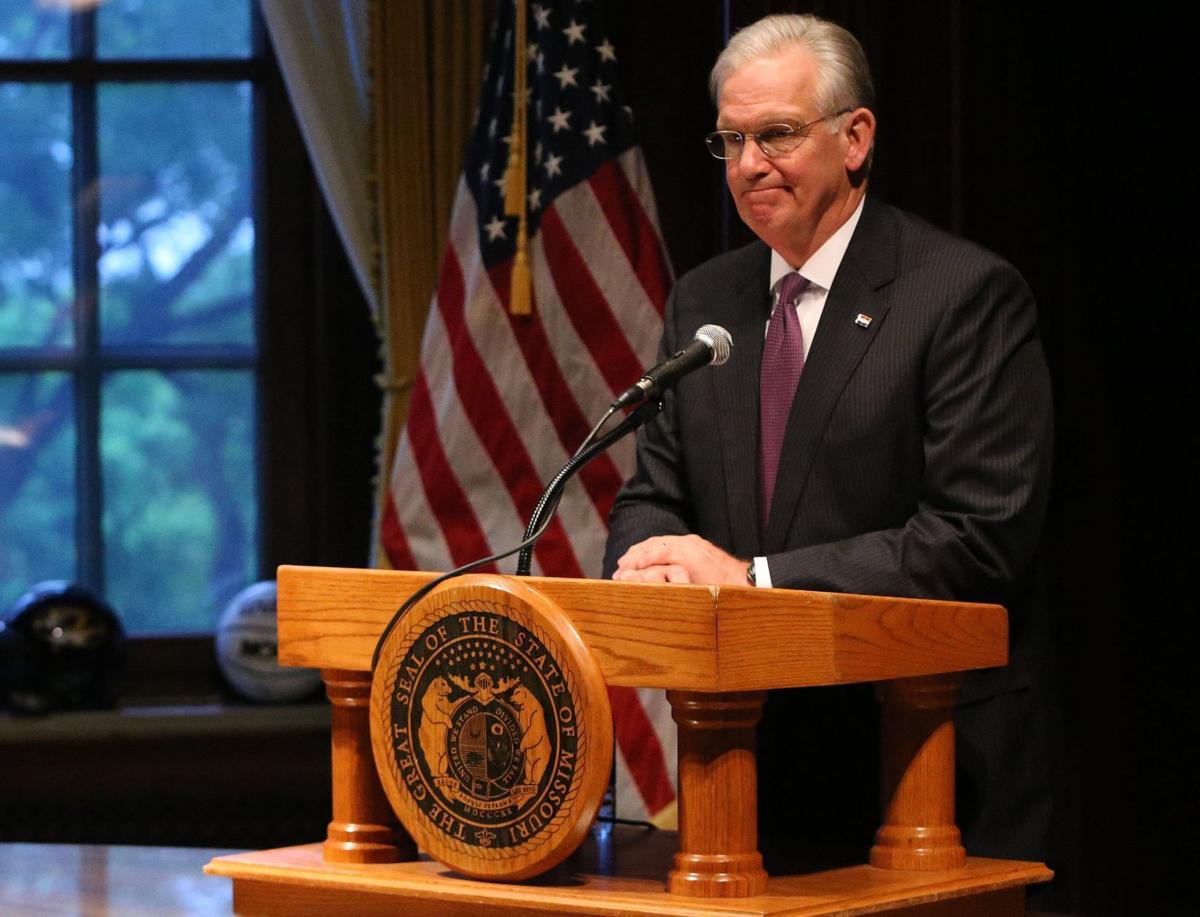 JEFFERSON CITY • Gov. Jay Nixon made good on his threat to slash more money from the state budget after Missouri lawmakers overrode his vetoes on bills that give tax breaks to so-called "special interests."
In an announcement Thursday, the Democrat cut $59.1 million from the $27 billion spending blueprint. The money would have gone to schools, roads, universities and farmers.
"There's nothing happy about taking money from schools," Nixon told reporters gathered in his office. "None of this was fun."
One measure offers an income tax deduction for federal agricultural disaster aid payments. His budget office projected that could result in a hit of $59.5 million to state coffers this fiscal year. Lawmakers insist the amount claimed by Missouri cattlemen and ranchers based on income losses from a 2014 drought will be far less.
The other new law would exempt yoga classes and exercise studios from state and local sales taxes. The Department of Revenue said that could lead to a drop in revenue of $8 million this fiscal year.
To account for those decreases, Nixon cut $16.5 million in aid that helps school districts pay busing costs. He cut another $6 million from general state school aid.
Even with the reductions to schools, he said the state is still on pace to spend more money on schools this year than last.
"We're still at record funding," Nixon said.
The governor also cut $20 million from a special new fund the Republican majority created to pay for road and bridge upgrades.
Nixon said roads should not be paid for with general tax dollars. Rather, he had advocated on behalf of a gasoline tax hike that failed to garner support during the legislative session.
Also targeted were five agricultural programs worth over $5 million, including beef and dairy initiatives. Nixon said he specifically chose them because the tax break affects cattle owners.
"That one was a pretty clear message," Nixon said. "They made a choice."
Following Wednesday's veto session, House Speaker Todd Richardson, R-Poplar Bluff, acknowledged Nixon had warned lawmakers against overriding the vetoes. But, he defended the Legislature's record on budget matters.
"We have a strong record of fiscal discipline in this House," Richardson said.
In comments to reporters late Wednesday, Senate Majority Floor Leader Mike Kehoe, R-Jefferson City, dismissed the concerns about the tax breaks.
"Those are not going to cause Missouri's $27.5 billion budget to go into a tailspin," Kehoe said.
In a statement Thursday, Senate President Pro Tem Ron Richard, R-Joplin, said Nixon's move was a "smokescreen" to hide rapid growth in Medicaid spending.
"The reason for the recent withholds by the governor has nothing to do with the Legislature's actions last night. The effects of the bills overridden won't be felt for months if not years down the road," Richard said.
The governor signaled it is unlikely the money for the various programs will be restored before the end of the fiscal year. Fiscal estimates don't indicate a large boost in revenue between now and June 30, he said.