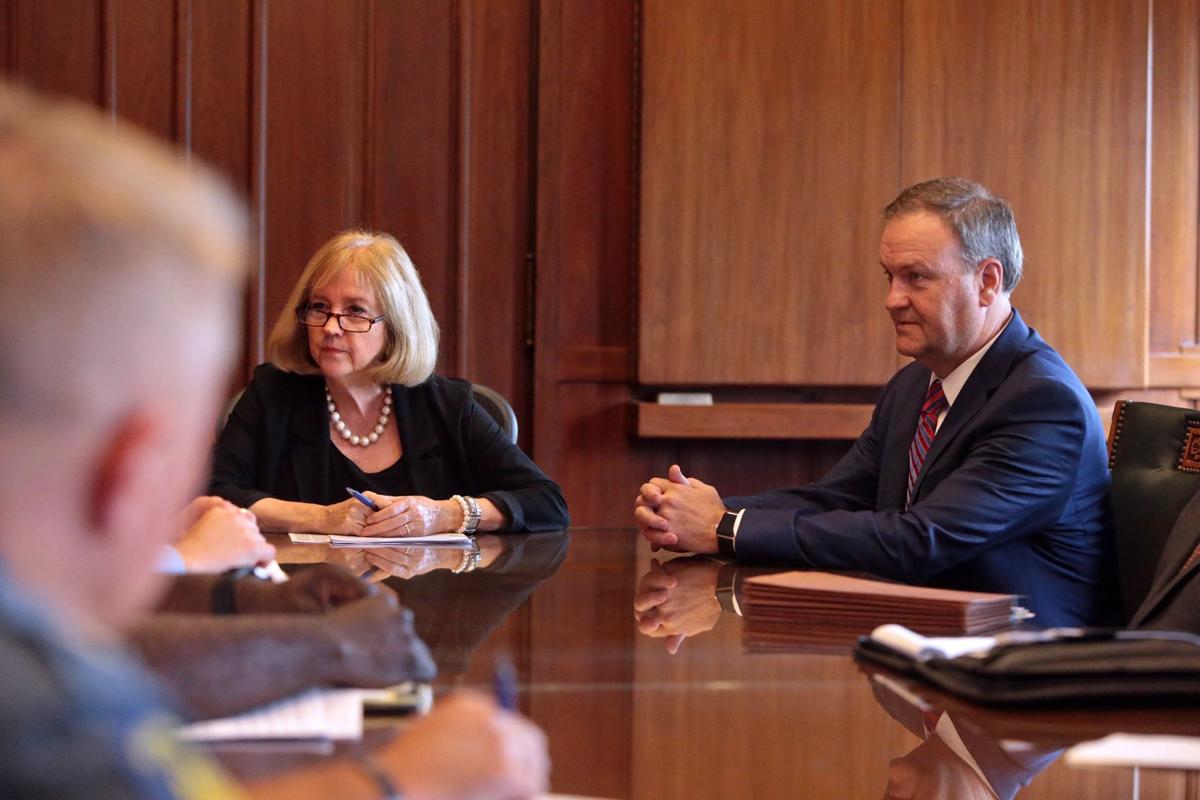 Updated with news Lewis Reed may cancel special aldermanic session.
ST. LOUIS — The regional Board of Freeholders moved closer to reality Tuesday, with eight members approved by the St. Louis County Council and one named by Gov. Mike Parson.
But Mayor Lyda Krewson's nine appointees were still mired in a St. Louis aldermanic committee as committee leaders and the mayor couldn't reach agreement on who should ultimately represent the city on the 19-member board, which is to consider governance changes for the city and the county.
Some aldermen are urging Krewson to name more appointees who live in north St. Louis. The dispute is expected to come to a head Wednesday afternoon when the full Board of Aldermen meets in special session to consider the appointments.
Aldermanic President Lewis Reed, who called the special session, told the Post-Dispatch, "I'm trying to head off a train wreck." 
Late Tuesday, Reed said in a text message that a "compromise" list of freeholder candidates had been rejected by the mayor's office and that if an agreement wasn't reached by "mid-morning" Wednesday, the special session and a committee meeting that was to precede it would both be canceled.
Meanwhile, Parson, who gets a single appointment to the board, on Tuesday named Joseph Blanner, a partner in a law firm based in Town and Country and a former president of the chamber of commerce in Eureka.
Blanner said his residence in Jefferson County just across the Meramec River from St. Louis County allows him to meet the constitutional requirement that Parson's appointee not live in either St. Louis or St. Louis County. State law doesn't require any state panel's approval for the governor's appointee.
The St. Louis County Council, after learning of Blanner's appointment and that a vote had been scheduled in the city, decided to move forward with eight of County Executive Sam Page's nine nominees.
Councilman Ernie Trakas, R-6th, the council's presiding officer, told his colleagues in a work session that there was a risk the city could have confirmed its members on Wednesday and the freeholder board would have been able to get started without the county's representatives.
They voted 5-2 on John Nations, with Kelli Dunaway, D-2nd District, and Republican Tim Fitch, R-3rd District, voting no. Dunaway criticized Nations' tenure as CEO of Bi-State Development before his retirement last year, saying that in his interview with the council she gave him the opportunity to admit his role in the agency's problems, but each time, "he passed the buck on to someone else." Fitch added: "I feel the exact same way."
Council members voted 5-2 on Carol Stroker, with Trakas and Fitch voting no.
The council delayed action on a ninth nominee, Dee Joyner, because she had not met with the council yet.
The city dispute
In St. Louis, Alderman Sam Moore, chairman of the aldermanic Intergovernmental Affairs Committee, and others are upset that only one of Krewson's black nominees lives north of Delmar Boulevard in the heart of heavily black north St. Louis. That is Abdul Kaba Abdullah, a development official.
Overall, Krewson's list of nominees is split almost evenly racially with five whites and four blacks.
The committee has sent the names of five other people, all north St. Louis residents, to the mayor as suggested nominees.
"We're still trying to work with the mayor's office ... and we will do it down to the last moment," said the committee's vice-chairman, Sharon Tyus.
Meanwhile, Krewson's chief of staff, Steve Conway, said "we're open to ongoing conversations."
Krewson staffers say Wednesday is the deadline for approving the nominees, citing a state constitutional provision that says "the appointment of the board shall be completed within thirty days" after election officials certified the petition that triggered the board's formation. The certification took place Sept. 23.
Meeting the deadline is "critically important" to maintaining the city's representation in the freeholders process, said Krewson's spokesman, Jacob Long. What would happen if the date isn't met is legally ambiguous, mayoral aides said.
Why freeholders?
Formation of the freeholders board was triggered by a petition drive begun by county municipal leaders as an alternative to the failed Better Together city-county merger plan.
Better Together supporters had envisioned their plan as an amendment to the state Constitution requiring voter approval statewide.
In contrast, any proposal submitted by the freeholders board would require approval by separate majorities of St. Louis and St. Louis County voters.