ST. LOUIS — The city this month launched a new grant program designed to pump $37 million into businesses and nonprofits along many of north St. Louis's main thoroughfares.
But it contained one provision that, at the time, gave some officials pause: All grants need approval from the area's alderman "via letter on the Alderman's letterhead."
"If the Alderman of the ward does not send a letter of support on their letterhead, then the project shall not be funded or approved by SLDC," says the language of the ordinance authorizing the program.
The provision codified the "aldermanic courtesy" that has long been tradition in St. Louis, through which aldermen wield quiet veto power over tax incentives, development projects and many of the functions of city government in their wards.
But that tradition is under new scrutiny following this month's federal indictments against three members of the Board of Aldermen.
"My concern with that provision has been from the beginning," said Alderman Annie Rice, 8th Ward. "We need a very formal, very public process for how that support is given. Otherwise, we need to consider taking that provision out."
Nick Desideri, a spokesman for Mayor Tishaura O. Jones, said the aldermanic approval language "caught our attention." The mayor's office, he said, is "exploring language to strengthen accountability and transparency around important investments like those in" the grant program.
The indictments, unsealed on June 2, accuse Aldermen John Collins-Muhammad and Jeffrey Boyd of using aldermanic courtesy to cash in, accepting bribes after providing required support letters to a business owner looking to purchase city-owned land and obtain property tax breaks, functions processed by SLDC staff. Aldermanic President Lewis Reed was also implicated, accused of accepting bribes after using his post to help the businessman obtain favorable legislation.
Collins-Muhammad resigned on May 12; Boyd and Reed resigned after they were indicted.
Reed pushed hard for the provision requiring aldermanic approval for applicants to the new commercial corridor grant program. And many of the eligible corridors — Martin Luther King Drive, Union Avenue, Goodfellow Boulevard, Natural Bridge Avenue — ran through the wards of Boyd and Collins-Muhammad.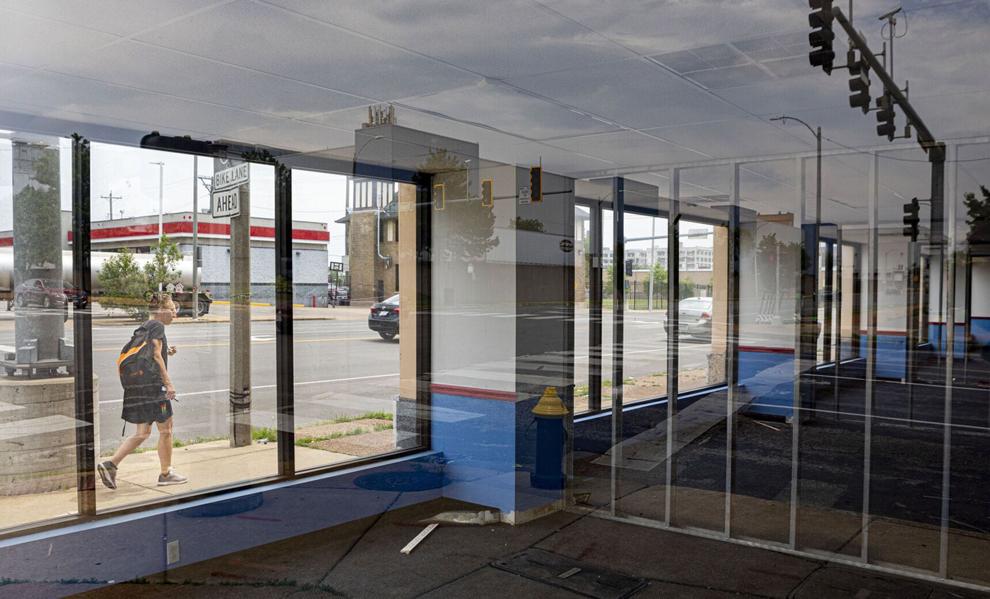 Eligible areas were in the wards of many of Reed's allies on the Board of Aldermen. The new power over millions of dollars has kicked in just as aldermen launch campaigns and raise money for reelection next March, when the number of seats will be slashed to 14 from 28, requiring an election for each of the newly drawn wards.
The northside corridor grant plan was the subject of one of the first political confrontations between Reed and Jones after the mayor took office last year. Reed and his allies pushed for the plan in a larger appropriation bill for COVID-19 relief money, arguing north St. Louis was in dire need of investment. But Jones contended it amounted to "general economic development" barred by federal rules. She ended up vetoing the north side grant program.
Earlier this year, however, the U.S. Treasury Department clarified rules on the relief funds to make it clear that local governments had wide discretion on spending the money so long as it was directed to low-income areas. All of north St. Louis qualified.
Comptroller Darlene Green, during a March meeting of the Board of Estimate and Apportionment, which oversees city spending, proposed removing the provision requiring individual aldermen to approve the grants, calling it a "hurdle" to getting money to north St. Louis.
Reed protested, saying the grants would then "just be up to some administrative person." Requiring the alderman's approval, he said, ensures they can "go out and inform their constituents about what's happening" and gather input to "work with SLDC to fine-tune what's happening."
"That's not an additional hurdle," Reed said during the March meeting. "That's a safeguard."
Aldermanic approval now a 'cloud'
The aldermanic approval provision remained in the final bill, passed unanimously by aldermen in April after negotiations with Green and Jones. The final version of the bill actually expanded aldermanic influence, giving them veto power over any grant — not just those larger than $100,000, as Reed's original proposal did.
Alderman Sharon Tyus, who represents areas eligible for the grant funding, helped broker the compromise and argued giving aldermen veto power was important. She said the mayor wanted to take the aldermanic approval provision out but Green ended up supporting it.
"I want to find anybody in the city who knows my community better than me," Tyus said Friday. "Aldermen are representative of a ward. They have much more hands-on knowledge than the mayor or anyone else does."
Aldermen, Tyus said, are accountable to their voters, and corruption can also occur within the unelected bureaucracy.
"There's crooked people everywhere," Tyus said. "Everyone wants to talk about the aldermen, but it's not just the aldermen."
Jones, who ran on a platform of driving more investment to north St. Louis, ultimately signed the bill during a May ceremony with U.S. Rep. Cori Bush, D-St. Louis, and several northside aldermen. Desideri said the mayor had to work with other officials to get the program passed but that the office was taking another look at the aldermanic approval provision as well as other ethics reforms.
"Considering these shocking corruption charges," he said, "we don't want to take anything off the table that will help us begin restoring the trust that was broken" by Reed, Boyd and Collins-Muhammad.
Asked whether she had any concerns with the aldermanic approval provision following the indictments, Green in a statement Friday said "what's most important is that a fair and honest process is provided for deserving grant applicants in our community."
"I agree with Mayor Jones that the indictments of the three aldermen have put a stain on our city which may have far-reaching effects," Green said. "Unfortunately, this has put a cloud over those that use aldermanic approval honestly, as well."
Posted at 6 a.m. Monday, June 13.