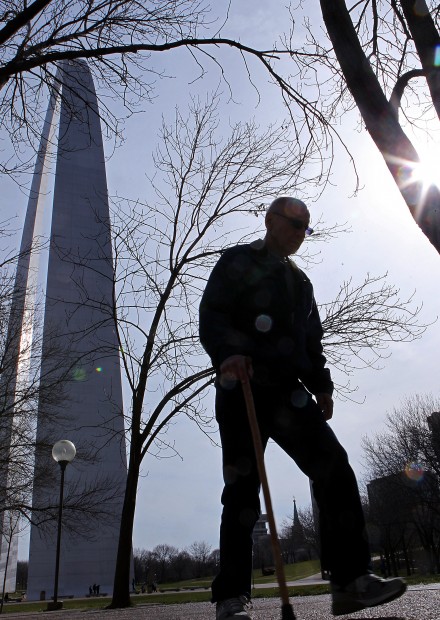 ST. LOUIS • Forty-two area residents have been chosen to help guide the look and feel of the Gateway Arch grounds renovation.
The board at Great Rivers Greenway, the tax-funded trails agency charged with overseeing the use of public dollars to overhaul the Arch grounds, approved yesterday the members of its new Citizen Advisory Committee.
Well more than 200 applied to be on the committee, said Todd Antoine, planning director for Great Rivers.
The members will advise project leaders on the extras that will fill out — and, perhaps, draw crowds—to the new grounds and gardens.
They will help with landscaping decisions. They will brainstorm desirable public attractions on the grounds or in the vicinity, such as concerts, skateboard parks, coffee carts, or food trucks. And they will help design all sorts of signs, from educational plaques to way finding markers to signs directing drivers to available parking.
"I think it's going to be very important," Antoine said. "There's a lot of input that's needed on the visitor's experience."
The committee is largely white—33 of the 42 members, according to their applications. It is largely male—25 of the 42. (A full half of the committee members are white males.)
But in residence and profession, the members are mixed. They range from recent college graduates to retirees. Several are architects, but waitresses, teachers, police officers and professionals in marketing and sales were also picked.
Eighteen members live in the city. The rest come from all over the region—from Imperial to Granite City, from Florissant to O'Fallon.
And nearly all of the applications express continued hope for the city's potential.
"I love St. Louis," wrote architect Timothy Barker, 53, from St. Louis. "I want to see this city build on its unique cultural, literary, architectural and civic achievements to gain renewed status as a place where great things happen."
Antoine said Great Rivers staffers, plus staffers at CityArchRiver, the nonprofit spearheading the Arch grounds renovations, picked the committee from the candidates.
They read every application, he said, and tried to get a variety of people, in residence, profession, age and ethnicity.
They also tried to discern, Antoine said, which applicants would be "team players."
The committee's first meeting is scheduled for 6:30 p.m. May 7.