JEFFERSON CITY • Missouri Gov. Eric Greitens and his wife, Sheena Greitens, issued an extraordinary statement late Wednesday acknowledging that he had an extramarital affair in the past and that the couple "has dealt with this together honestly and privately."
The statement came as a St. Louis television station aired a segment alleging that, during that affair, Greitens took a compromising photograph of the woman and threatened to publicize it if she exposed him. The statement from Greitens and his wife didn't address that part of the allegation.
Greitens' attorney, James F. Bennett, issued a statement denying the blackmail allegation.
"There was no blackmail, and that claim is false," Bennett said. "This personal matter has been addressed by the Governor and Mrs. Greitens privately years ago when it happened. The outrageous claims of improper conduct regarding these almost three-year-ago events are false."
On Thursday morning, Bennett added via email: "No violence. No picture taken. No threat of blackmail."
KMOV (Channel 4), in its report, quoted the former husband of the woman who allegedly had the affair with Greitens. The station did not quote the woman in its story, nor did it name the woman or her husband.
The station played portions of an audio recording that the then-husband says he made in March 2015, surreptitiously, of his then-wife confessing to a sexual encounter with Greitens days earlier.
The Post-Dispatch also has possession of the audio and has interviewed the ex-husband. The newspaper had previously decided against writing a story based solely on the husband and the audio recording, because the woman in question has consistently declined to be interviewed. However, Greitens' public acknowledgment of an affair made it necessary to revisit that decision.
"You're never going to mention my name, otherwise this picture will be everywhere," Greitens told the woman, she claims on the audio. She is heard telling her then-husband that Greitens made the statement after he took a photo while she was bound, blindfolded and partly undressed during a sexual encounter at Greitens' St. Louis home in March 2015. That was about a month after his first public statements confirming he was considering a political run.
The ex-husband said the woman had been Greitens' hair stylist before he ran for governor in 2016. The woman claims in the audio recording that initial flirtation grew into an affair that became physically intimate for the first time on the morning of March 21, 2015, when she went to Greitens' home in the Central West End.
The woman claims in the audio that they went into Greitens' basement, where he bound her to a piece of exercise equipment with some kind of tape, put a blindfold on her and began partly undressing her and touching her.
That part of the encounter was consensual, she indicates in the audio, but the alleged taking of the photograph wasn't. She said in the audio that she wasn't aware he was doing it until she saw a flash of light through the blindfold, followed by his alleged verbal threat.
On Oct. 20, 2015 — three weeks after Greitens filed papers formally starting his 2016 campaign for governor — the woman sent an email to an account that contains Greitens' name. It's the same email account Greitens listed in setting up a political website he used in his gubernatorial campaign.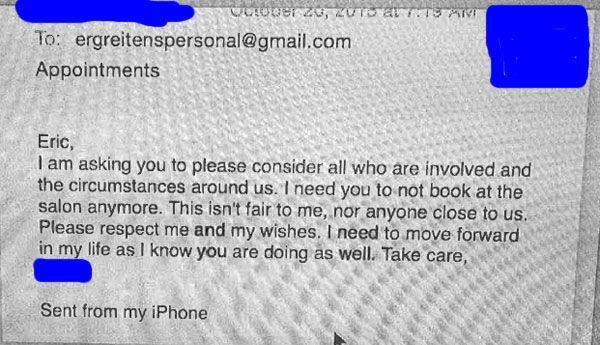 "Eric, I'm asking you to please consider all who are involved and the circumstances around us," the woman wrote in the email, which the Post-Dispatch obtained. "I need you to not book at the salon anymore. This isn't fair to me, nor anyone close to us. Please respect me and my wishes. I need to move forward in my life as I know you are doing as well. Take care."
The woman's ex-husband, in statements to the Post-Dispatch in the past two weeks, laid blame for the collapse of his marriage largely on Greitens.
"Throughout that summer … the power of manipulation that Mr. Greitens had over my wife had become undeniable," he said in the written statements, which were provided through his attorney, Albert Watkins. "Yes, the affair between (his wife) and Mr. Greitens was the main reason for the irreparability of our marriage."
Organizations that work with victims of sexual violence stress that consent has to be ongoing, even in established personal or romantic relationships. A person can also revoke his or her consent at any point during a sexual encounter, even after giving consent in the past.
"Someone can start to do something sexual and change their mind about the next step," said Terri Poore, policy director of the National Alliance to End Sexual Violence. "That needs to be respected by the other party."
Taking an explicit photo of someone without his or her permission can violate consent given earlier, Poore said, because consent means consciously and knowingly agreeing to the action at hand.
"If you introduce threats or coercion or power imbalances, you aren't dealing in the realm of consent anymore," she said.
The joint statement issued by Greitens and his wife read:
"A few years ago, before Eric was elected Governor, there was a time when he was unfaithful in our marriage. This was a deeply personal mistake. Eric took responsibility, and we dealt with this together honestly and privately. While we never would have wished for this pain in our marriage, or the pain that this has caused others, with God's mercy Sheena has forgiven and we have emerged stronger. He understand that there will be some people who cannot forgive — but for those who can find it in your heart, Eric asks for your forgiveness, and we are grateful for your love, your compassion, and your prayers."
Sheena Greitens also released a separate statement, which read:
"We have a loving marriage and an awesome family; anything beyond that is between us and God. I want the media and those who wish to peddle gossip to stay away from me and my children."
In Gov. Greitens' speech Wednesday night, Sheena Greitens was among several people he thanked at the start. He also recognized her efforts to ease child adoptions across state lines.
"Last month, Missouri officially joined the National Electronic Interstate Compact Enterprise, to make adoption easier across state lines," he said. "I want to give a special thank you for her hard work on this issue, to the first lady of the state of Missouri, and my wife, Sheena Greitens."
The revelation of the affair and the related allegations hit Greitens as his political star has been rising, with national attention from conservative media outlets and politicians in other states who have viewed the 43-year-old former Navy SEAL and bestselling author as part of the Republican Party's future.
Greitens, whose first marriage ended in divorce, is a former Democrat who has mixed brains and brawn throughout his public life, but one consistent element to him has been ambition. As the Post-Dispatch has previously reported, he was reserving website names with variations of "Greitens for President" years before his first political campaign, for governor, in 2016.
A top Missouri House Democrat said the affair Greitens had acknowledged "undermines his credibility."
"With the governor's reliance on secretive dark money, his alleged destruction of public records, and overall lack of transparency, deception has been a key part of Eric Greitens' administration," said House Assistant Minority Leader Gina Mitten, D-Richmond Heights. "This story further undermines his credibility."
Democratic state Sen. Jamilah Nasheed of St. Louis took to Twitter to call on Greitens to resign:
"We must end the culture of corruption," she wrote. "I'm calling on Governor Greitens to resign immediately and give Missouri the opportunity to restore some dignity to the governor's office."