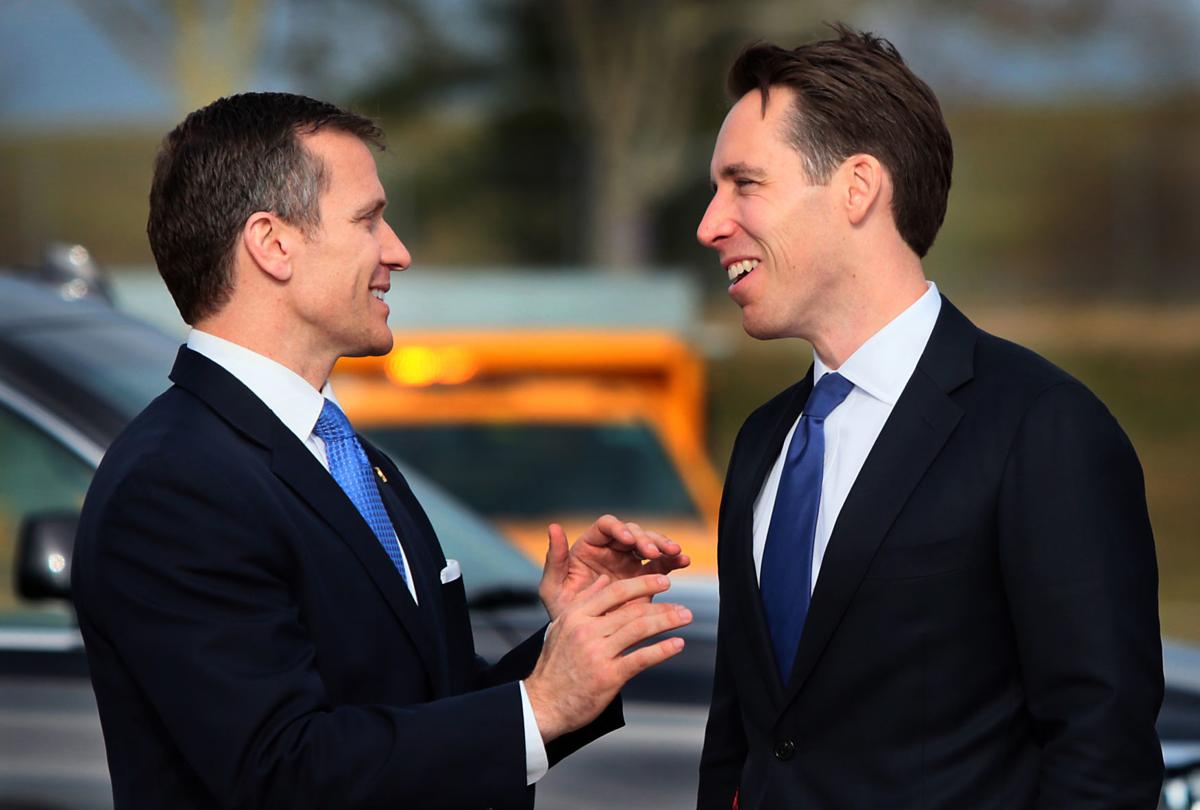 Updated at 6:24 p.m. Wednesday with a response from Hawley's office.
JEFFERSON CITY • Attorneys for Gov. Eric Greitens have asked a Cole County judge to put the brakes on Attorney General Josh Hawley's investigation of Greitens' former charity, The Mission Continues.
In a court filing made Monday, Greitens' attorneys said Circuit Judge Jon E. Beetem should issue a restraining order and appoint a special prosecutor to conduct any investigations against Greitens, his office or entities connected with the governor.
The attorneys state that Hawley has damaged his impartiality in investigating Greitens in multiple instances, including saying Greitens' predicament is "very grave" on March 28 and calling on Greitens to "resign immediately" last week.
"AG Hawley's public statements demonstrate that he understands that by calling for Gov. Greitens to resign, he has predetermined the guilt of his own investigative target and his investigation now is clearly compromised," the attorneys wrote in the court filing. "The appearance of impropriety is so great as to require recusal of the entire [attorney general's office]."
The attorneys also cite case law to argue that Hawley has a "personal interest in the outcome of his investigation, namely that the Governor resign or be impeached." They argue this disqualifies him from proceeding.
Earlier this week, Hawley refused to recuse himself from investigating Greitens, saying his call for Greitens to resign had to do with sexual misconduct allegations against him, not his cozy ties to his former charity.
"We look forward to arguing this matter in court," Mary Compton, spokeswoman for Hawley, said in a statement on Wednesday. "The request for the Attorney General's recusal is frivolous. The Attorney General called for the Governor's resignation because the House Investigative Committee reported substantial evidence of sexual, violent misconduct by the Governor. The investigation into The Mission Continues addresses an entirely separate matter. The fact that the Governor has been credibly accused of sexual misconduct does not mean he is exempt from investigation into other wrongdoing."
The governor's latest legal maneuver drew jeers on the Senate floor Wednesday.
"I was taken aback by that," said Sen. Jamilah Nasheed, D-St. Louis. "Here you have this tough Navy SEAL guy filing restraining orders. I'm the one who's supposed to be scared, not him."
Meanwhile, Missouri political consultants have begun worrying that Greitens' legal problems — and refusal to resign — are helping sink Hawley's U.S. Senate campaign. He is trying to unseat U.S. Sen. Claire McCaskill, D-Mo., this November.
Talk of the legal team's connections to Democrats has been circulating among Republican state lawmakers in recent days.
According to federal campaign finance records, one of Greitens' attorneys, Ed Dowd contributed more than $11,000 to U.S. Sen. Claire McCaskill when she last ran in 2012.
He also contributed over $9,000 to the Missouri Democratic Party that year.
Conversely, however, James Bennett, another one of Greitens' attorneys, contributed $2,000 to U.S. Sen. Roy Blunt, R-Mo., and $1,000 to U.S. Sen. Marco Rubio, R-Fla., in 2016.
Attorneys at Dowd Bennett did not immediately respond to a request for comment Wednesday afternoon.
Sky Chadde and Robert Patrick contributed to this report.