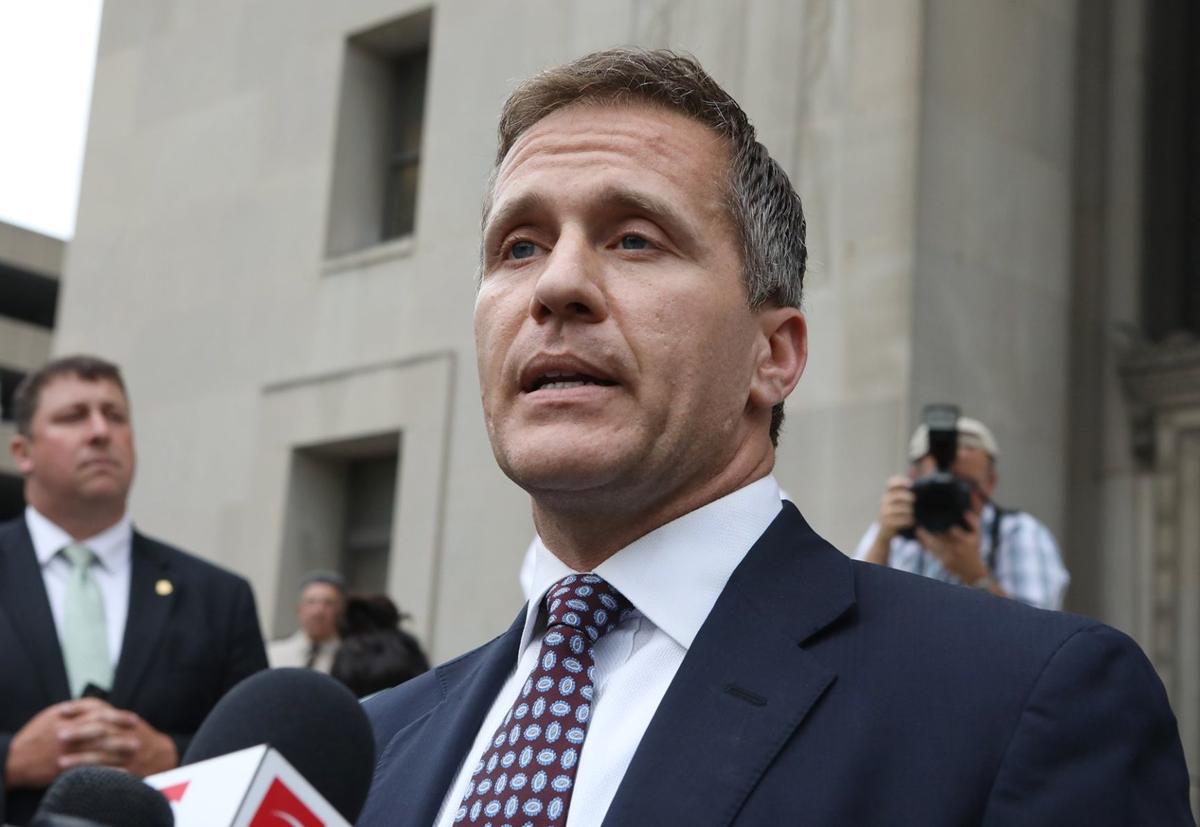 JEFFERSON CITY • Former Gov. Eric Greitens spent more than $588,000 on legal fees in the final months of his scandal-plagued administration.
According to campaign finance reports released Monday, the ex-chief executive funneled more than $551,000 from his campaign fund to Husch Blackwell, the law firm of Catherine Hanaway, a former Missouri House speaker who was hired to defend Greitens' campaign operation amid the multiple investigations that led to his demise.
He also sent five- and six-figure checks to two other law firms as he tried to fend off legal challenges, including the Kansas City-based Graves Garrett firm, which also had an attorney working for the Office of the Governor.
That Graves Garrett did work for both the campaign and the governor's office raised conflict-of-interest concerns from at least one lawmaker who investigated Greitens and his campaign apparatus.
"If the office of the governor does have the authority to hire outside counsel," said Rep. Gina Mitten, D-Richmond Heights, "a conflict of interest could arise to the extent the office of the governor is adversely impacted by Greitens for Missouri."
Ed Greim, the Graves Garrett attorney who was hired to defend the governor's office, said the law firm's work on the campaign was unrelated to impeachment proceedings. He also said that while the interests of the campaign and the governor's office were different, they weren't "at war" with each other and thus did not pose a conflict.
Republican Rep. Jay Barnes, R-Jefferson City, who had led a special committee investigating whether Greitens should be impeached, filed a complaint last week alleging multiple campaign finance violations.
Emails included in the complaint feature staffers discussing how unnamed donors should not give directly to the campaign and how to funnel money from donors who are restricted from contributing.
The latest report shows Greitens with $1.1 million left in his account after spending more than $3.6 million between April and July 1. With two felony charges hanging over him and the House committee probing his ouster, Greitens raised just $2,874 during the quarter.
In addition to the legal fees, Greitens spent big on consultants and media, including more than $509,000 to California-based Target Enterprises. Nick Ayers, chief of staff to Vice President Mike Pence, is a partner in the company.
He also paid $58,000 to Jimmy Soni, a former member of the administration who wrote speeches for Greitens.
It remains unclear where Greitens has been since he moved out of the Governor's Mansion last month.
Just as Greitens' influence in Jefferson City was waning, then-Lt. Gov. Mike Parson, also a Republican, started raising campaign contributions at a faster clip.
Between April and July 1, Parson raised more than $106,000, far outpacing the $11,000 he brought in during the previous fundraising quarter.
Then-state Sen. Mike Kehoe, R-Jefferson City, contributed $1,000 to Parson's campaign on April 16. Parson appointed Kehoe lieutenant governor after Parson took over the state's top job.
Parson continued to pay political consultant James Harris through the spring, sending the consultant's company more than $7,600 over the fundraising period. 
He also paid Campaign Concepts LLC — a firm owned by the sister of former House Speaker Steve Tilley of Perryville — $3,000 during the reporting period.
Get Government & Politics updates in your inbox!
Stay up-to-date on the latest in local and national government and political topics with our newsletter.