JEFFERSON CITY • Since taking office in January, Eric Greitens has been a governor on the move.
According to a Post-Dispatch review, the Republican newcomer has spent the equivalent of seven weeks outside of the state, hitting political hot spots such as Washington and Iowa and attending GOP conferences in Nashville, Florida and Colorado.
In all, the Post-Dispatch tally shows Greitens spent an estimated 50 days traveling to other states and countries. In some cases, he was at events for just a few hours before returning to Missouri. And, except for his security detail, which costs about $2.5 million annually whether he travels or not, Greitens did not appear to charge taxpayers for travel costs.
Although Greitens' days away from his state are far fewer than those of some of his GOP colleagues who were running for president last year, the amount of traveling by the governor has become a source of criticism from Missouri Democrats, who say Greitens has been on the road attending political events while issues have languished in the Capitol, including an attempt to restore health care funding to an estimated 8,000 elderly and disabled residents.
The issue began to gain steam in September after Greitens attended the Mackinac Republican Leadership Conference in Michigan and shared the stage with U.S. Education Secretary Betsy DeVos and Republican National Committee Chairwoman Ronna Romney McDaniel.
Momentum grew in October when Greitens was out of the state for a total of 12 days. Though the majority of those days included official trade missions to Asia and Europe, he also trekked to Iowa, Nebraska and Virginia for political appearances.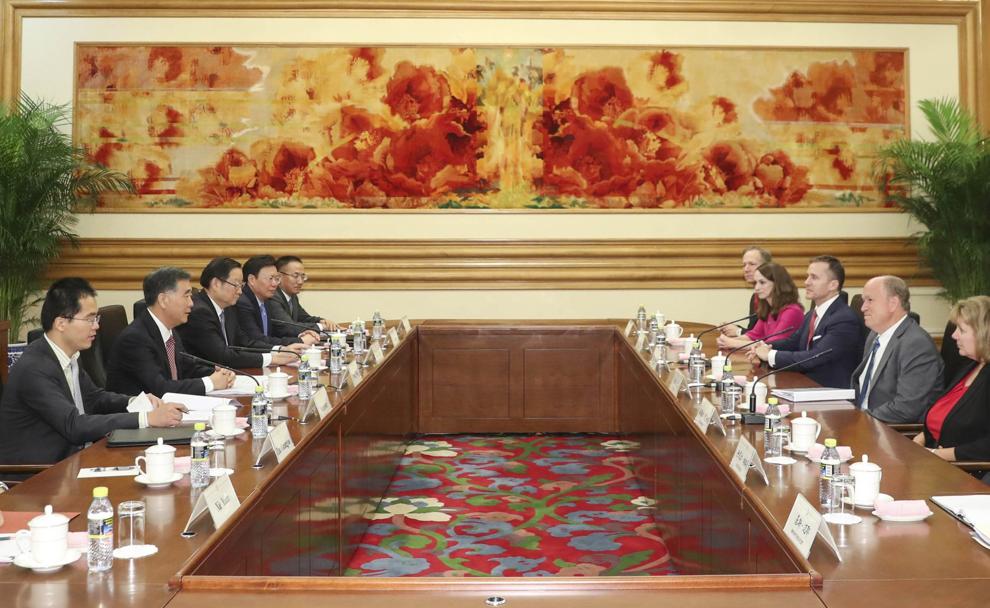 After the Post-Dispatch reported a mid-November visit to Texas, Missouri Democratic Party Chairman Stephen Webber said it showed the governor was using his time in the governor's mansion to raise money while ignoring issues in his home state.
The visits to places such as Iowa and Washington bolster claims that for Greitens, being a governor is just a steppingstone to the White House. After all, Greitens reserved the website "EricGreitensforPresident.com" eight years ago.
"Eric Greitens isn't even trying to hide the truth anymore: He cares more about traveling around to meet with billionaires and millionaires than health care for seniors and working Missourians," Webber said.
By contrast, a Post-Dispatch analysis found that then-Gov. Jay Nixon, a Democrat, spent 26 days traveling to out-of-state destinations in 2009, his first year as chief executive.
While Nixon's daily schedule was made available at no cost by the secretary of state's office within a day, Greitens' office required the Post-Dispatch to submit an open records request. It was fulfilled within three weeks after the newspaper paid a $45 processing fee.
But, unlike Nixon's schedule, many of the trips Greitens took during his first year in office do not appear on his official schedule.
For example, a two-day trip to Washington in March that included a speech to pro-Israel donors, a bill signing ceremony in the White House and a meeting with Vice President Mike Pence is listed as "spring break."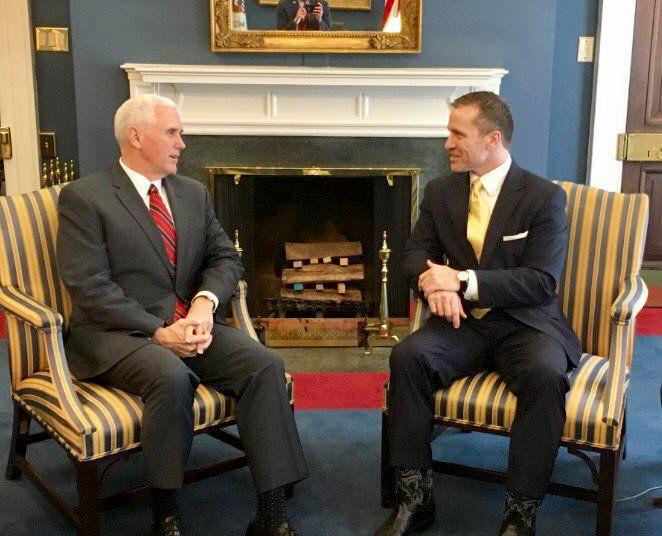 An October trade mission to Asia also was not listed on his official schedule, nor was an August visit to Spokane, Wash., where his in-laws live.
Greitens' spokesman Parker Briden did not respond to multiple inquiries about his boss' travel.
There are some similarities between the schedules of Greitens and Nixon in their rookie year as chief executive.
Both governors trekked to Washington in their first month in office to attend the inauguration of a new president. In the case of Nixon, he went to the festivities associated with the swearing-in of fellow Democrat Barack Obama.
Similarly, Greitens headed to Washington for Republican Donald Trump's inaugural.
While Greitens has drawn broadsides for his trips to the nation's capital, the newspaper's review shows he has traveled there fewer times in his first year than Nixon. Along with the inaugural festivities, Greitens took three other trips to the east, including one in which he attended the exclusive black-tie Alfalfa Club gala.
Nixon, however, went to Washington five times in his freshmen year. On one trip, he visited the White House. On another trip, the schedule showed him lunching with then-Vice President Joe Biden.
Greitens and his predecessor also share similarities in their overseas trips. In both cases, the Hawthorn Foundation footed the bill for the trade missions. The foundation is financed by top Missouri companies and manufacturers with Missouri ties, including Ameren, Edward Jones, Hallmark Cards and Ford.
Though critics have said Greitens' busy political schedule is a sign he is angling for a run for president, his absences were less than those of governors who were actual presidential candidates.
An analysis of Wisconsin Gov. Scott Walker's schedule in the first four months of 2015 shows he was on the road about half of the time.
According to the Wisconsin State Journal, Walker, a Republican, was outside of his state for 56 days between January and April as he crisscrossed the country exploring a potential 2016 bid for president.
Walker argued that his travel did not affect his ability to govern or communicate with lawmakers.
In 2015, when New Jersey Gov. Chris Christie launched his campaign for president, the Newark Star-Ledger calculated that the Republican spent 261 days out of state. Some of that time included trips to New York City, which Christie believed should not have been counted.
At least four of Greitens' trips are directly related to his role in the Republican Governors Association, which funneled $13 million into his successful general election campaign against Attorney General Chris Koster, a Democrat.
In May, for example, Greitens flew to Florida for an RGA-sponsored conference in Miami at Trump National Doral golf course. In July, he attended another RGA event in Colorado. A month later, he went to Nashville for another series of meetings.
In November, Greitens left for an RGA event in Texas just two days after returning from a weeklong trip to Israel.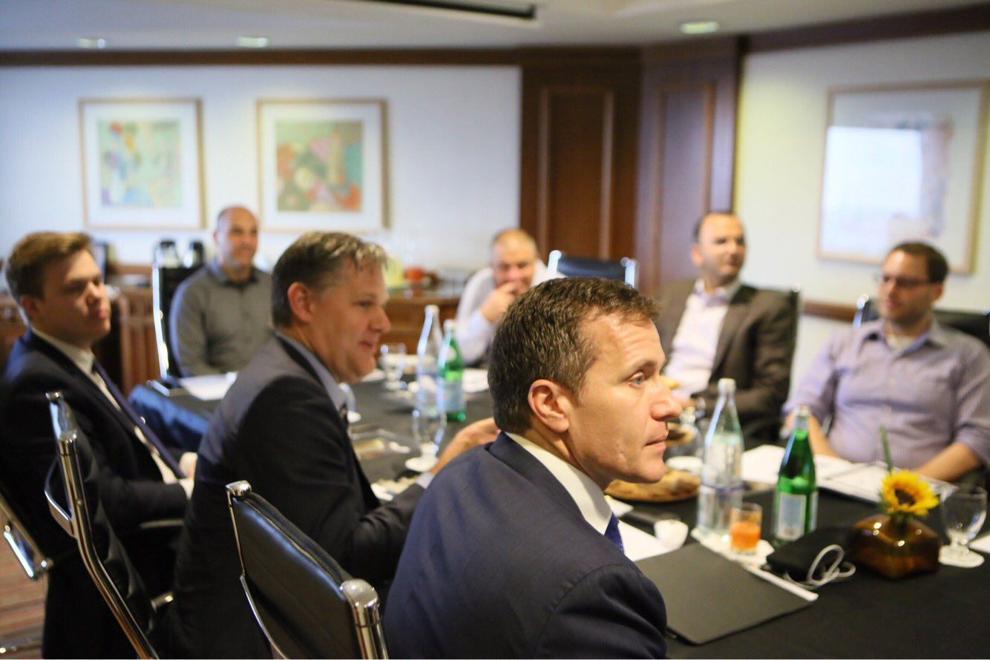 But whereas Greitens' trips have focused on political events, Nixon's sometimes had a sports theme.
According to the calendar, Nixon traveled to Colorado to watch the Mizzou football team play Colorado. He went to Lawrence, Kan., to see the university play Kansas in basketball. And, he went to Houston in late December to watch Mizzou lose 35-13 to Navy in the Texas Bowl.