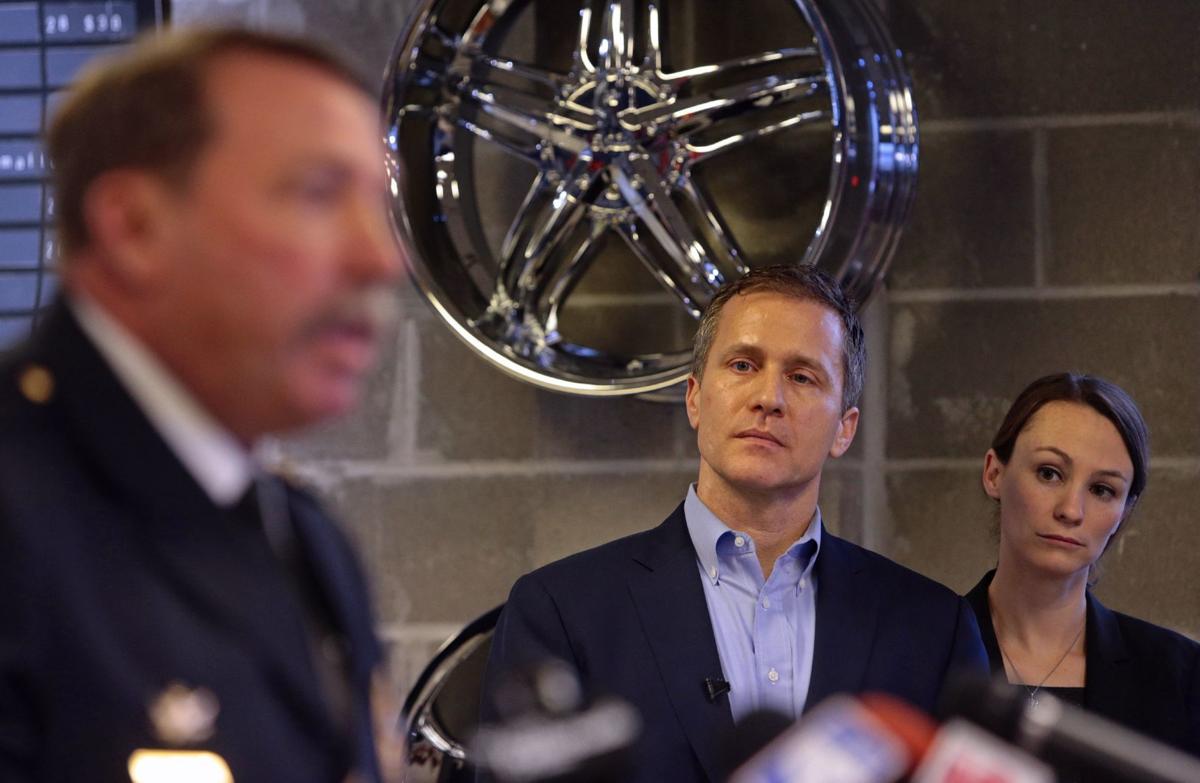 JEFFERSON CITY • Gov. Eric Greitens, who faces two felony charges in St. Louis and mounting legal troubles, is scheduled to be the keynote speaker at a St. Louis Area Police Chiefs Association prayer breakfast on Wednesday.
Wentzville Police Chief Kurt Frisz, who is chairman of the St. Louis Area Police Chiefs Association, confirmed Greitens' attendance.
From Greitens' initial statement to the legal battle, read the Post-Dispatch coverage of the governor's scandal.
"Of course all this stuff's going on," Frisz said. "But you know, for us, this is about memorializing fallen officers and paying respect to them and their families. And I think the governor's well-suited to do that."
The Police Officer Memorial Prayer Breakfast, which is a private event not open to the public, is scheduled for 8 a.m. Wednesday at the St. Charles Convention Center.
There was at least some consternation among area law enforcement officials. In an email sent to area police chiefs on March 26, Ed Magee, spokesman for St. Louis County Prosecutor Robert McCulloch, wondered if inviting Greitens to speak was such a good idea.
"Chiefs, are you sure you want a guy currently charged with a felony as your guest speaker?" he wrote, according to a copy of the email obtained by the Post-Dispatch. "That will not be good press wise."
Responded Frontenac Police Chief Tom Becker: "I'm fine with him speaking, in my humble opinion."
Greitens, a former Navy Seal, founded The Mission Continues in 2007. His alleged use of a fundraising list from the charity is under investigation.
Greitens has taken up pro-law enforcement issues in the past, signing a "Blue Alert" bill into law last year that allows police departments to send out public alerts when police officers are assaulted.
He also championed a failed attempt in the Legislature this year to increase penalties for assaults on police dogs.
He took a law-and-order approach in regard to protests in St. Louis last year. In September, he tweeted along with a video of a man being dragged away by police: "Saturday, some criminals broke windows & thought they'd get away. They were wrong. Officers caught 'em, cuffed 'em, and threw 'em in jail."
Frisz said: "He has been a tremendous supporter of law enforcement."
The Missouri Fraternal Order of Police, which opposes "right to work" legislation Greitens signed last year, endorsed his opponent, then-Attorney General Chris Koster, a Democrat, in the 2016 election.
When it comes to his own legal issues, Greitens has criticized law enforcement. He repeatedly called a Missouri House investigation into his affair and campaign practices a "witch hunt." He has blasted St. Louis Circuit Attorney Kim Gardner as a George Soros-connected "liberal prosecutor."
And he has said that Attorney General Josh Hawley, a fellow Republican, is "better at press conferences than the law."
"That's way beyond what we're about," Frisz said when asked about the politics of the situation. "This is about a memorial breakfast and I mentioned it to someone else before — I said, 'We're still operating in a world of you're innocent until proven guilty.'"