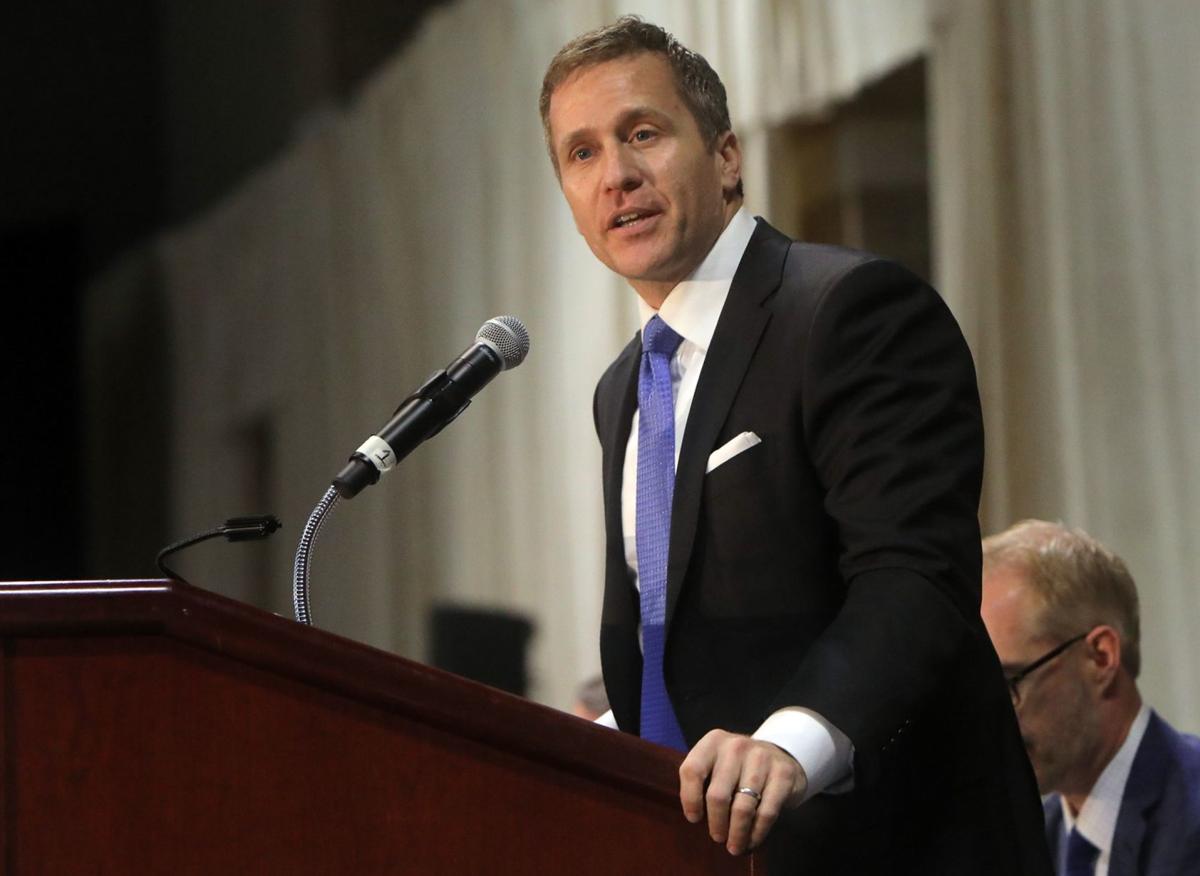 JEFFERSON CITY • Gov. Eric Greitens ran an off-the-books political campaign in 2014, took a private charity's donor list to raise campaign funds and lied about that list in a signed statement to the state's ethics commission, according to documents and testimony from six of his former employees.
The findings are outlined in a 23-page report released Wednesday by a Missouri House committee investigating Greitens, a Republican. The report contains evidence that Greitens and associates lied in campaign filings, a class A misdemeanor, and violated campaign finance law — a civil offense — when he operated a shadow campaign before filing required paperwork with election authorities.
The report and its reams of exhibits plot the former Navy SEAL's methodical rise from nonprofit founder to "conservative outsider" governor of Missouri — by relying on money he raised from members of the charity's donor list that he had pledged to keep private.
• Greitens signed an agreement in 2012 with the charity he founded, The Mission Continues, vowing to hold in strict confidence "lists, databases … trade or business secrets." Greitens' assistant, Krystal Taylor (whose last name is now Proctor), also signed the same agreement.
• Greitens had considered running for state political office at least as early as Oct. 16, 2013, according to an email the committee obtained. Before forming his campaign committee in February 2015, Greitens paid advisers personally and through his companies. Candidates are required to register a campaign committee with the Missouri Ethics Commission once they spend more than $500.
• Greitens himself received the donor list in question on May 8, 2014, through an email from The Mission Continues employee Lori Stevens. Greitens was sent the list so that he could call donors to prepare them for a leadership transition as he prepared his campaign. However, he used the donor list for political purposes, something that Spencer Kympton, the president of the charity, testified was not authorized.
• Danny Laub, a former Greitens adviser, said he was "affirmatively misled" by campaign manager Austin Chambers. Laub said that in April 2017, days before the campaign settled an ethics complaint, Chambers convinced Laub to "put [his] name down" on the settlement, Laub said — but Laub didn't know that his name would be affixed to a report that was "false in every particular," one that blamed him for providing the charity donor list.
The report does not contain a recommendation on whether the governor should be impeached. The Republican leadership of the Missouri House is collecting signatures of representatives on a petition to call a special session that may result in an impeachment vote.
Before the new report's release, Greitens already faced a tidal wave of legal troubles. In St. Louis, he will be tried May 14 on a felony invasion of privacy charge alleging he took and transmitted a photo of his partially undressed lover without her consent. A second felony case charges him with felony computer tampering for taking the donor list in question. He also faces a lawsuit in Cole County Circuit Court over alleged destruction of public records.
From Greitens' initial statement to the legal battle, read the Post-Dispatch coverage of the governor's scandal.
In a sign of the tension that has enveloped the Capitol, Senate President Pro Tem Ron Richard, R-Joplin, told the Post-Dispatch he met with House Speaker Todd Richardson, R-Poplar Bluff, three times Wednesday.
"I share the speaker's concern. It's pretty serious," Richard said.
Richard, who has called on Greitens to resign, said the two leaders did not discuss the mechanics of impeaching Greitens during their conversations.
But, he added, "I'm prepared to do my constitutional duty if they proceed."
In a statement, Richardson said: "We have remained committed to the process of meticulously gathering the facts of all of the governor's actions, not rushing to judgment, and letting those facts speak for themselves. The committee's second report is another step in the process of that thorough review."
Catherine Hanaway, who is serving as legal counsel for Greitens' campaign, said committee chairman Rep. Jay Barnes, R-Jefferson City, did not allow the governor's team to offer testimony nor Greitens' attorneys to cross-examine witnesses.
"He did not allow the campaign to confront its accusers or respond to accusations. If a witness made an allegation, it was accepted as true and republished," said Hanaway, a former House speaker who lost to Greitens in the 2016 gubernatorial primary.
She characterized the report's accusations as "a minor campaign finance issue" already addressed by the Missouri Ethics Commission.
Former Missouri Supreme Court Chief Justice Edward D. "Chip" Robertson Jr., counsel to the House Special Investigative Committee on Oversight, said Hanaway "is confused about the law of impeachment."
"She is fully aware that the House is not convicting anyone," he said in a statement released late Wednesday. "Rather, the House serves to determine whether a public official should be impeached."
He added that "the House will accept Ms. Hanaway's offer and will issue subpoenas to the appropriate persons within the campaign."
Barnes, in a statement, concluded: "The committee found that the Mission Continues was the true owner of the fundraising list and its property was taken without permission and used inappropriately for political gain."
A campaign starts
According to the report, Greitens had mulled a run for statewide office as early as Oct. 16, 2013 — when a political consultant named Steven Michael sent a donor list belonging to then-Auditor Tom Schweich, who was planning a run for governor before he died by suicide on Feb. 26, 2015.
Greitens sought advice from Laub and consultant Michael Hafner in early 2014 and began the transition from chief executive of the charity to one of its board members that spring, the report says.
Greitens, a former Navy Seal, founded The Mission Continues in 2007. His alleged use of a fundraising list from the charity is under investigation.
Greitens hired Laub in December 2014 and Hafner in January 2015, the report says. Neither was initially paid out of a campaign fund because such a fund had not been established, and payments to them were never reported in campaign filings, according to the report.
"Although Hafner's work was strictly political, his initial pay was from either The Greitens Group or Eric Greitens personally," the report says.
It wasn't until February 2015 that Greitens formally registered a campaign committee with the ethics commission.
State law requires candidates to form campaign committees after they spend more than $500.
Mason Fink, a national political fundraiser, had sent an email on May 26, 2014, stating that Greitens should open a campaign committee that spring. But Laub responded that "this is silly," the report says.
"The later the better," Laub thought at the time, according to the report. "Eric's key to victory was timing, and this would have disrupted that."
How much Laub and Hafner were paid before the campaign fund was established is not clear. But, once they began complying with state campaign laws, records show Laub was being paid $5,000 per month. Hafner was receiving $4,000 per month.
Based on that rate, Laub and Hafner received well over the $500 threshold set in state ethics law.
The donor list
As Greitens was transitioning from CEO to a board member of the organization, an employee at The Mission Continues emailed the donor list in question to Greitens, Proctor, Kympton and Lyndsey Reichardt (formerly Hodges) on May 8, 2014.
The goal, Proctor told the House committee, was to prepare donors for the change in leadership by having Greitens contact them. Proctor said it was Greitens who directed employees to send him the list.
"He asked the development team to send him a list of donors of The Mission Continues," Proctor testified.
She also pulled donor data in November 2012 to compile "a holiday card list for Greitens," according to the report. She sent the list to The Greitens Group, and warned "please DO keep this private. Do NOT print this spreadsheet or distribute it."
In a nondisclosure agreement Greitens and Proctor signed, dated November 2012, they agreed not to use or share the donor list for outside purposes.
As Greitens ratcheted up his campaign, however, use of the list came up again and again behind closed doors, according to the report.
She said that according to BBB standards, a charity must "be transparent about how they're going to use and/or protect a donor's information if they provide it."
The report shows that officials at The Mission Continues were concerned about Greitens' using the charity to help him win the Republican primary.
The report notes that Kympton, the charity's current president, became aware of Greitens' political use of charity resources in August 2016 but did not know Greitens was using the donor list.
Hoping to head off future problems, Kympton contacted Greitens' campaign manager Austin Chambers to express concern that a campaign fundraising website aligned Greitens with The Mission Continues and could jeopardize the charity's tax-exempt status.
Greitens' attorney Michael Adams, who is now a Republican candidate for secretary of state in Kentucky, agreed to cease using a photo the campaign took at the charity's offices. But Kympton was not told that the campaign was using the donor list for fundraising, according to the report.
"News reports from the fall of 2016 indicate that cross-referencing the names on the TMC list with Greitens campaign donors reveals that the campaign raised nearly $2 million from persons or organizations on the TMC list," the report says.
Cover-up
After that Associated Press report was published in October 2016, Democrats filed a complaint with the Missouri Ethics Commission alleging that the Greitens campaign obtained a charity donor list but did not report it as an in-kind contribution — a campaign violation.
"In fact, however, the list was not an in-kind contribution from Danny Laub," the report states. "Laub was never an employee of TMC, and thus was not able to authorize disclosure or use of the list; and the list was sent to Laub and Hafner by Proctor at Greitens' direction."
Chambers called Laub on April 24, 2017, the report says, days before Greitens and Adams signed the settlement with the ethics commission.
According to Laub's testimony: "Austin says to me, 'I don't know if you know this, but there's a bull — — ethics complaint filed against us by the Democrat party about this Mission Continues donor list.' And he said, 'I need someone who was on the campaign at the time, because I wasn't, to put their name down so we can get this bull — — complaint dismissed.' "
Laub thought he was agreeing to allow his name to be used because he had been the campaign manager at the time the list was obtained. But, he said, he was "affirmatively misled" by Chambers and said any assertion that he donated the list himself was "untrue."
Chambers told the Post-Dispatch he was never asked to be interviewed by the committee. He said Laub's testimony was "inaccurate."
Chambers said that after the question of the donor list was raised in 2016, the campaign determined the list was in Laub's possession when the campaign was formed.
"I relayed this finding to Laub in a brief phone conversation. Laub did not provide differing facts. To say that I provided false information, or misled Laub to go along with false information, is absolutely untrue," Chambers said.
Adams did not respond to a request for comment.
The Post-Dispatch reported in February that Proctor emailed the donor list to Hafner and Laub on Jan. 6, 2015 — two months before the March 1 date on which the campaign said it obtained the list. A copy of that email is listed as evidence in the House report.
Anonymous flyers
Lawmakers received an anonymous handout this week raising questions about the credibility of Barnes, the chairman of the House committee.
GOP lawmakers said the document wouldn't undermine their faith in Barnes.
Rep. Steve Cookson, R-Poplar Bluff, who has called on Greitens to resign, said it was bad form to anonymously criticize Barnes, whom he said had lots of integrity and character. "I think anyone who would put something like that out without signing it and make accusations like that is chickencrap," Cookson said.