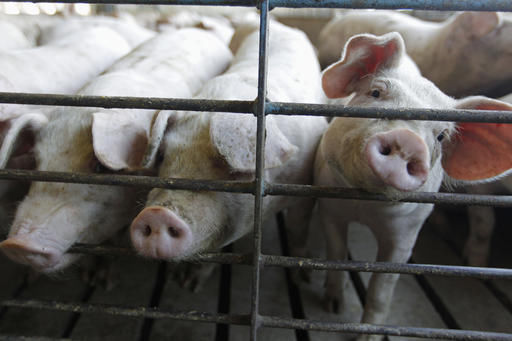 JEFFERSON CITY • Gov. Eric Greitens, a Republican, has appointed three new members with strong ties to Missouri's agriculture industry to a state board that oversees water pollution.
The move, announced in a press release, means Missouri's Clean Water Commission now has a majority of farm-friendly members as it considers granting permits to large factory farms.
The new law allows the commission to work without any members of the general public.
Supporters said the change was needed because members of the public lack the expertise to make good decisions regarding the effects of industry on the state's waterways.
Opponents of the legislation said it would allow future governors to stack the board with members who represent industries that pollute.
"It kind of reminds me of the fox guarding the hen house," Rep. Deb Lavender, D-Kirkwood, said last year.
Stephen Jeffery, a lawyer from Chesterfield who is representing clients in four counties who are fighting companies seeking to open large-scale feeding operations, raised red flags about the pro-agriculture tilt of the commission.
"I think that anyone is interested in clean water issues, it's a concern. Boards and commission should offer a balanced perspective," Jeffery said Wednesday.
The newly appointed members are Stan Coday, John Kleiboeker and Pat Thomas.
Coday is a farmer and retired agriculture teacher from Mansfield, Mo. He also serves as president of the Wright County Farm Bureau.
Kleiboeker is the owner of Kleiboeker's Clover Creek Farms in Stotts City and previously served as the executive director of the Missouri Beef Industry Council.
Thomas is the chief of staff for Sen. Brian Munzlinger, R-Williamstown, a farmer who sponsored the membership change. Thomas, of Jefferson City, earned her bachelor's degree in agriculture from the University of Missouri and is secretary of the Missouri Republican Party State Committee.
The trio joins commission chairwoman Ashley McCarty, who is a cattle farmer from Kirksville, and lawyer J. Benton Hurst, of Kansas City, whose father is Missouri Farm Bureau President Blake Hurst.
A sixth member is a municipal water treatment system operator. There is one additional vacancy on the board.
The board was scheduled to meet Wednesday, but that was rescheduled until next week to give members additional time to review pending cases, which include proposed permits for large-scale chicken and hog farms.
In one of the cases, Trenton Farms is seeking to build a large-scale hog farm in northwestern Missouri. Opponents say the location is in a flood plain that could result in waste discharges. They are also concerned about odor problems.
In another case, the commission is scheduled to debate a permit for a farm near Goodman in McDonald County that would house more than 370,000 chickens.
Jeffery is representing some of the opponents in those cases.
"My clients are not anti-ag. They are not tree huggers. They just believe that if someone wants to move next to you and operate something that's offensive, you should have a way to mitigate those potential problems," Jeffery said.