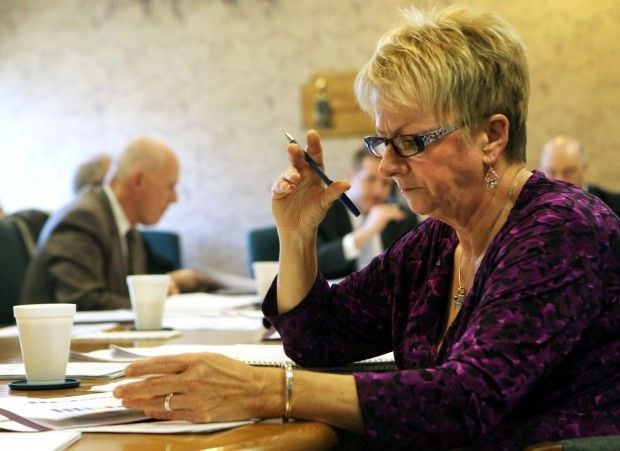 ST. LOUIS • In May, Vicky Grass left her job with the Firemen's Retirement System of St. Louis having achieved the American Dream.
Grass, 63, who helped firefighters navigate the world of retirement as the department's pension director, retired herself — walking out with a $579,210 cash payout.
In addition to the one-time payment for severance and unused sick and vacation time, Grass will be paid a $4,870 monthly pension, an amount approved by retirement system trustees this week. In addition, she will receive an undisclosed amount from a deferred compensation plan to which she and her employer both contributed over the years.
"I always say that I'm the luckiest broad I know," Grass told the Post-Dispatch on Wednesday.
The retirement is a capstone of a career that took Grass from being a south St. Louis bartender to a payroll benefits specialist with the firefighters' pension system, eventually leading to a job as its director in 2000. Her final job entailed lots of paperwork, but she made no investment decisions for the fund.
In 2013, after months of vitriolic debate, city leaders reached an agreement to curb the system's retirement package — but the changes applied only to future benefits.
"You can't change what you've already given somebody," said Grass, who worked for the system since 1986.
Officials knew the day would come when Grass would cash out. But the numbers provide a sobering reminder that the firefighters' retirement system is still costing the city millions, at a time when city leaders are asking voters to approve a $180 million bond issue for infrastructure improvements they say they can't afford otherwise.
After Grass announced her retirement, the city's Board of Aldermen honored her with a resolution, noting her work for the firefighters and previous work as a secretary at the Missouri Pacific Hospital. The resolution also noted her five years as a bartender, including a stint at the Eighth Inning bar near Carondelet Park.
"We pause in our deliberation to thank and recognize Vicky Grass for her long and productive service to the city of St. Louis and to the Fire Department," stated the resolution, introduced by Ward 12 Alderman Larry Arnowitz.
Arnowitz told the Post-Dispatch that Grass' compensation package was a result of long-standing agreements.
"It's certainly not a good precedent, but you can't go back and take these things away," Arnowitz said. "The system has been kind to a lot of people."
Grass made about $117,000 a year as the director of the system. Her retirement package gives her:
• $117,566 for 1,941 hours of unused sick, vacation and holiday time.
• $350,987 for an employee compensation severance package. (The package was approved in 1997, but it gave Grass credit for all years she worked back to 1986.)
• An unknown amount from a deferred compensation plan. The city claims these records are not public. Grass paid into the system and received matching contributions of up to 6 percent of her salary, but officials did not include those documents in its response to a Post-Dispatch public records request.
• $4,870 per month in pension payments for life.
In 2013, the city reached an agreement with the Firemen's Retirement System that eliminated the six percent match for deferred compensation, as well as significant changes to the compensation severance package.
"The new system is not as good as the one we had," Grass said.
The Firemen's Retirement System pays the salary and expenses of its four office workers, in addition to firefighter pensions. The system's funding comes from firefighter contributions and yearly interest earnings, in addition to tax money from the city.
The city pays when there is a shortfall. In 2013, the city pumped $20 million into the system. Pension reforms have since reduced the city's liability. Paul Payne, the city's budget director, said the city paid $1 million into the system in 2015. And it's not expected to pay anything in 2016.
In February, the Missouri Supreme Court affirmed a decision allowing the city to create a new and separate retirement system for newly hired firefighters, giving them reduced benefits.
Still, the retirement comes as perks throughout city government have come into focus, including elected officials' getting brand-new cars funded by taxpayers. In May, the Post-Dispatch reported that Recorder of Deeds Sharon Carpenter requested a $700 a month car allowance, in addition to her $99,718 annual salary, which she receives while simultaneously collecting about $50,000 in annual pension benefits.
"I know these stories make it hard to pass things like the bond issue," Arnowitz said.
Mayor Francis Slay, who long championed reforms to the pension system, said Grass' retirement cash "sounds like legalized robbery."
"This is part and parcel of the gross abuses and exorbitant salaries the pension board allowed," Slay said in a statement. "It's a clear example of one of the many reasons we so desperately needed pension reform."
Grass, the oldest of seven children, said the money wouldn't change her.
"You retire so you can spend time with your family," Grass said, noting that she will help care for her elderly mother.
She added: "I'm honored to have worked for the firefighters who risk their lives every day. I'm very blessed."