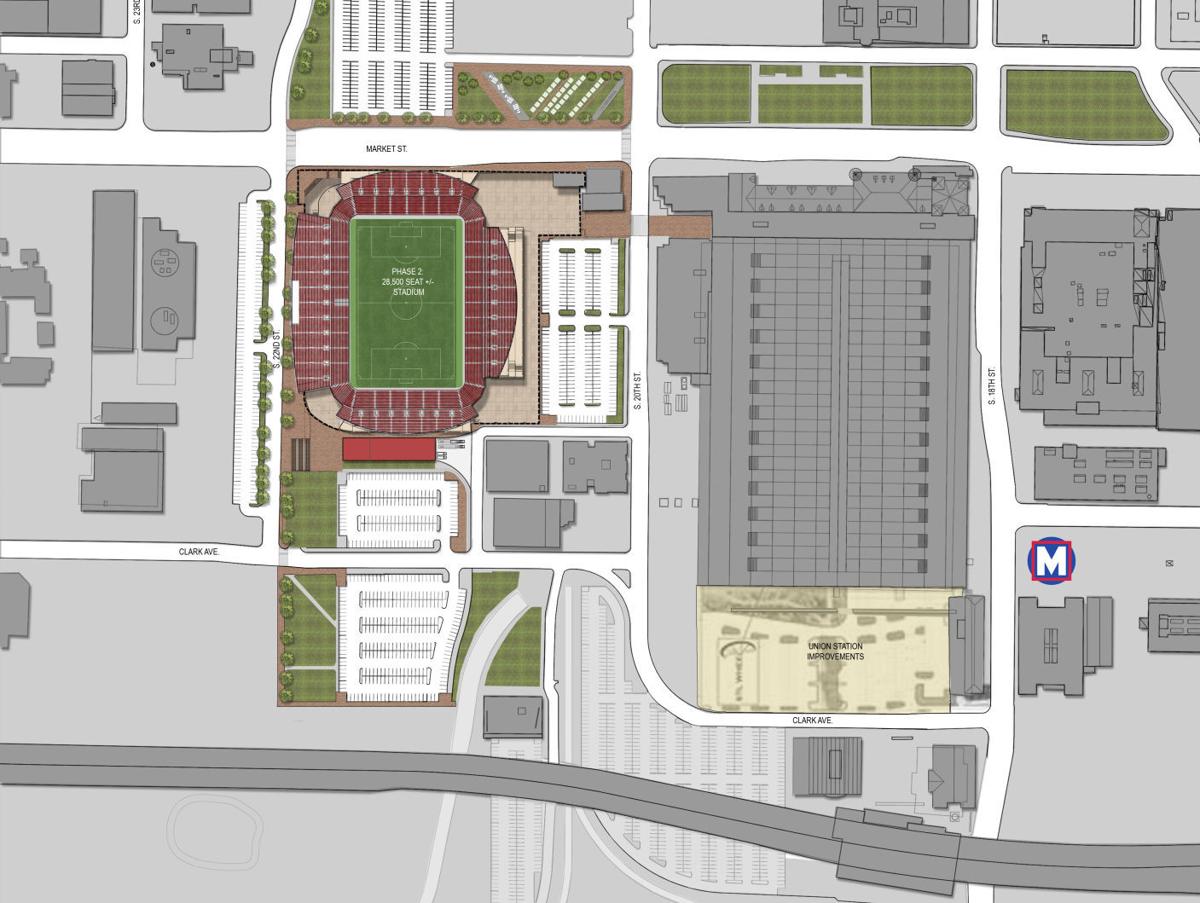 JEFFERSON CITY • A fast-tracked bid seeking taxpayer money to help build a Major League Soccer stadium in downtown St. Louis drew concern from at least one member of a state board considering tax credits for the project.
In a hastily scheduled meeting of the Missouri Finance Development Board Thursday, member John Mehner said it might be better to seek approval from the Legislature for the $40 million in aid, rather than rely on the 11-member commission appointed by Gov. Jay Nixon.
"This one's just got me a little uncomfortable," Mehner said. "This is probably the least complete tax credit application I have seen."
It would sit upon state-owned land that is mostly exit ramps and right-of-way for the 20th Street exit off of Highway 40 (Interstate 64.)
In an hourlong presentation to the board, LCRA Director Otis Williams acknowledged there is a laundry list of caveats tied to the application.
"The source of this tax revenue is to be determined," Williams said.
Board member Kelley Martin said supporters should investigate whether St. Louis County taxpayers — not just those in the city — should pitch in for the project.
"You should take a look at spreading the tax burden," Martin said.
In addition, the project is dependent on Major League Soccer awarding a franchise to ownership group SC STL. But, MLS officials may want to see state and local support before they sign off on an expansion plan.
Other unknowns include the complete composition of the ownership group and an assessment of the actual need for the tax credits.
"I basically see it as a work in progress," said Robert Miserez, executive director of the finance board.
The project also could face scrutiny from state lawmakers, who raised red flags last year about state involvement in building a new football stadium in downtown St. Louis.
Sen. Rob Schaaf, R-St. Joseph, has introduced legislation that would require legislative or voter approval of any spending on sports facilities. He also has filed a proposal to abolish the finance board.
"I am just trying to get ahead of the curve here," Schaaf told the Post-Dispatch on Thursday.
A vote by the board could come as early as Dec. 20 in order to beat a year-end deadline to tap into money the board has on hand.
Board chairwoman Marie Carmichael said half of the $40 million in tax credits being sought "simply disappears" on Dec. 31.
Williams said the accelerated schedule is not an attempt to secure the cash before Republican Governor-elect Eric Greitens takes over for Nixon on Jan. 9.
SC STL spokesman Jim Woodcock told the board that the project was launched after attempts failed to keep the St. Louis Rams football team from leaving town earlier this year.
Former Anheuser-Busch president Dave Peacock, who was involved in the football project and is now on board with the soccer project, met with former Bain Capital executive Paul Edgerley at a Boston Celtics basketball game and hatched a plan to make St. Louis a major league soccer city.
Edgerley is the lead owner of SC STL.
"There is a little bit of romance to this," Woodcock said.
In addition to the state tax credits, the project also relies on an estimated $9 million in state transportation funding to clear the 24-acre site and prepare the land for development.
The project would eliminate the 20th Street exit, with traffic being routed to a revamped Jefferson Street exit that is being mulled as part of the relocation of the National Geospatial-Intelligence Agency.